Laura Gaskill, Houzz Contributor
The look of this living room decor needs to be kept light and airy, so avoid heavy drapes at the windows and use Venetian blinds or roman blinds instead; and keep the background wall colors as light as possible. Extra nice touches that complement the look are exposed beams, tongue and groove or shiplap accents on the walls, sea grass rugs, ceiling fans and lantern or utility style light fittings.
Small living room furniture is best kept simple. Many small living room ideas revolve around tricking the eye into making the area appear more spacious. Such strategies can transform an area that feels cramped and claustrophobic into one that feels cozy and aesthetically pleasing. Decorate in a way that maximizes light and space, and pay attention to how you use color, scale and weight. It can make quite a difference.
It's where you hang out, flop down, decompress. It's also probably where you read, play, craft, watch movies and entertain. With so much going on, it's no wonder it can be difficult to keep the living room looking (and feeling) neat. And other than leading an ultraminimalist life, what can be done? Here are 10 tips to ease the burden on this hardworking room, so you can have a neat (enough) living space.
When you enter my front door, you come into a combination of rooms: entryway, small living room, and dining room. (You can see my entryway fall decor HERE ) There is also a staircase and a hallway to the family room and kitchen. There is a lot going on in this small space! To make it easier on the eye, I went with a neutral color scheme.
Finding a suitable design strategy for a living room takes time. Let's say you want your small living room to appear larger and more spacious.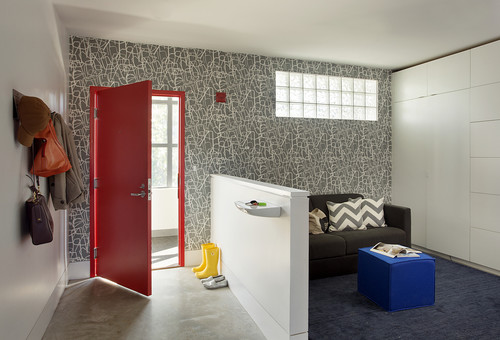 1. Put some "speed bumps" in your entry. If your front door opens directly into your living room, it's all too easy (especially at the end of a long day) to zoom through the entry and plop down on the sofa, leaving a trail of bags, shoes and mail as you go. Slow the pace of entry by putting in some strategically placed "speed bumps" along the way — a bench to sit on to take off your shoes, hooks and floating shelves on the wall, a sofa table with storage below and a tray for collecting mail can all help.
And if you own your home and want to make a bigger change, you could think about having a partial wall or another built-in feature installed to help with flow and storage.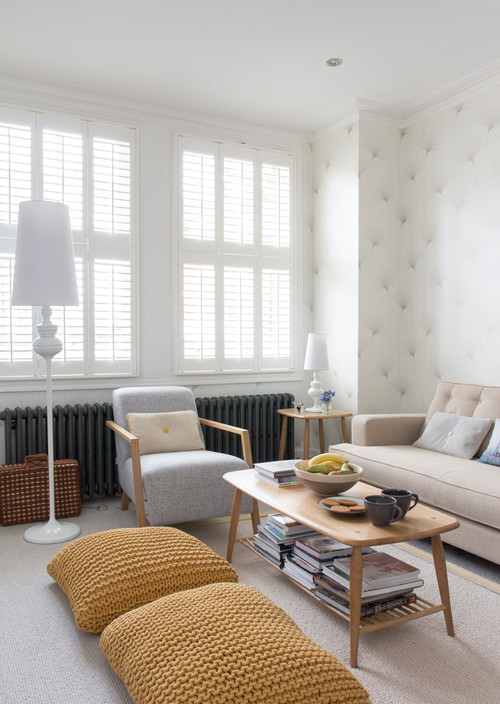 2. Choose bilevel furniture. Clear surfaces look great — but let's face it, they are hard to keep clear. One way to solve that problem is by picking out coffee and side tables with a lower shelf. You can spread out your stuff when you're home alone, and then stack it up and stash it on the bottom shelf when company comes.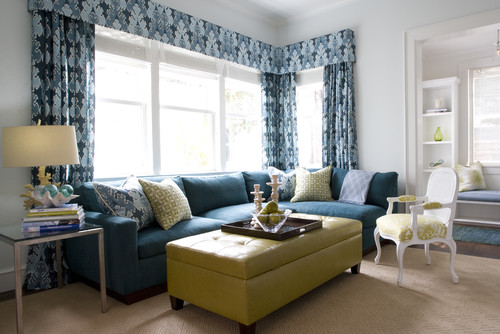 3. Use furniture with hidden storage. Another option is to choose a storage ottoman or bench, either as your coffee table or as an extra seat tucked away beneath a console. You can store media, games, magazines and even shoes inside. The key is to use it to hide the things that usually look messy when strewn all over your living room. If that means you use drawer organizers inside your ottoman and keep junk-drawer stuff in there, so be it!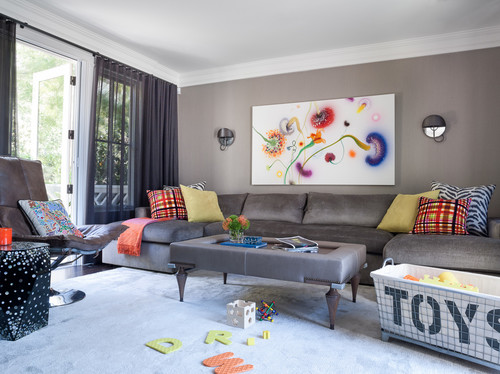 4. Use rolling storage for kids' toys. Keep a variety of your child's favorite toys in storage baskets on wheels. The bins can be wheeled from room to room, making it easy to clean up and stow things away when you need a tidy space, like, now.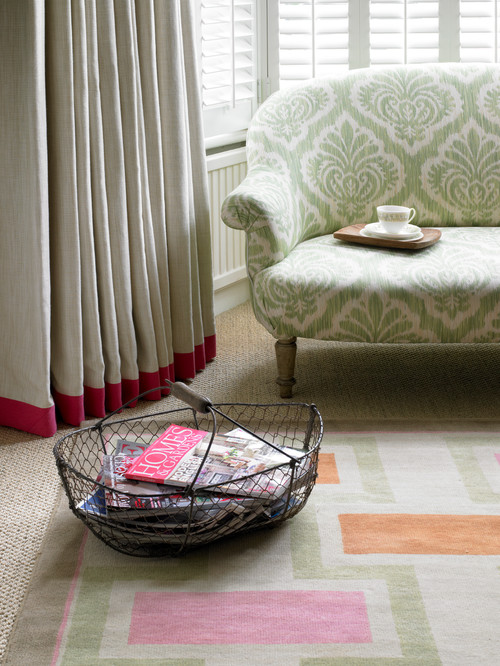 5. Give newspapers and magazines a temporary home. One neat basket of magazines or newspapers looks fine — a table strewn with them, not so much. Dedicate one generously sized basket to house periodicals, and commit to weeding out old issues when they no longer comfortably fit in the container.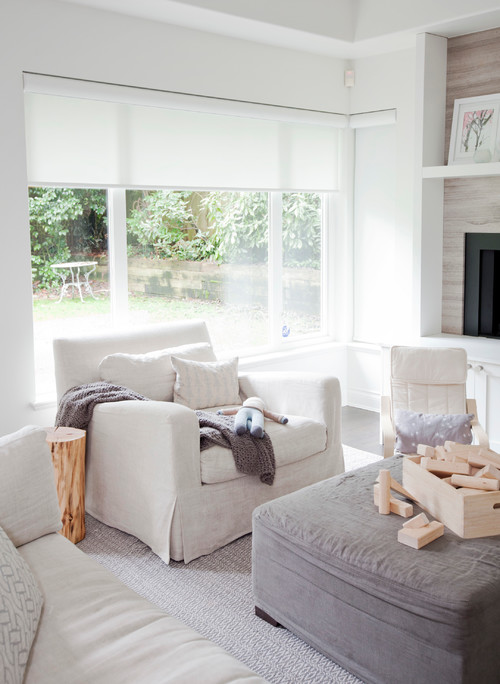 6. Be honest about what is used in this room and make space for it. Do you craft while watching TV? Do the kids use the living room as their playroom? Stop the constant struggle to clean up these items and put them where they "belong." Instead, work in some permanent living room storage space for toys, crafts, games and so on. If you need to make room first, take out items that are not frequently used in the living room. Books that you want to keep but that no one is likely to read again anytime soon could go on shelves in a bedroom, for instance.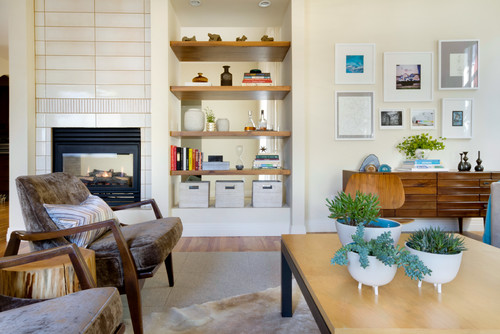 7. Use baskets. If you want a neater living room, make friends with baskets. But before you shop for baskets, figure out what you really want to keep in the living room (see No. 6) so you can choose the right ones for the job. Toys are best in open baskets, because they make it easier for little ones to find what they are looking for; personal documents and messy-looking items are better stowed in lidded baskets. And remember to measure your shelves before shopping; you don't want to come home with a carload of new organizing supplies only to find they don't fit.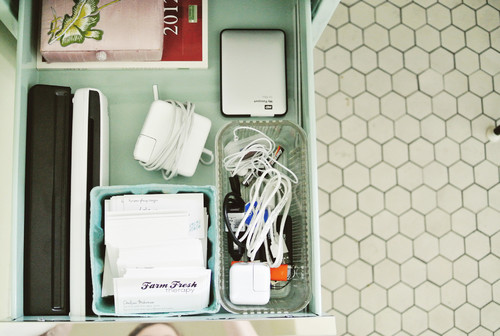 8. Keep a little-stuff drawer. Notice I did not say "junk drawer." Every room has small items that need a home, and a well-organized drawer can be a smart place to put them. It's only a junk drawer if you think of it that way! Unless you are already using a storage ottoman as a junk drawer (see No. 3), find a drawer in a console table, credenza or chest to hold small stuff such as charging cords, pens, stamps and scissors.
Problems arise when the little-stuff drawer becomes overloaded — you can help avoid this by creating more little-stuff drawers in other rooms, so the burden is not carried all by one spot. Also think carefully about what is going in: Some items may be better off stashed in a utility closet, a toolbox or the back-of-the-door shoe organizer.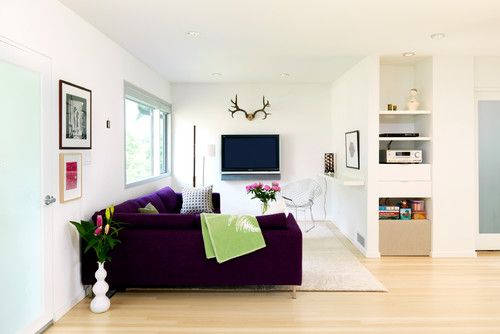 9. Streamline media storage. How up to date is your media collection? If you have cupboards crammed with old VHS tapes or hundreds of jewel cases for CDs that are already loaded into your computer and other devices, it is high time to purge the old stuff. For discs you do want to keep, save space by removing them from the case and slipping the discs inside a binder made for the purpose. Just one or two media binders can hold hundreds of CDs, DVDs and Blu-ray discs.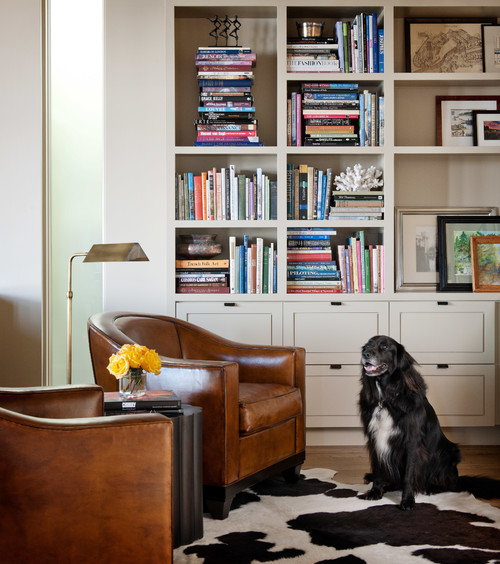 10. Keep a thoughtfully edited book collection. Books can be one of the great pleasures in life — staring at an overburdened bookcase with tomes spilling onto the floor is not. Aim to keep only the books you love and those you will read again, and let go of the rest. Your living room will thank you.
More DIY Home Decor Ideas and Resources
---
---
Article source: https://www.huffingtonpost.com/entry/10-secrets-to-a-neat-livi_b_5877064.html