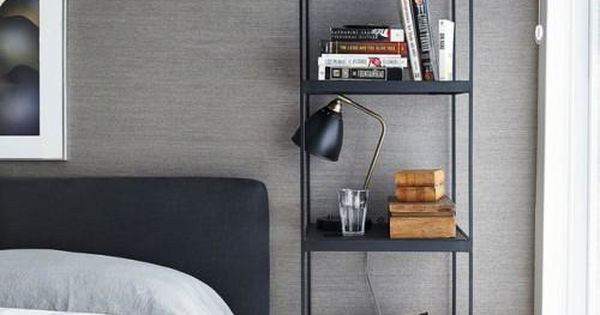 Neila Deen, Houzz Contributor
The nightstand next to your bed is one of the most essential surfaces in your bedroom. It provides a home for books, photo frames and sleepy-time necessities like eye masks and earplugs. Most of us opt for the classic version: a small square table with a drawer and a matching counterpart on the other side of the bed. But this functional area doesn't have to be so, well, square.
Swapping out that classic nightstand for a piece of non-bedroom furniture can add personality as well as function to your bedroom. Here are 10 unique alternatives to the classic nightstand. The best part about these options? They are common enough pieces that you may already have them on hand. If not, you'll be able to pick them up for a reasonable price at a garage sale or flea market.
1. Bookshelf. Bookshelves are stalwart storage options for so much more than novels and nonfiction. If you have enough space on one side of your bed, try placing a bookshelf against the bed wall. It can house books (of course) as well as decorative boxes for storing personal items like those earplugs and eye masks. If it has an open back or a hole for threading out a cord, then the shelf can store a small reading lamp too.
If your bedroom door is in a corner of the bedroom, as is quite common, the bookcase will probably look best placed in the corner farthest from the door. This placement will make the room appear more balanced upon entry. This rule doesn't apply if your door is in the middle of the room.
2. Tool chest. Tool chests are not just for the handy. They can be a solid piece of furniture with ample storage. Their typical sizes — 18 to 48 inches wide and in a variety of heights and depths — can easily fit the space next to a bed. Most tool chests come in a glossy color — red and black being the most common — and can be purchased for less than $100. Or perhaps you have one in your garage just waiting to be repurposed. Either way, a tool chest is a multifunctional storage piece that can add character and quirk to your bedroom.
3. Desk. Some desks are just larger and wider versions of a night table. The flat surface of a desk can house a lamp, books and other nighttime necessities. If you have enough space, add a chair to create a dual-duty nightstand that also serves as a workspace.
4. Chair. Embrace your whimsical side and opt for a chair as your night table. This look works particularly well when just one side of a bed has room for a nightstand — though it also looks adorable when you double up with chairs on both sides of the bed.
5. Dresser or chest. Rather than restricting your night-table furniture to the small or low profile, you might go bold with a relatively large piece of furniture like a dresser or chest of drawers. This can provide much-needed extra storage, particularly in a narrow bedroom.
The key with a larger piece is to create balance. When the bed is placed in the middle of the wall, add another large piece of furniture to the other side; a second dresser or a desk typically will work. Be sure both pieces are similar in height and width to create a more symmetrical look.
Adding lamps of the same height on either side of the bed can add to the harmonious effect when your night tables don't match.
6. Console table. A console table is a versatile piece of furniture that can be useful in many rooms of the house. It's slim in profile and airy in design and can provide a small drawer for storage of personal items. In the bedroom, a console table can pull double duty as a nightstand and desk, or a nightstand and vanity, thanks to the open space that allows you to place a stool, ottoman or chair underneath.
Console tables frame a bed nicely when the same or similar style is placed on either side of the bed.
7. Floating shelf. If your bedside space is challenging, or if you prefer a minimalist style, try a floating shelf as your night-table alternative. The designs of floating shelves today go beyond the simple white or wood rectangles we've come to know. Stylish shelves can be found in glossy hues and a variety of shapes, and can also feature useful storage options. Shelves flanking the sides of the bed often appear built-in and look best when they are the same size and style.
Look for a shelf wide or deep enough to hold a small bedside lamp and book, and hang it at the same height as the top of your mattress.
8. Step stool. A repurposed step stool is a smart, budget-friendly and space-saving substitute for a night table. Whether designed for a child's room, the kitchen or the garage, stools often have small proportions that are good for small spaces. A typical step stool measures 15 to 18 inches wide and about 21 inches high, making it a good fit for many beds.
9. Trunk or suitcases. To add a vintage look to your bedroom, go for those old and weathered suitcases you've had your eye on in the thrift store. Stack them together and place a sturdy tray on top for a fun DIY night table. Opt for a variety of colors to create a design feature in the room, or get crafty and paint your suitcases the same color for a more Shabby Chic look, as in this photo.
Similarly, pull that old trunk out of your attic. The large surface area can easily accommodate a lamp and other decorative items. Carry the vintage style of the trunk into the rest of the room by scattering around small accessories like old photo frames or an antique mirror.
10. Ottoman. Ottomans can easily adapt to life as nightstands. They can be found upholstered, or in leather or wood. They also come in a variety of shapes: round, square, rectangle, octagon. Choose a piece that is about the same height as the top of your mattress, in a width suitable for the space next to your bed. With upholstered ottomans, you may want to place a tray or large book on top to create a flat surface for a lamp and other bedside items.
More DIY Home Decor Ideas and Resources
---
---
Article source: https://www.forbes.com/sites/houzz/2017/01/27/10-things-you-already-have-to-turn-into-nighstands/