Lauren Dunec Hoang, Houzz Editorial Staff
In the last year, the urban gardens that have really grabbed people's attention on Houzz have a number of characteristics in common. All are stylish, contemporary and maximize space for outdoor living. Many have calming color palettes, such as deep green, white and charcoal, and — no surprise — are expertly designed to carve out privacy in crowded city lots.
Location is the most notable common thread of the most popular urban backyard photos uploaded and saved to ideabooks in 2016. Hats off to London's landscape architects and garden designers who took 8 out of the top 10 urban gardens.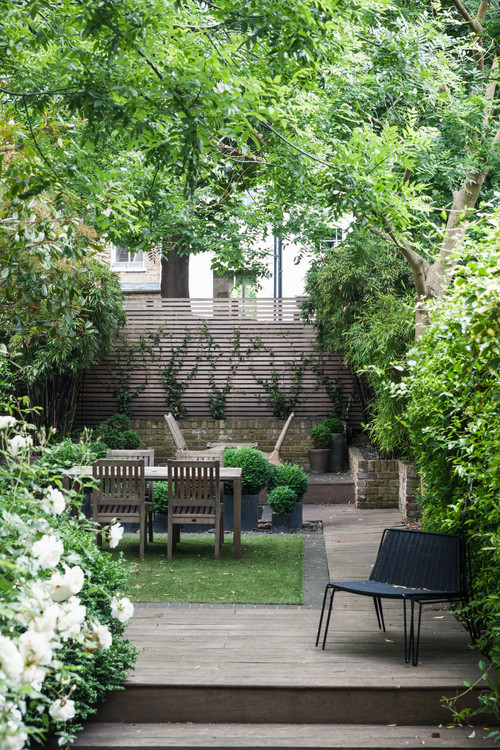 10. Lush backyard getaway. This leafy retreat in the Pimlico neighborhood of London feels hidden, thanks to a slatted screen at the back of the garden and mature trees, vines and shrubbery on either side. Bamboo, grown in brick planters toward the back, offers a quick-growing screen for urban gardens.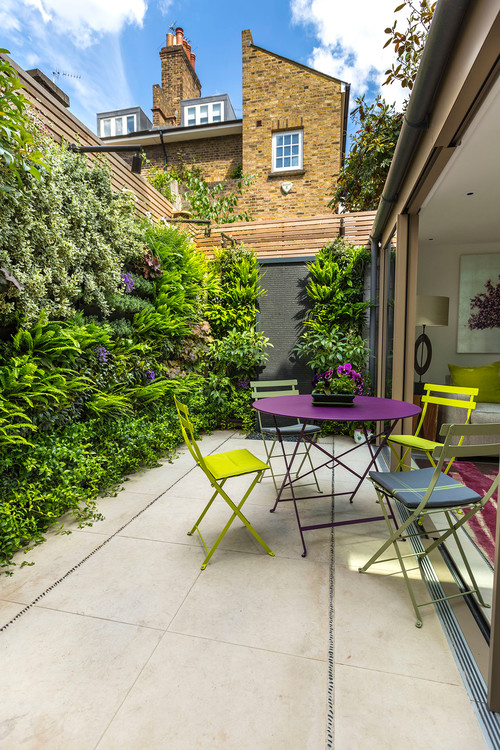 9. Living wall. Vertical gardens have been popular on Houzz for the past few years, but this walled London courtyard is a particular standout. With just enough room for a cafe table and chairs, the narrow courtyard left little space for large-scale potted plants. Covering the wall with vertical planting pockets makes room for growing a diverse array of ferns, vines and perennial flowers and creates a verdant backdrop.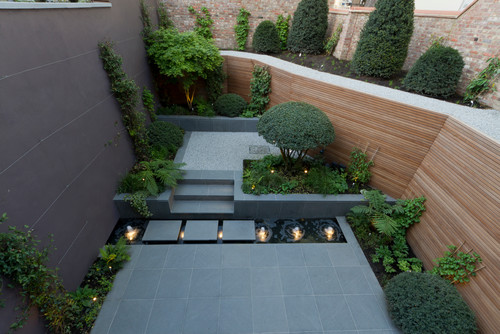 8. Sleek lines. This favorite garden proves that with a creative design, even an oddly shaped, sloping lot has enormous potential. Working with the London backyard's natural gradient changes, garden designer John Davies created a series of terraces and planting beds so that the resulting view from the ground floor is one of lush foliage layers. Lights washed over specimen plants and soft lighting from the fountain create an inviting atmosphere after dark.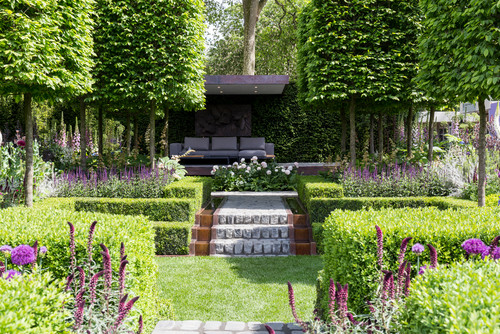 7. Layered garden. This peaceful garden designed by Charlie Albone won a Silver-Gilt Medal at the 2016 Chelsea Flower Show and resonated with Houzzers worldwide. The formal structure of symmetrical planting and clipped boxwood hedges provide balance with the exuberant purple, white and magenta blooms.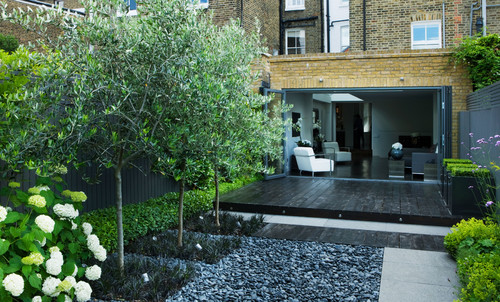 6. Urban cool. Dark decking, river rocks and black mondo grass give a chic, moody look to this London backyard. We've seen black being used in exterior design over the last couple of years, and if the number of times this London backyard has been saved by Houzz users is any indication, it's not going out of style.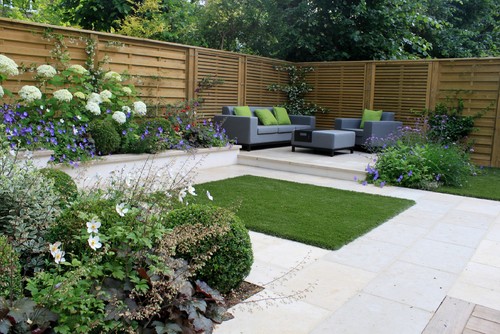 5. Backyard lounge. This stylish retreat in Hampstead, London, would be the perfect place to relax on a sunny afternoon with a group of friends or family. Using artificial turf instead of a traditional lawn cuts down on maintenance and frees up more time to enjoy the garden.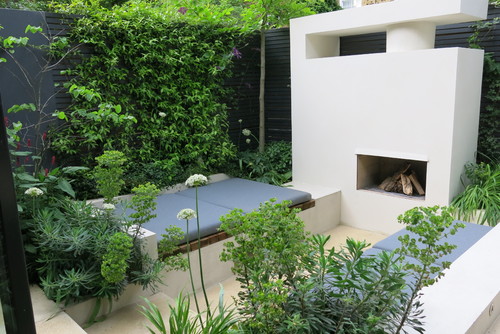 4. Sunken patio. This sophisticated outdoor lounge, complete with daybeds and a modern fireplace, would look right at home outside one of London's chicest spas. Instead, the space is a private backyard behind an Islington home. Dark wood fencing and bright foliage enclose the sunken patio to create a private retreat.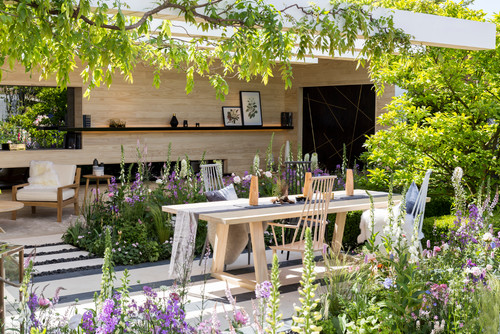 3. Outdoor room. Another award-winning garden from the 2016 Chelsea Flower Show, this outdoor room designed by Hay Joung Hwang offers plenty of inspiring ideas for Houzz users.Creating a semienclosed space outside — this one is made of three walls and a ceiling — would be a useful extension off the home for an urban garden. In warm weather, one could enjoy eating outside under a canopy of trailing vines. Even on a cloudy day, the outdoor living room would feel cozy and inviting with a fabulous view of romantic, cottage-style perennial beds.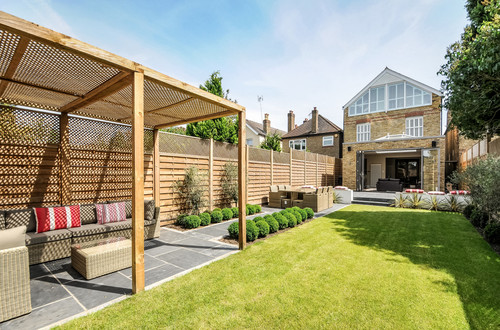 2. Backyard pergola. Designed for outdoor entertaining, this garden in South West London offers an alfresco dining area and shaded lounge thanks to the wooden lattice. It's perfect for relaxing with a cool drink on a summer afternoon. City planning departments have been known to allow homeowners a few extra feet of wooden lattice on their perimeter fences above the maximum height limit. In a tight city lot, an extra few feet of lattice can add much-needed privacy while still allowing light into the garden.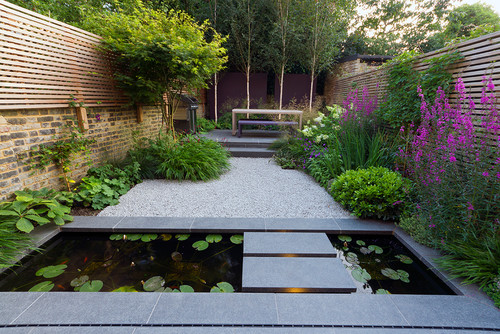 1. Walk on water. It's no surprise that Houzz users found this urban backyard to be inspiring. Stepping out from a London flat and into this tranquil retreat would feel like being transported on a mini vacation from city life. The lotus pond, symmetrical tree backdrop, and soothing colors of green, gray and deep purple all evoke a sense of calm.
Article source: https://www.forbes.com/sites/houzz/2017/01/13/10-trends-growing-in-todays-urban-gardens/