There must be many old furniture laying around your house, basement, backyard, the corner of your garage over the years. Never throw them away! You can repurpose those old furniture into something creative, practical and unique for your home just with a little of handiwork and a bit of creativity.
In this post, we have found many creative DIY projects to repurpose old furniture on the web. Take a look at all these creative, unique and easy DIY furniture hacks and you will get much inspired for your next DIY furniture! Enjoy and get crafty now!

DIY Upholstered Coffee Table Ottoman: This upholstered coffee table ottoman looks so beautiful and awesome and adds more comfort and style to your living space! Get the DIY instructions via Newly Wedmcgees.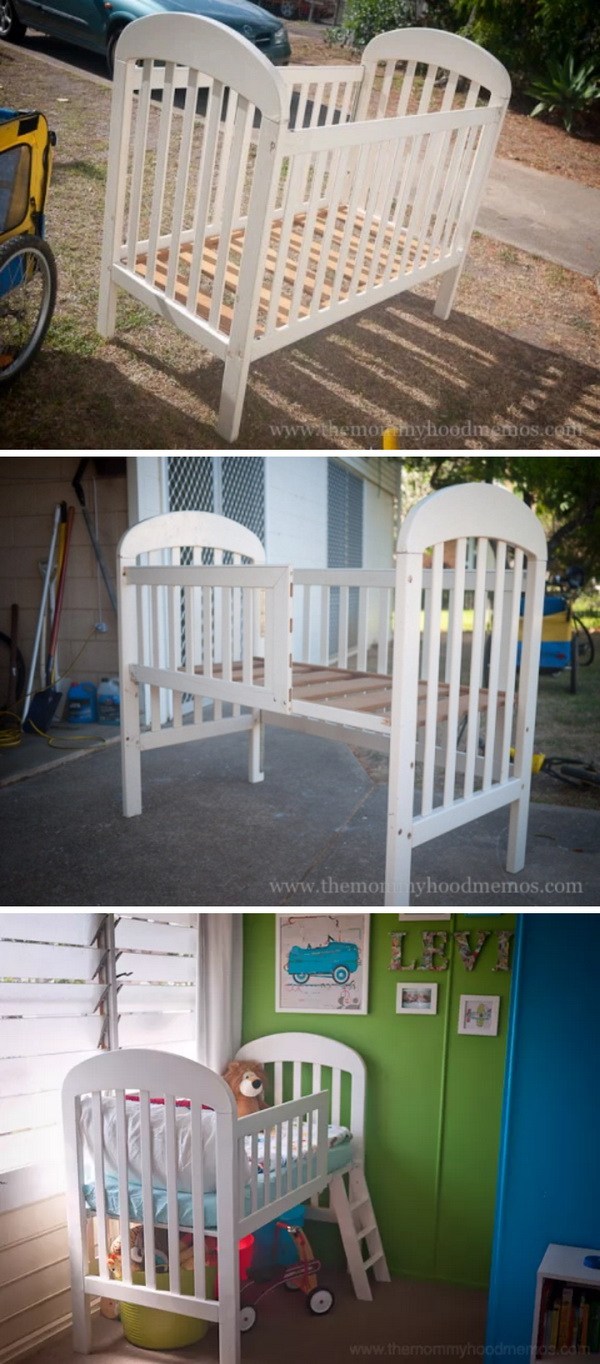 DIY Toddler Loft Bed Made From Old Crib: Learn how to make a toddler loft bed out of an old crib with the full instructions via Adriel Booker.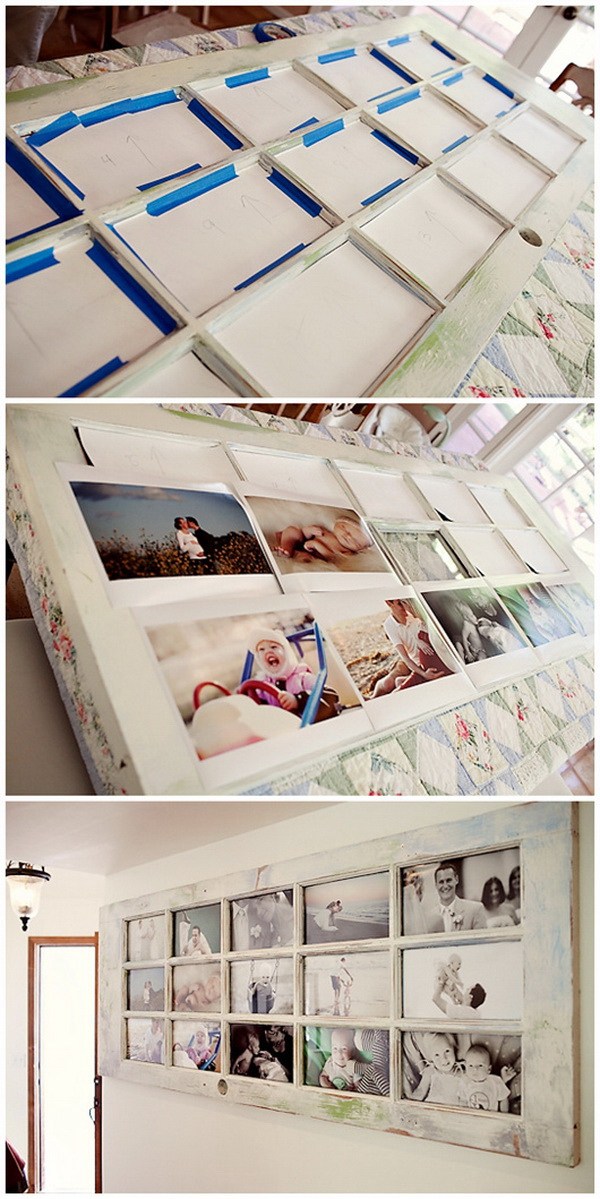 DIY Picture Frames With Old Door: Create an organized gallery wall by taping your family photos to the back of an old door with glass panes. Love how it turns out be a stunning wall decor piece! DIY instructions via Photo Gmommie.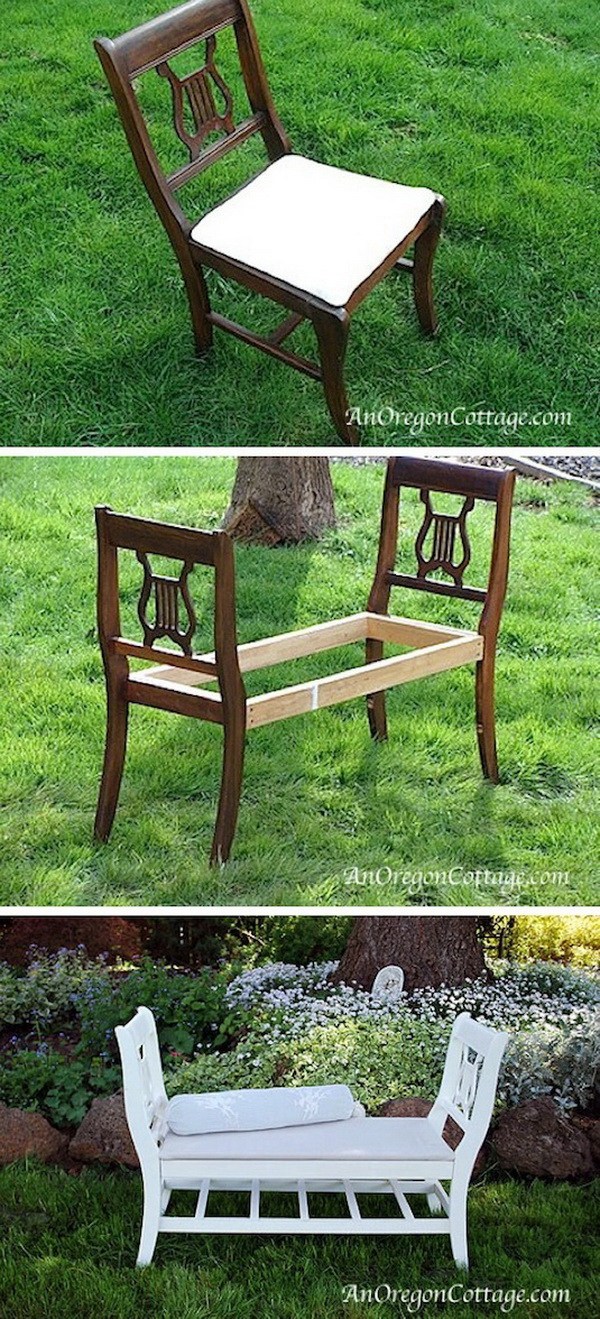 French-Style Bench From Old Chairs: Never throw away those old or broken dining room chairs, you can turn them into a cozy indoor or outdoor bench like this one. Check out the DIY instructions via An Oregon Cottage.

Spray Painted Dining Chairs: Spray paint furniture makeover. Turn the old ugly dining chairs into these gorgeous ones with chalk based paint! It is super easy to do with a bit of handiwork and creativity! Refresh Restyle.

DIY Door Headboard: A creative way to upcycle your old doors! Like this one, you can turn the old door into a gorgeous DIY headbord with some white paint and a bit of handiwork. Get the tutorial via Infarrantly Creative.

Turn Unused Old Dresser into A Bench: Get the DIY instructions via Create Inspire Me.

Turn an old dresse into a functional storage in your entryway: Turn an old dresse into a functional storage in your entryway! Get the DIY instructions via A Lovely Place to Land.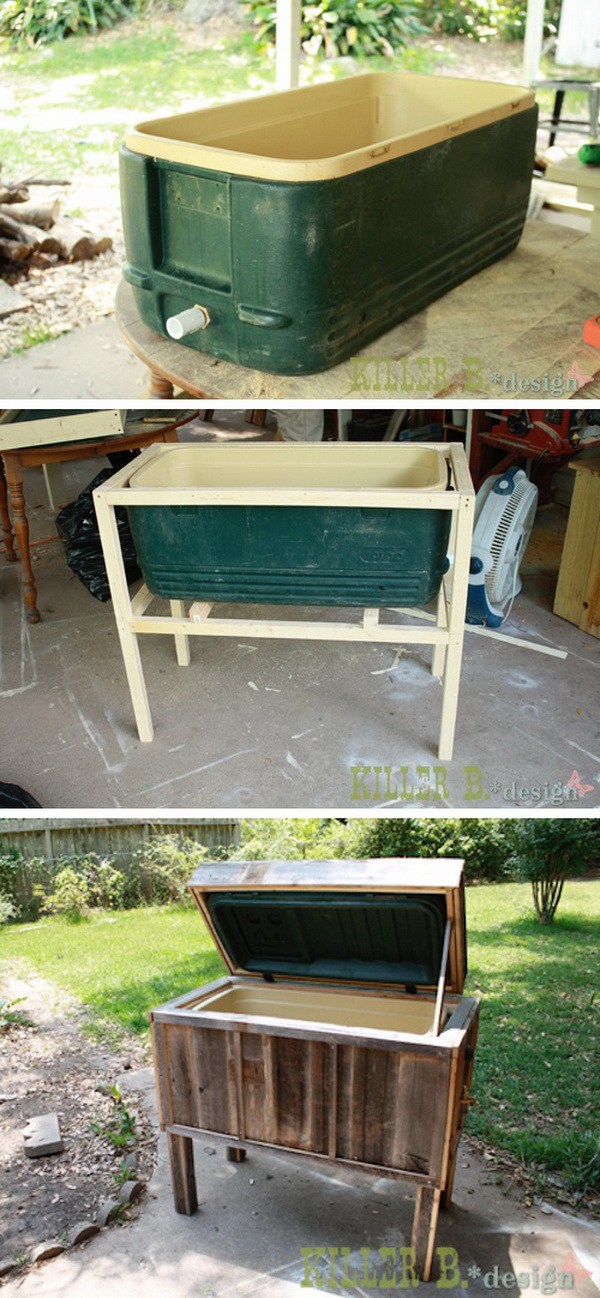 Ice Chest Makeover: Get the tutorial via Killer B Designs.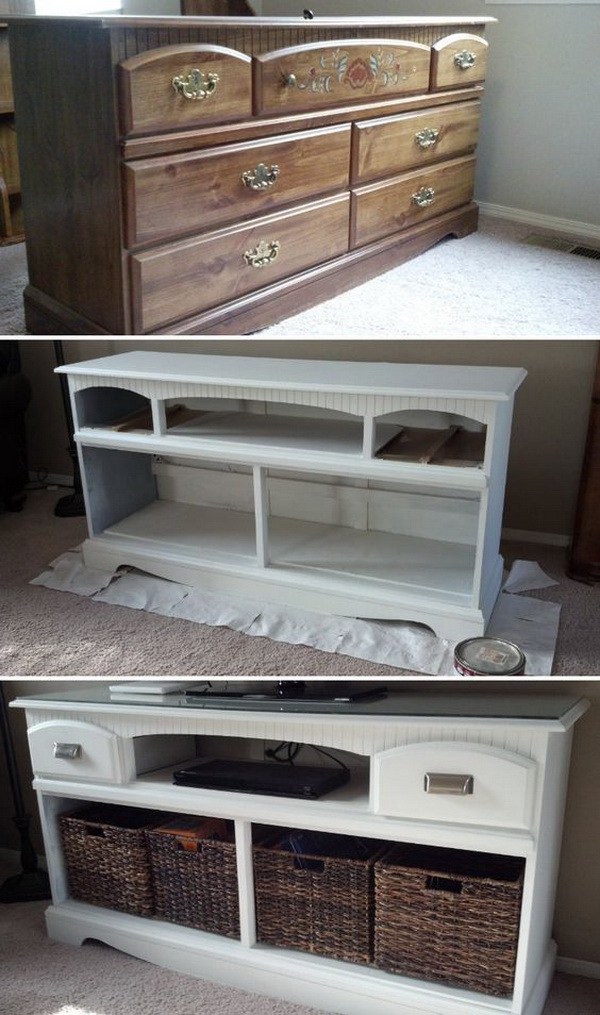 TV Stand Makeover: Turn an old wooden dresser into this gorgeous TV stand with some white paints and a bit of woodworking! Love this creative DIY furniture for my home! Get the tutorial via Handimania.

DIY Lego Table Made out of an Old Table: Transfer an old table that you don't want to use anymore into this lego table. It is perfect in the playroom! See the DIY instructions via Fussy Monkey Biz.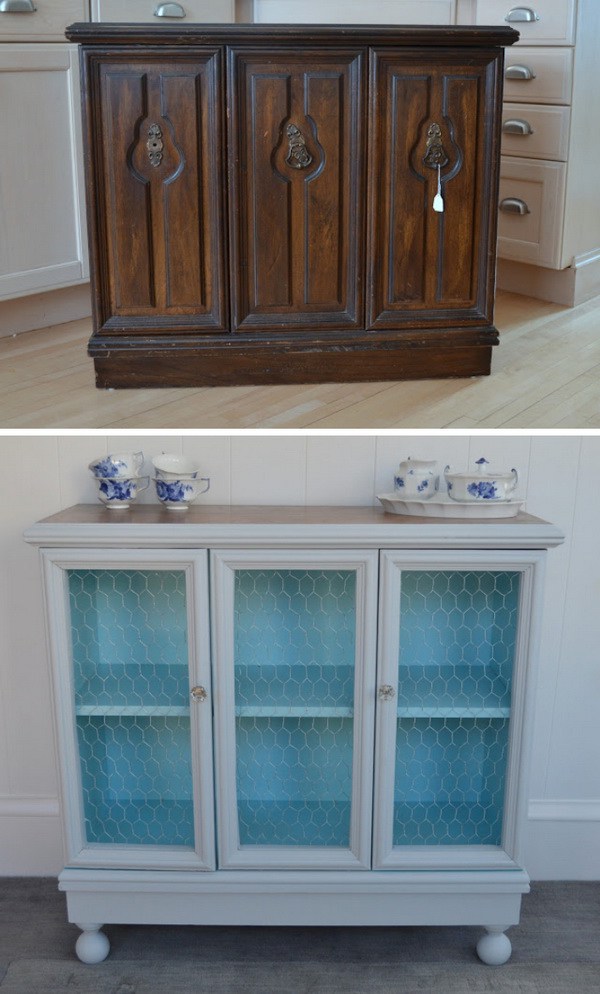 Old Cabinet Makeover: What a cool and elegant DIY furniture for your home! Super gorgeous! Get the DIY instructions via The Lovely Residence.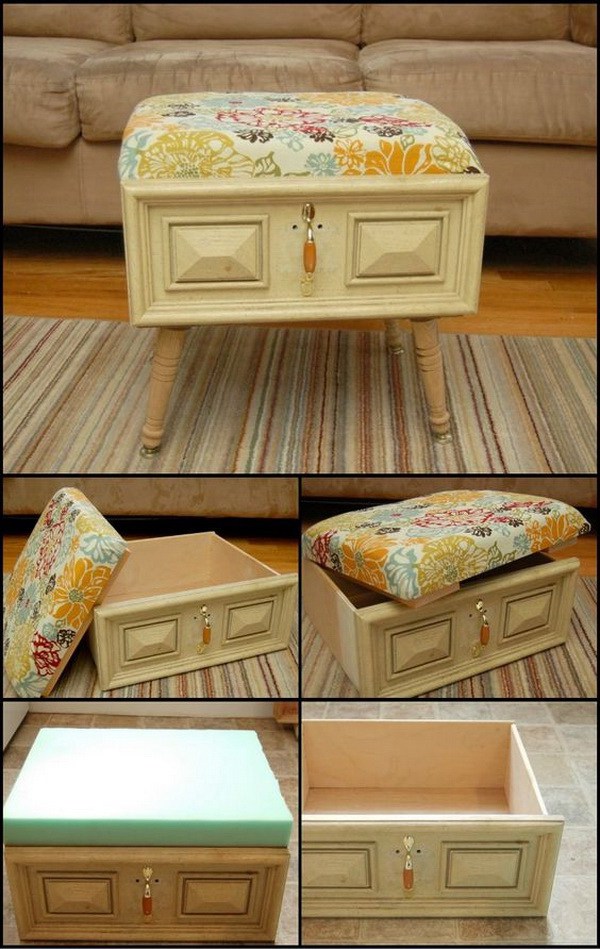 DIY Drawer Ottoman: Turn an old drawer into an ottoman for any room in your house! This ottoman is not only a great addition to the living room, but also provides a great storage for your photo albums, books or other belongings not used very frequently. See the DIY instructions via The Owner Builder Network.

DIY Ottoman with Storage: This DIY ottoman is easy to put together with some cheap wooden crates and gives you additional seating and storage at the same time. See the DIY tutorial via Mon Makes Things.

Magical Multiplying Nightstands: Turn one end table that you never use into two DIY nightstands for your bedroom. What an easy and creative DIY furniture for your home! See the DIY tutorial via the chronicleherald.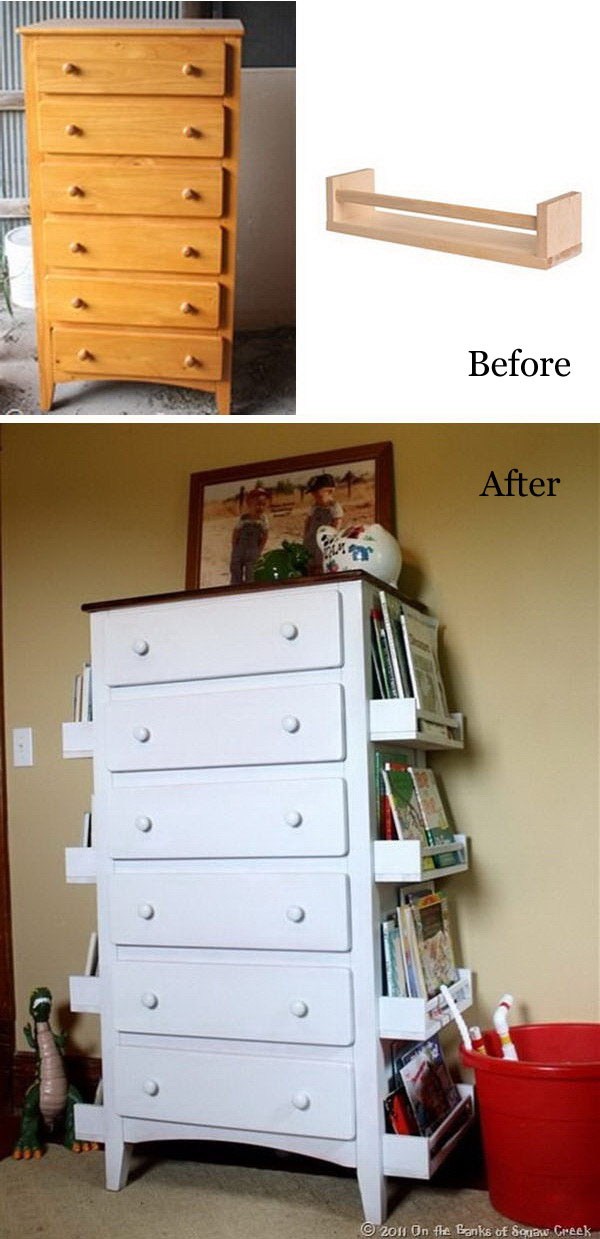 DIY Kids Bookshelves Made with Old Drawers and Ikea Spice Racks:Turn the old drawers like this one into a creative and stylish bookshelves for your kids with some white spraypaint and the IKEA spice racks. See the instructions via on the banks of squawcreek.

DIY Bathroom Vanity with Drawers for Storage: Get an old table from your garage or at a flea market, trace the sink hole, lay a sink in the opening…now you have this stylish and useful vanity for your bathroom. The drawers below can be a great storage solution for your bathroom supplies or other daily supplies. Get the step-by-step tutorial via anoregon cottage.

DIY Coffee Table From A Suitcase: See the step-by-step tutorial via shopruche.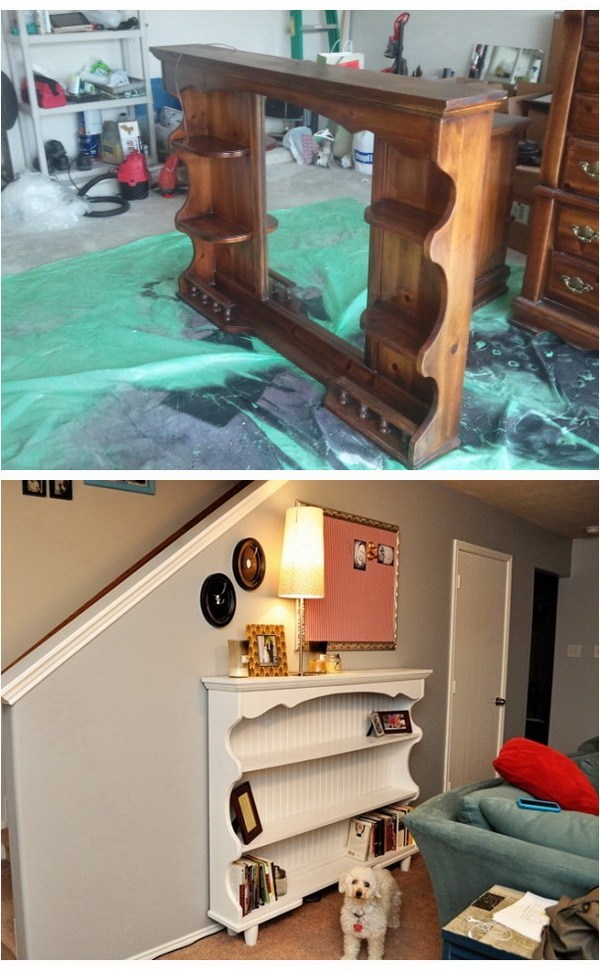 DIY Sofa Table or Shelf Made from Old Dresser Hutch: Get the tutorila via Hannah Bunker.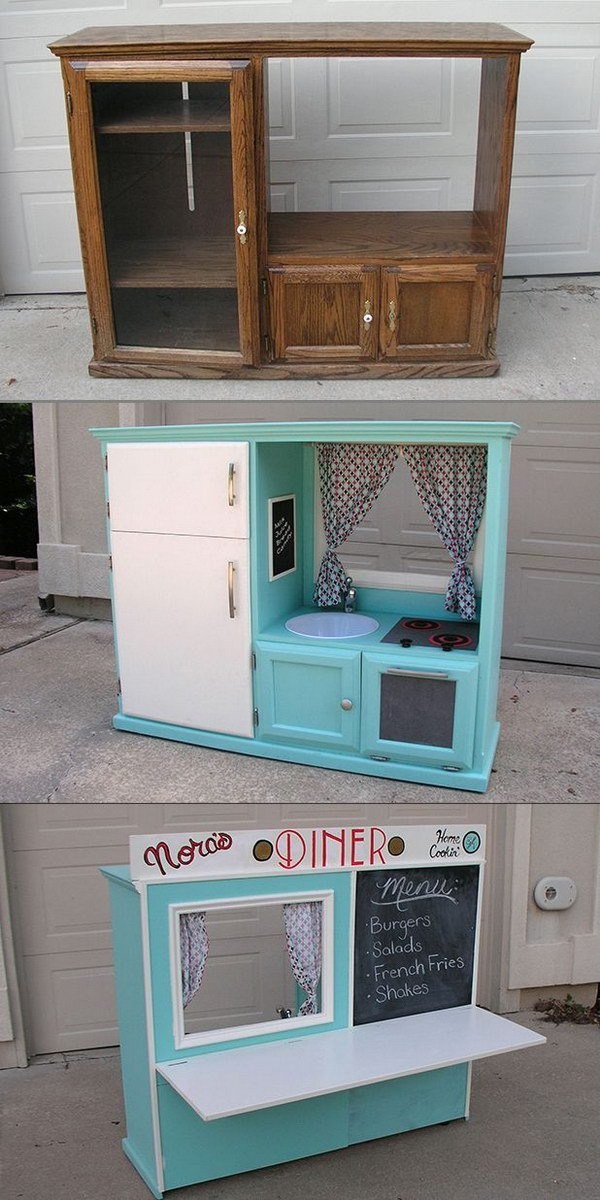 Turn an Old Cabinet into a Kid's Play Kitchen: Make a fantastic play kitchen out of an old cabinet for your kids with the instructions from ehow.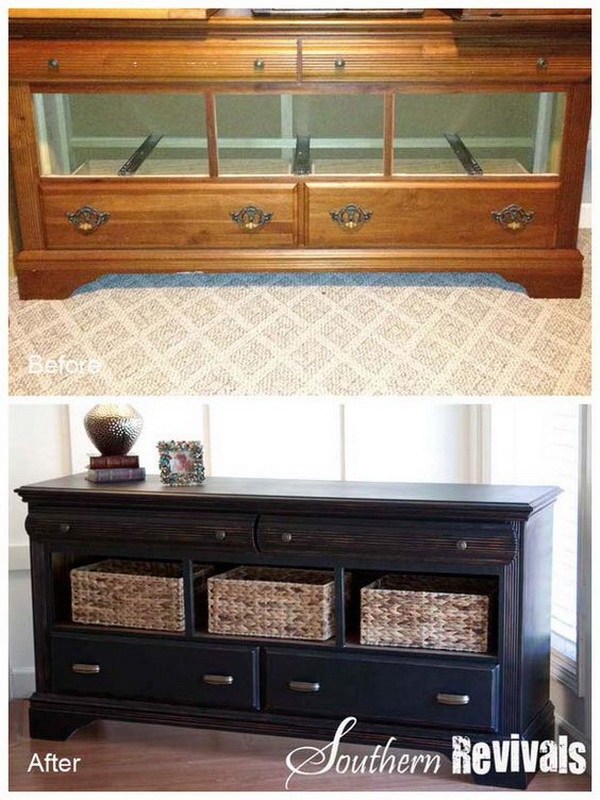 Pottery Barn Style Dresser Revival: An old dresser that was missing drawers…Turn an old dresser into an amazing toy storage for your kids' room. See the tutorial via southernrevivals.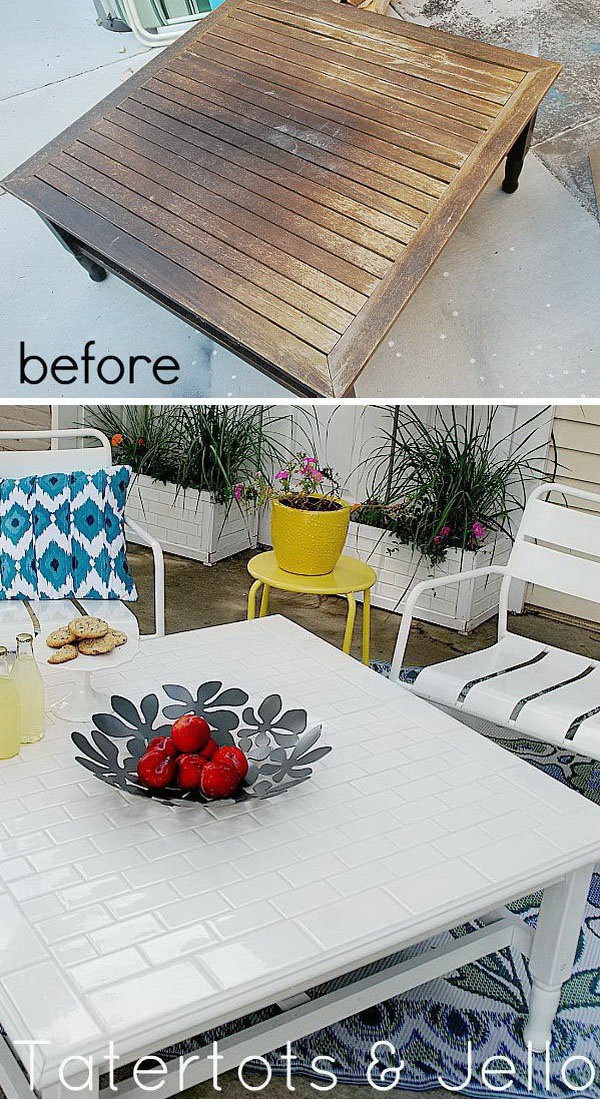 DIY Subway Tile Table Redo: Turnan old table into this fabulous table with subway tile tabletop. Learn about the instructions via tatertotsandjello.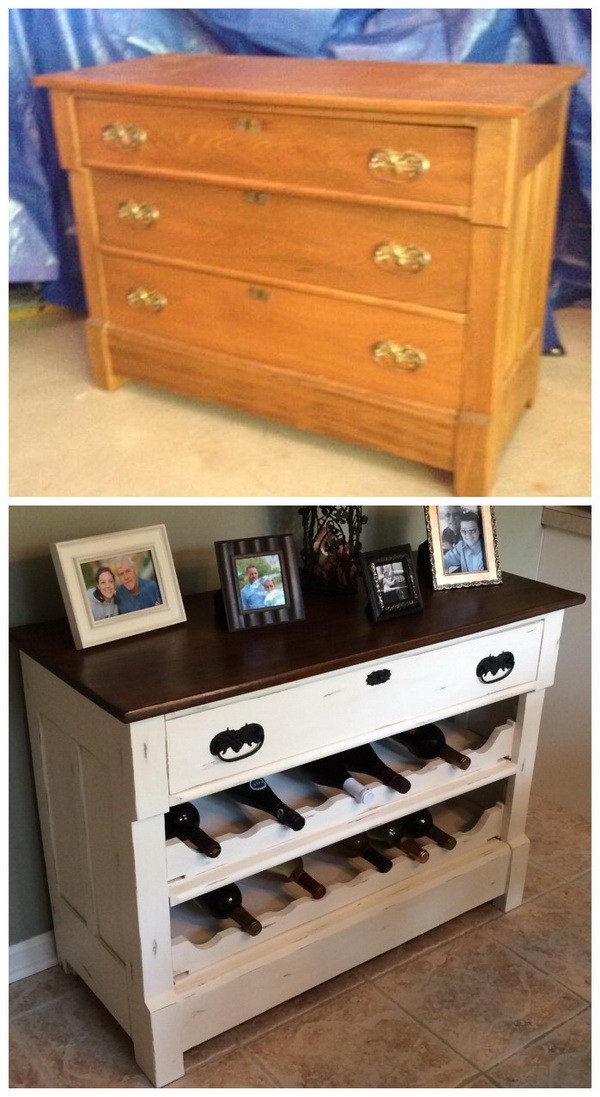 DIY Wine Rack Repurposed from Old Dresser: Get the DIY tutorial via thehappyhousewife.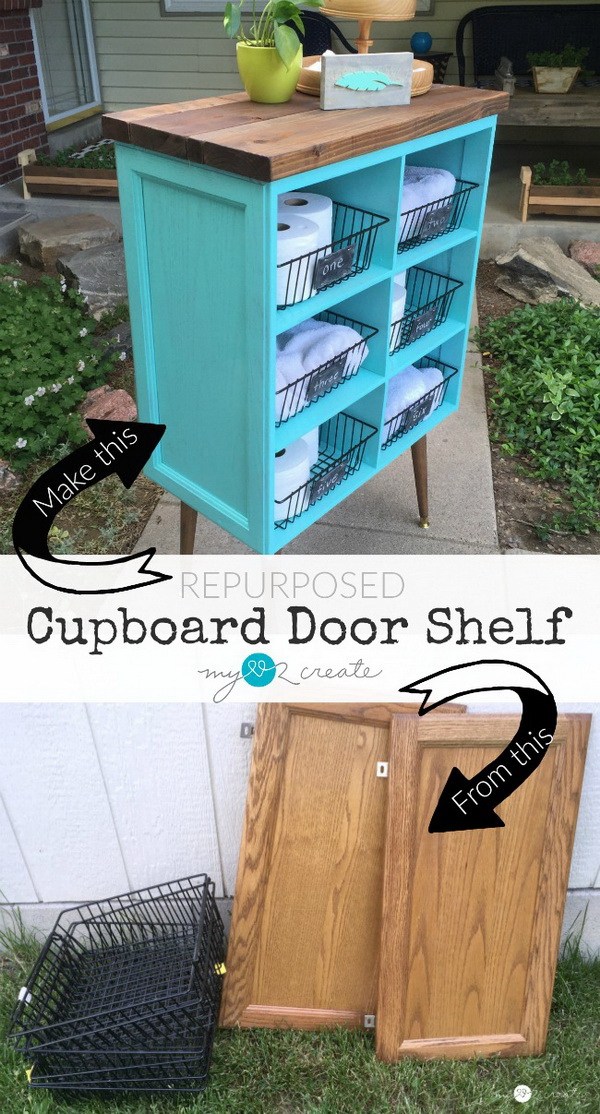 Repurposed Cupboard Door Shelf: Beautify your home with this DIY repurposed cupboard door shelf, easy to make your own one following the picture tutorial via myrepurposedlife.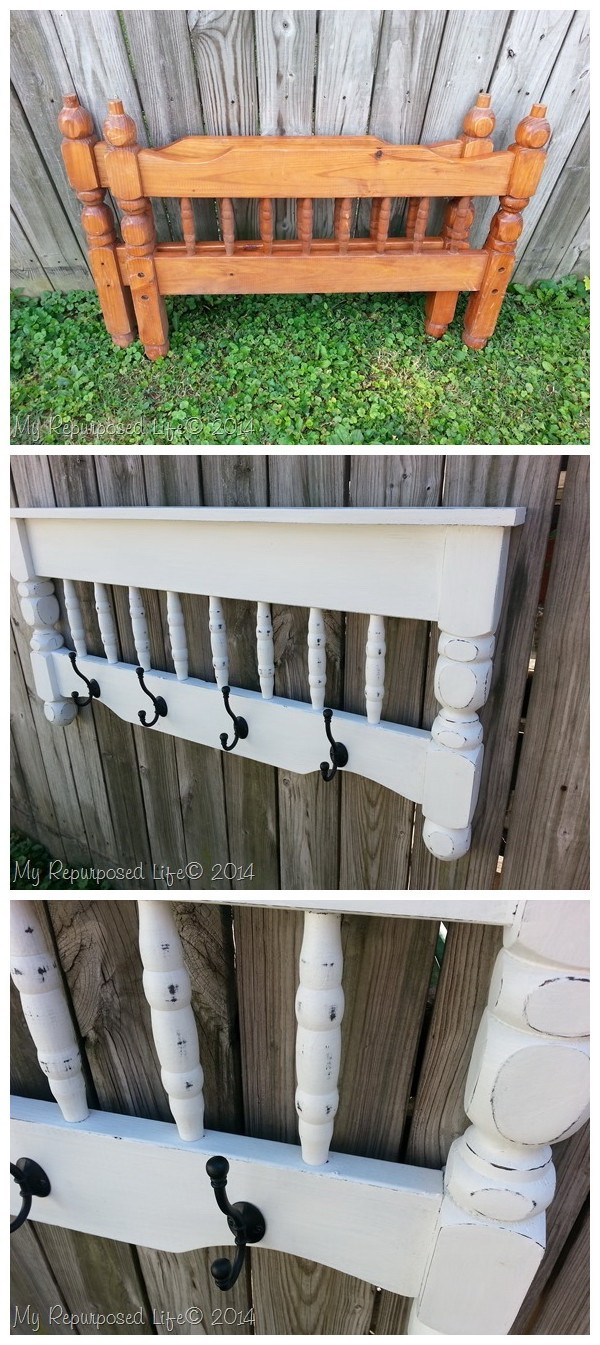 DIY Coat Rack Repurposed Bunk Bed: Repurpose a bunk bed into a small shelf and coat rack. Get the tutorial via myrepurposedlife.

DIY Child's Desk with Kitchen Cabinet: Never throw away old cabinets next time. Repurpose them into a portable desk for your elementary-aged child with the tutorial via ehow.

DIY Coffee Table With Old Window: Turn the old windows that you will never use into a stylish and useful coffee table fot your living room. Check out the tutorial via martysmusings.

DIY 2×4 Upholstered Banquette Seat: Free step by step plans to build this upholstered banquette seat via ana-white.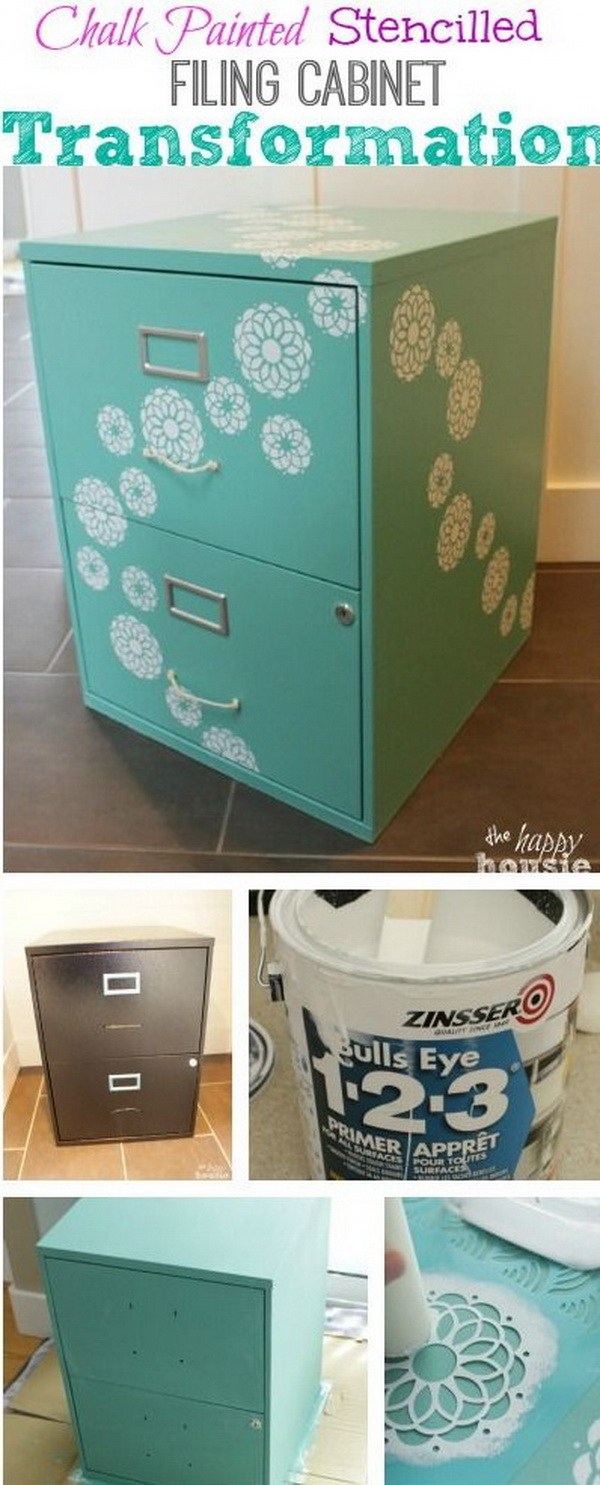 Chalk Painted Stencilled Filing Cabinet: A great way to take an old or boring filing cabinet to a whole new level using Country Chic Chalk. See the tutorial via The Happy Housie.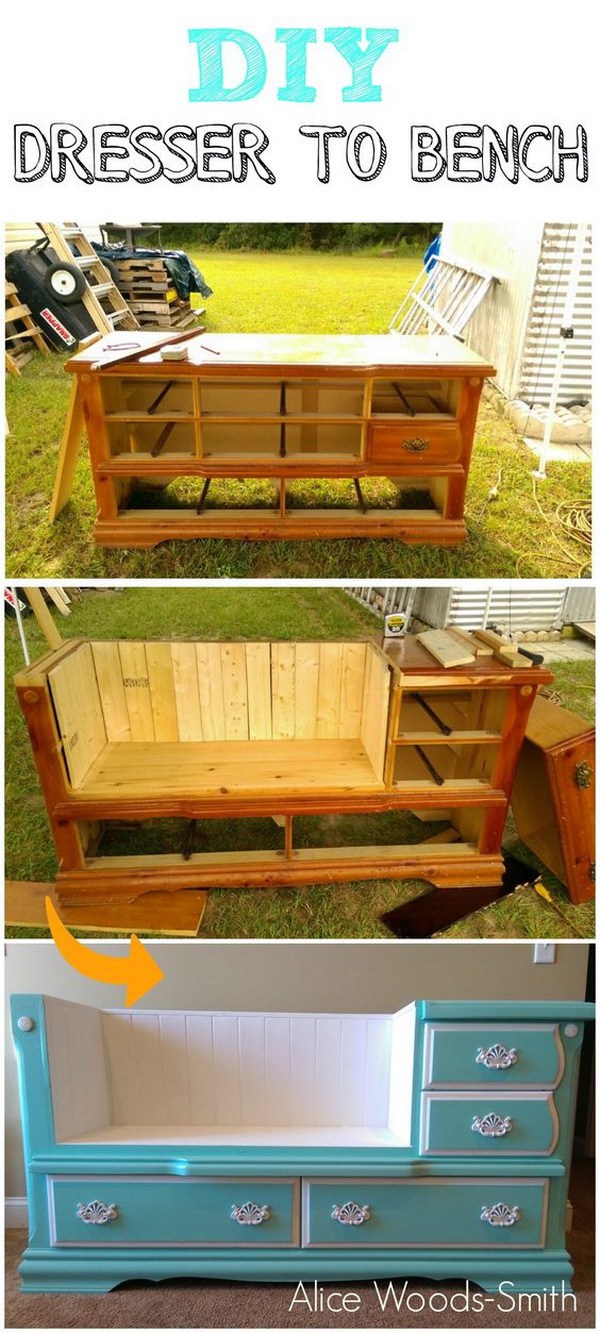 DIY Dresser To Bench: Turn an old dresser into a new stunning and functional bench with some woodworking skills and paints. It is perfect and budget friendly DIY furniture piece for your home! Tutorial via Grillo-Designs.

Upcycled Drawers to Side Tables: Get some old drawers and turned them into bright side tables. See the DIY instructions via hometalk.

Entertainment Center Turned Kids Closet Armoire: Recreate an old tube TV entertainment center into a useful storage solution for your daughter's bedroom. Learn about the Step-by-step tutorial via hometalk.

DIY Dog Food Station with Storage: DIY Dog Food Station with Storage underneath! Here is a free plan for you. Check out via addicted 2 diy.

Old Filing Cabinet to a Garage Storage Unit: Turn a filing cabinet into a creative storage unit to keep various tools and household items in your garage. Tutorial via tttreasure.

DIY Vintage Clock Table: Make this vintage clock table with some flea market finds! Easy and budget friendly to do and the result turns out so beautiful for your home. Get the tutorial via scavenger chic.

Blah Bookshelf to Ballards Knockoff: Add feet and wallpaper to a cheap bookcase! Easy and cheap to do for your furniture makeover! See the instructions via redouxinteriors.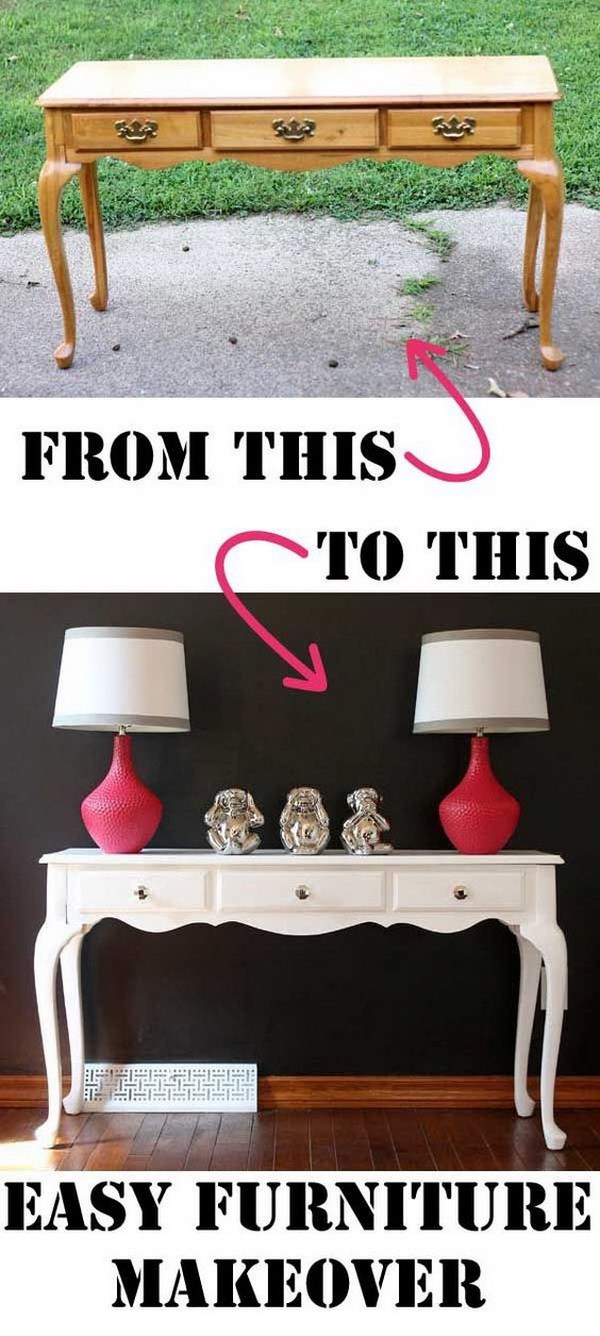 Furniture Makeover: From Country to Chic Console: Update a tired old drawers into a chic console with some paint and hardwar! Totally one afternoon DIY project! Learn about the DIY instructions via theshabbycreekcottage.

Old Coffee Table to a Bench: Another DIY bench project made from the old coffee table. Check out the tutorial via sabbyinsuburbia.

DIY Pallet Coffee Table: Another easy and budget friendly DIY furniture for your home! Add more rustic charm to your home with this DIY! See the instructions via 1001pallets.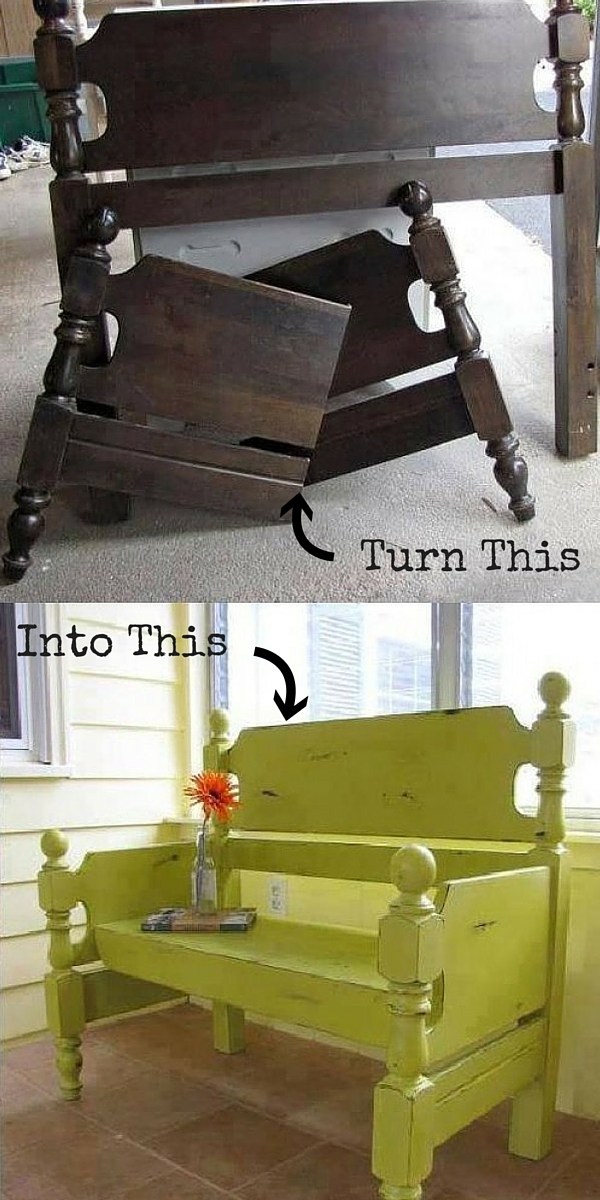 Old Headboards into a Lovely Bench: Check out to see how to upcycle a couple of old headboards into a lovely bench for your porch from paintedtherapy.
More DIY Home Decor Ideas and Resources
---
---
Article source: http://forcreativejuice.com/creative-and-easy-diy-furniture-hacks/?utm_content=bufferd803f&utm_medium=social&utm_source=pinterest.com&utm_campaign=buffer