Many homeowners like their bathrooms to have a bright, spa-like atmosphere. Unfortunately, it's easy to go too far and end up with a cold, clinical appearance. These six design tips will add energy and warmth to your bathroom without drastically changing your decor.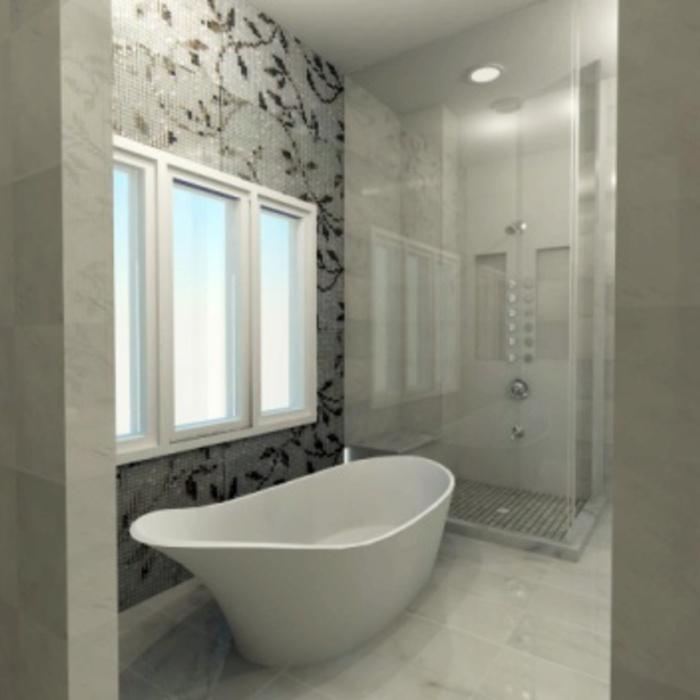 Photo courtesy of Ambience Interiors, Inc. in Woodbridge, ON
1. Experiment with patterns
Use fun patterns to break up a white bathroom. Adding a few eye-catching elements doesn't have to require a big commitment. Patterned hand towels and colorful prints are perfect for your bathroom walls. You can swap out simple accents when you want to freshen up your bathroom's look.
2. Add a touch of cream
Another way to escape the clinical feel of an all-white bathroom is to mix in a few pops of off-white. Try softening the look of your white bathroom with cream-colored towels or other small accessories. Off-white items allow the bright white of your porcelain to shine through while giving your bathroom a warm, lived-in look.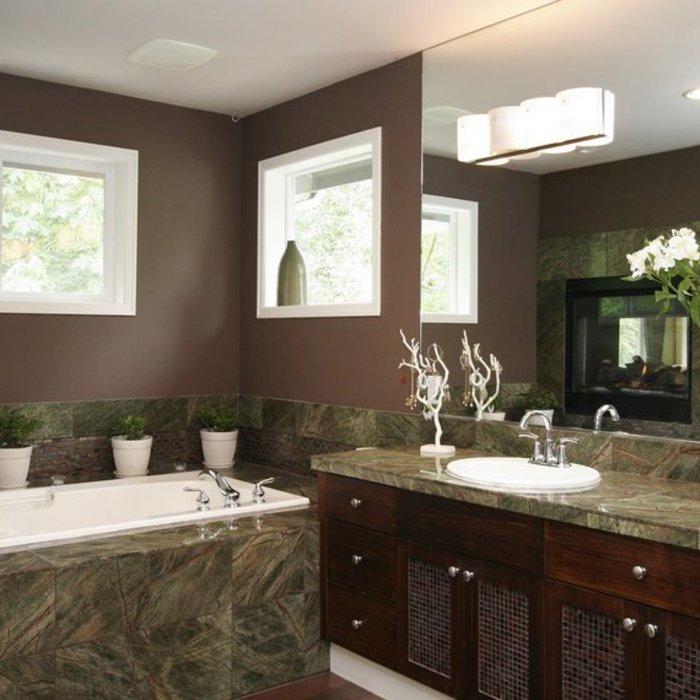 Photo courtesy of Anchor Renovating in Brush Prairie, WA
3. Go natural
The waterproof materials found in most bathrooms can feel a bit cold and stark without some visual warmth to balance them out. Natural accents add an earthy, organic feel to a bathroom. Try adding a few wooden or stone accessories and woven baskets to your bathroom for a warmer aesthetic. Animal prints can have a similar warming effect. Embrace your wild side with a few animal-printed towels.
4. Change up your hardware
Many homeowners overlook cabinet hardware when updating their decor. New knobs and drawer pulls can add a dash of personality to your bathroom. Choose from rustic, elegant or quirky pulls, depending on your personal style. New cabinet hardware is one of the most budget-friendly ways to change your bathroom's look. You can always swap out your cabinet knobs to freshen the look of the room.
5. Use a dimmer system
Your bathroom's bright lighting is essential when you're getting ready in the morning. But you might want a softer glow in the room when you unwind before bed. Using a dimmer will allow you to switch between different levels of brightness and control the lighting of your bathroom.
6. Get creative with tile
If you're ready to make a major change in your bathroom, try creating an accent wall with a mix of colored or textured tiles. Consider using leftover sample tiles at showrooms to save money. You can use your tiles to create pops of color in an all-white wall or completely re-cover the wall in a new design. Tile work requires more planning than some other updates, so don't be afraid to call a pro if you need additional help.
Conclusion
Your bathroom should be just as inviting as the rest of your house. These six tips can help you achieve a clean bathroom design without sacrificing personality and warmth.
Article source: https://www.huffingtonpost.com/entry/6-quick-ways-to-renew-you_b_10820852.html?utm_hp_ref=bathroom-ideas