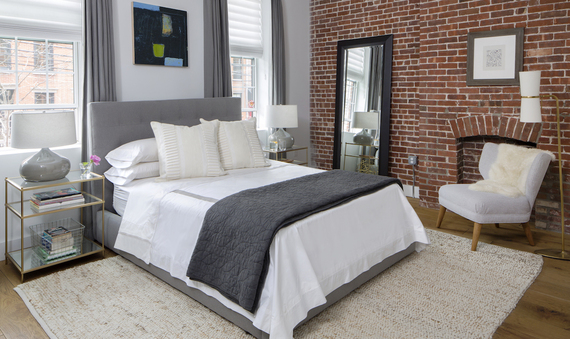 The master bedroom is probably where you spend most of your time at home, so even if you're asleep most of that time, it's still important to create a luxe, tranquil space. Our designers shared their expert ideas for decorating a bedroom where you can relax and recharge.
1. Establish a Mood
How do you want your bedroom to feel? Airy and dreamy? Moody and sexy? Before you start decorating, figure out what kind vibe you want. Once you do, it will guide your other choices.
2. Choose Relaxing Colors
When selecting a color palette, think soothing, and not jarring. Go for neutrals or soft, muted shades. For example, if you want a deep shade, choose navy blue-not electric blue.
3. Go Easy on the Pillows
It's your bedroom, not a showroom, so resist the urge to throw pillow your bed into oblivion. As a general rule, go with two sleeping pillows, two shams, and, if you so desire, top it off with a few decorative pillows.
4. Get a Headboard
Whether you opt for upholstered, wooden, or metal, headboards make a space feel more special and complete. Without them, it's just a mattress on a frame, which is decidedly less luxurious.
5. Build Bedside Symmetry
Flank your bed with matching bedside tables and lamps. It makes the room look more polished, put together, and, well, symmetrical.
6. Add Intimate Lighting
As noted above, two bedside lamps are key. Depending on the size of your room, you can also add one more source of light, like a floor lamp or a table lamp on a dresser. Just don't rely on a harsh overhead light, which can instantly kill the mood you're trying to establish.
7. Hang Curtains
Curtains and drapes warm up the space, visually and physically. They can also add drama and sophistication to the space, provided, of course, that they reach from the ceiling to the floor.
Article source: https://www.huffingtonpost.com/entry/7-ways-to-decorate-a-rela_b_9634738.html?utm_hp_ref=bedroom-ideas