Everybody thinks about to decorate his home in a stylish and trendy way. He always tries to make his home well decorated and beautiful and for this, sometimes he has to spend a lot fortune. First of all, you buy a land for which you have to spend much fortune. After that, they spent their whole life to gain money to make their home beautifully decorated. Because the costs of decorating a home can be expensive and sometimes out of the budget. But now you should not worry about costs of decorating things a stuff because I am here with some interesting and cheap DIY projects for home decoration.

These cheap DIY projects will prove very beneficial to build up a well decorated and well-looking home without spending a lot. All of these projects are easy, affordable, beautiful and less time-consuming. Especially if you are crafty and love to work with your own hands then it would not be difficult to achieve the perfect result of these Cheap DIY projects. Moreover, these projects most popular and will make an ordinary inexperienced home decorator into an expert. After adding these Cheap DIY projects to your home décor everyone will ask you about your exquisite décor. They will definitely wonder how you did it. These cheap DIY projects are also great because you could use all of that stuff which is old or considered useless after re+cycling or repurposing.
Cheap DIY Projects For Your Home Decoration:
You Can Also See:
So, give your home your own personal touch and make it more decorative and creative. So, if you were wandering to add a new flair to your home for a year then it is the right time. Scroll down to take a look at the following interesting list and draw some inspiration. I hope you will love all of these ideas and cheap DIY projects a lot and will definitely try them out to make your home stunning and give it a fantastic look without spending a lot.
DIY Thread Leaf Wall Art: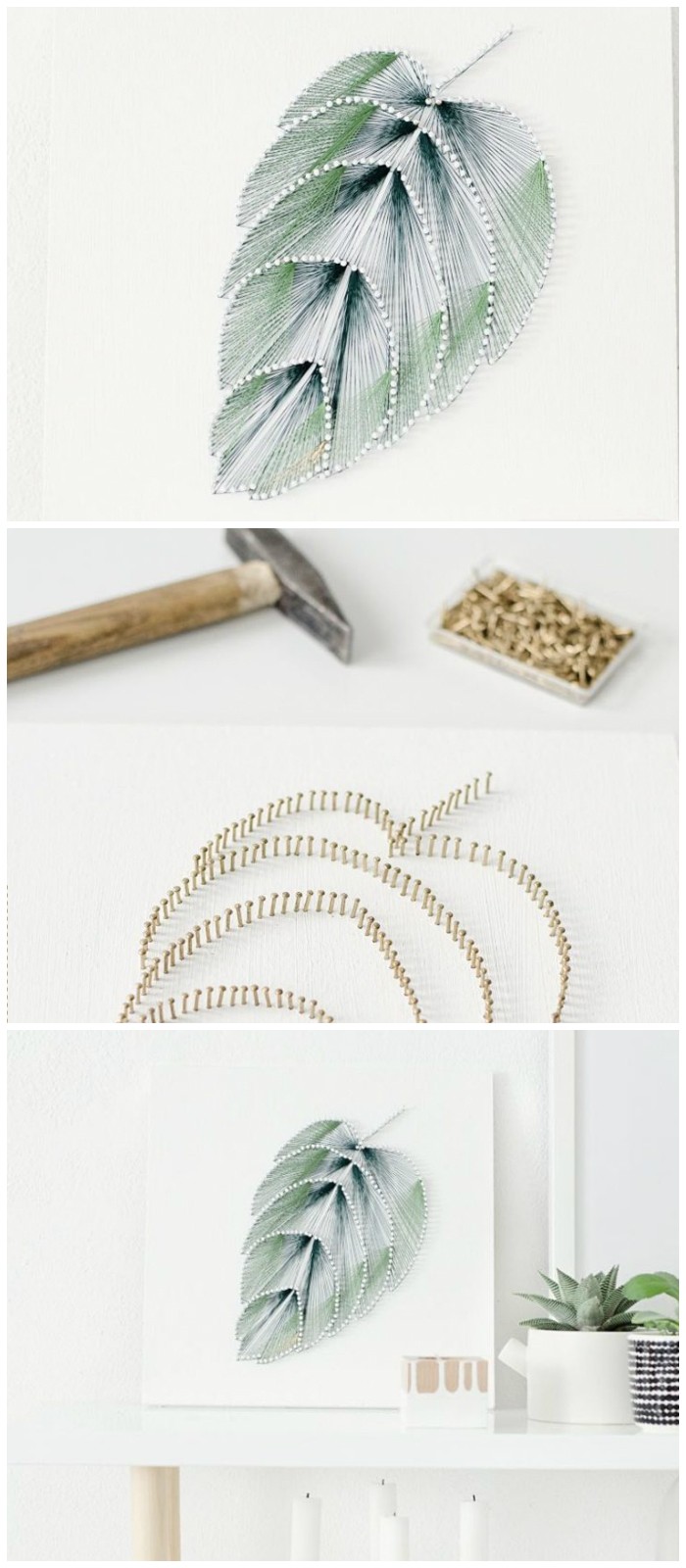 It's not compulsory that wall art must be expensive to look good. You can try your own inner art to enhance the look of your wall and can convert your boring wall into beautiful and elegant. Look at this picture and create your own leaf wall art with thread and nails and add your personal touch to your home decor. DaWanda
Upcycled Lampshade Vases:

If you are crafty then there is nothing impossible for you to transform any old thing into new. Try this project with your own hands and transform an old lampshade into an elegant flower vase. Use any of your favorite paint colors and make your own stunning vase that will beautify your space. The House that Lars Built .
DIY Adorable Pom Pom Rug: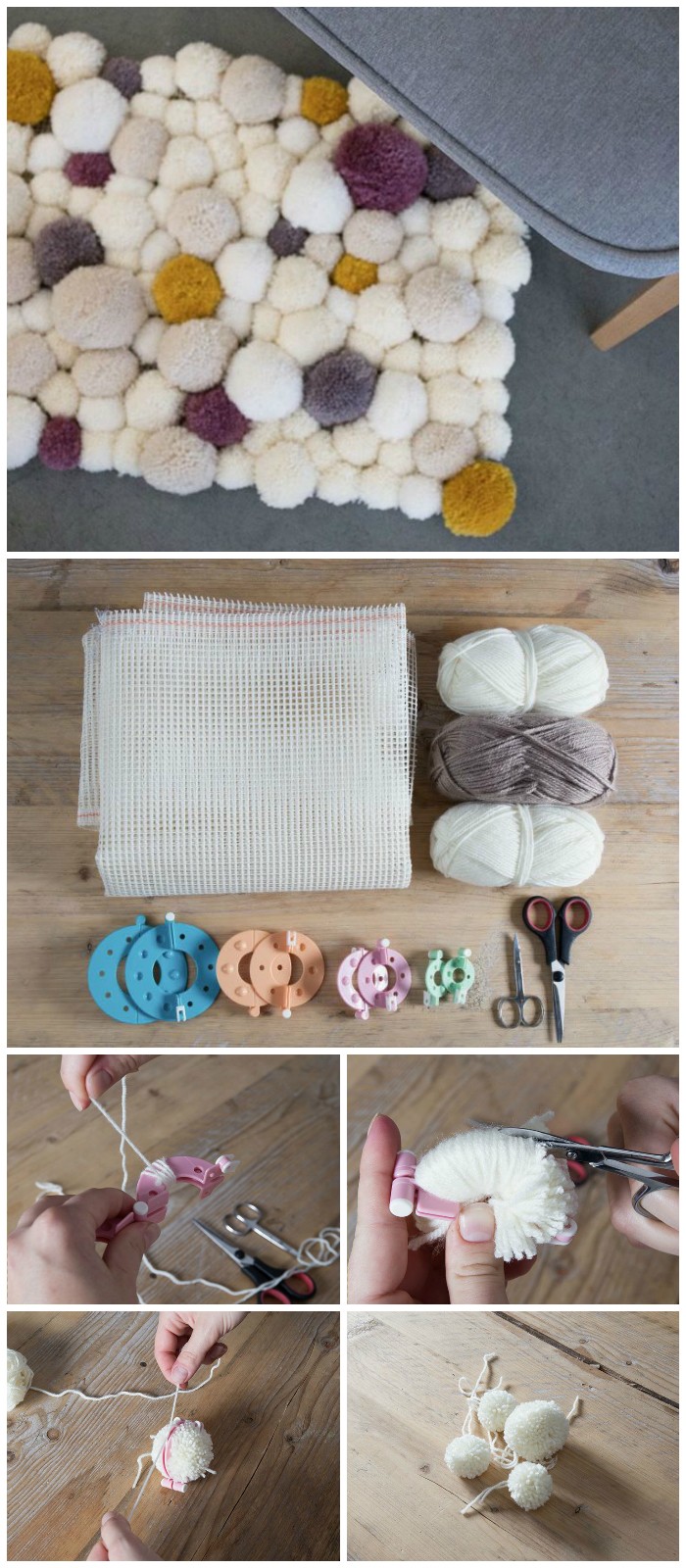 Rugs add an elegant and cozy look to any space. They are also very inviting and the most important thing look beautiful. So, create this pom pom rug with your own hands which is very simple and easy to create to give your space a cozy as well as a matching decor to your room. DaWanda .
DIY Billy Ball Pillow:

Billy balls look very elegant and cute and one of my favorite faux flowers. This easy to make DIY billy ball pillow will add a stunning look to your chair, bed, window seat, and sofa. You cannot only create it for yourself but also it can be a perfect housewarming gift too. West Elm Blog .
DIY Wooden Slab Key Holder:

We find keys in every home and those are the must-have privacy lock items. But sometimes we do not find them at the right time or the time of hurry due to throwing them here and there. Give your keys an exact and their own place by making this DIY wooden slab key holder. It is very cheap and too much easy project. You just have to take a wooden slab and acrylic paints of different colors. You will definitely find it more stylish and creative than buying a new one key holder from the store. The Crafted Life .
Simple Painted Leaves Wall Art: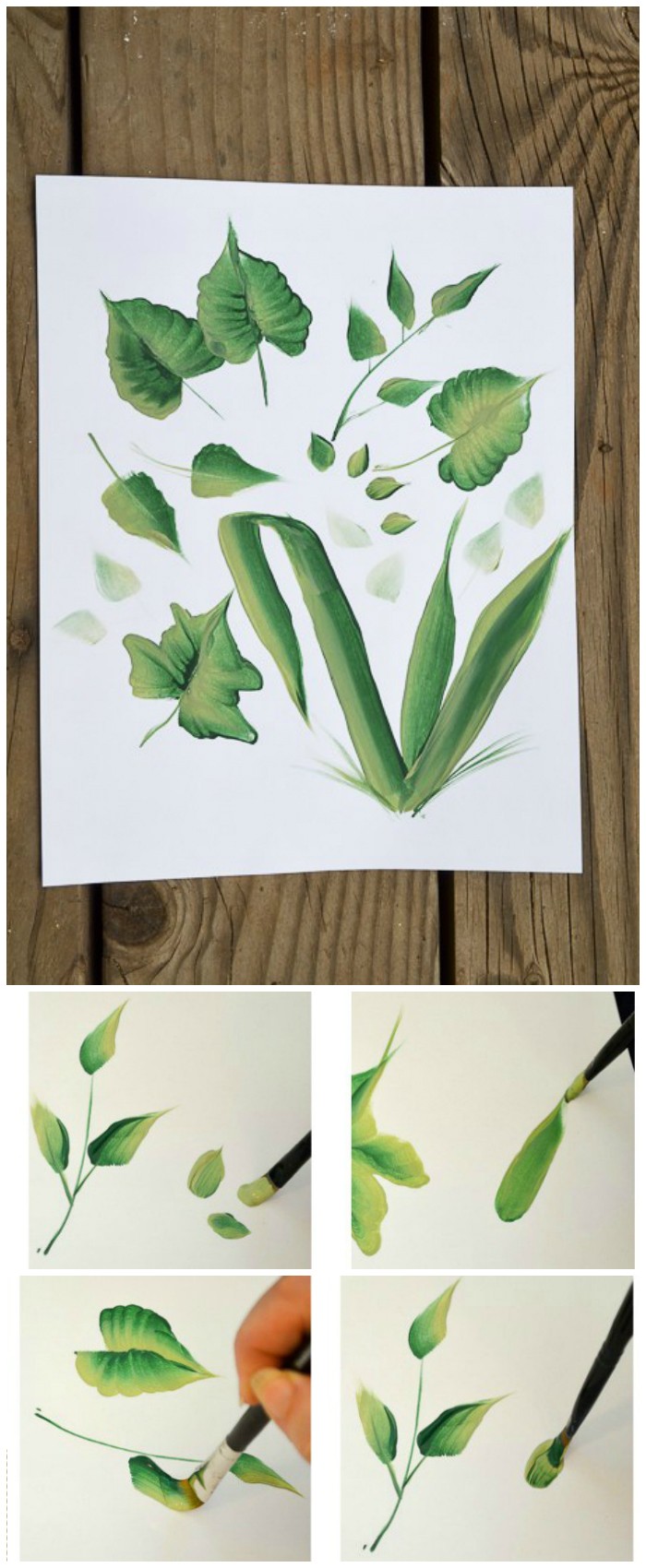 Leaves give a very nice effect on a wall art and wall painting. So, if you are good at painting art then try this stunning DIY simple painted wall art with the help of paintbrush and a little creativity. If you want more instructions and get a complete tutorial then click this link where you will find the complete information and tutorial. Flower Patch Farmhouse .
DIY Light-Up Flower Frame Backdrop: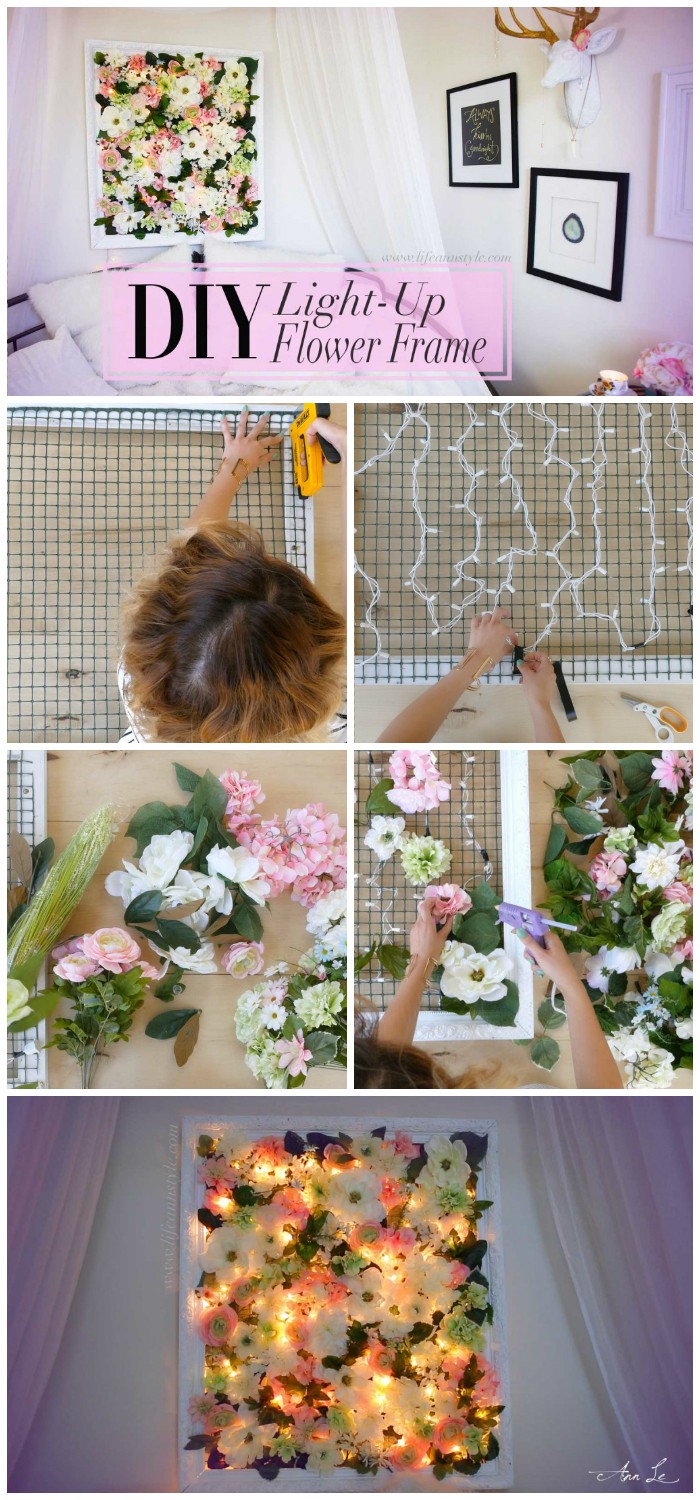 Lighting always looks amazing whether you display it in any mode in outdoor or indoor. This DIY floral wooden frame with lighting will look stunning in your bedroom or the teenager's bedroom's wall. Life Ann Style .
Macrame Hanging Planters: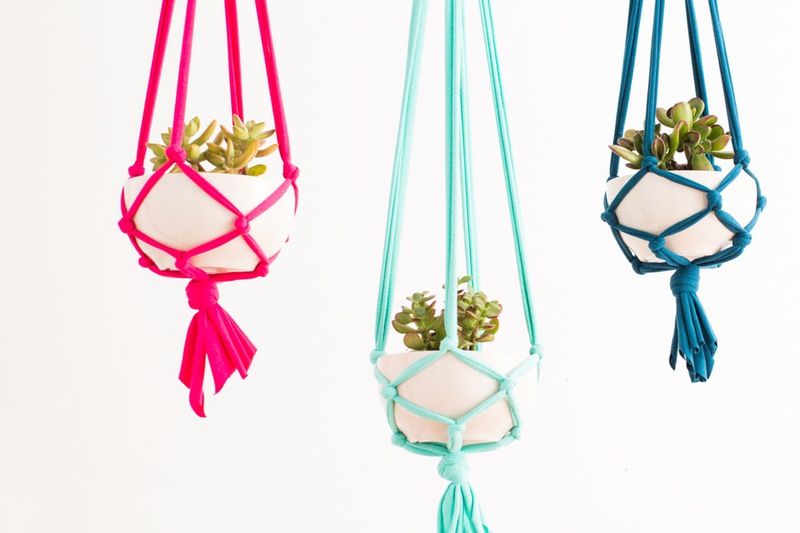 These macrame hanging planters are a stylish and modern way to decorate walls and home with homemade accessories. It is also a perfect way to add small plants in a creative and unique way. You can also create them to give a gift to your beloved ones. Tutorial: Brit .
Succulent & Supply Holder Bookends:

Are you tired up by watching to you bookshelf decorated in an old and boring style? Then bring a stylish and creative twist to your bookshelf and make these succulent and supply holder bookends. These will add a bit decor as well as a functional support for your stuff at the same time. Tutorial: I Spy DIY .
Mini Plastic Animals DIY Canvas Art:

It is very easy, perfect and nice idea to add a canvas decor to your space with tiny plastic animal and using different paints. This wall art will be perfect for kids, nursery or play room's walls. Mod Podge Rocks Blog .
Glass Globe Terrarium With Succulent Plant: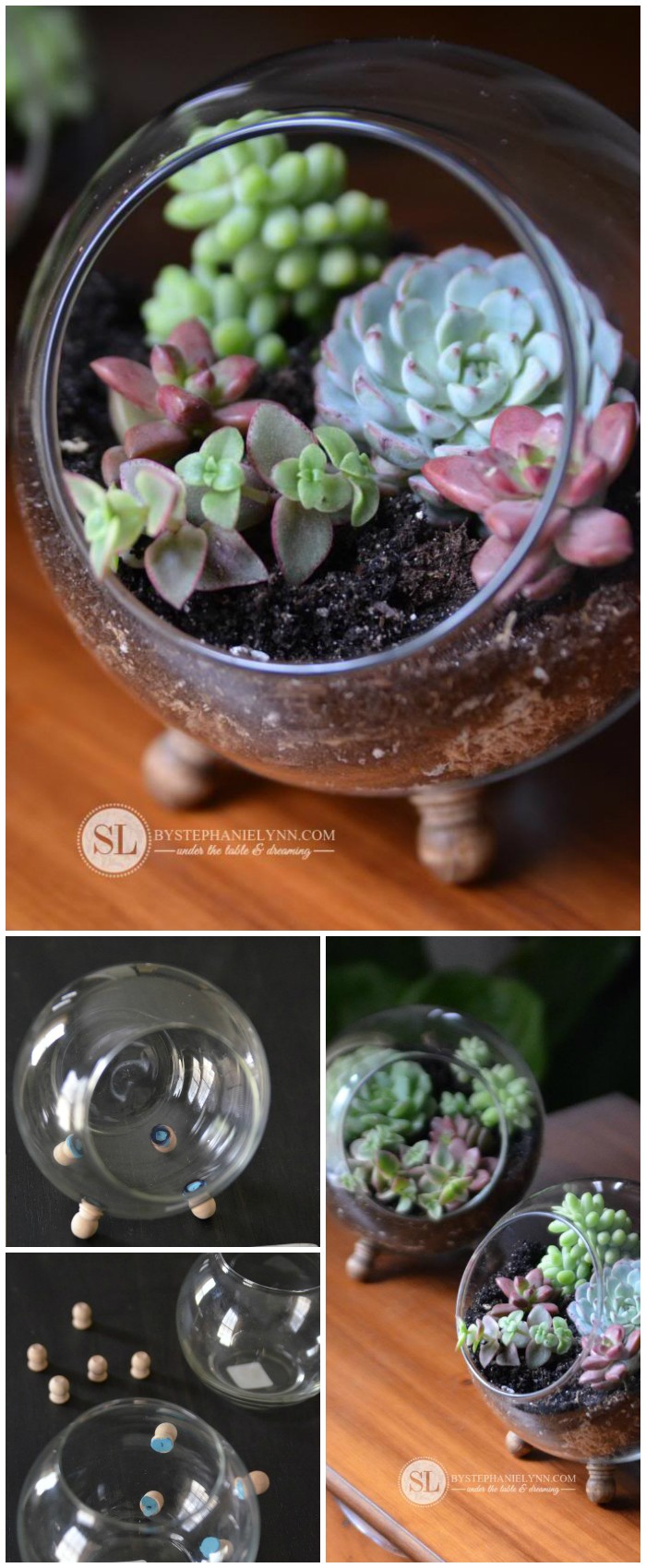 Create a little glass globe terrarium and add succulent plants to it. It will become a very beautiful and charming showpiece or centerpiece. You can also use it as a gift to give your beloved ones. by Stephanie Lynn .
Gorgeous Rainbow Roses:

Use your creative mind to brighten up your home with your little creativities. Make this rainbow rose to beautify your home and add a personal touch to your home decor. It can be a good rainy day craft.
DIY Succulent Pineapple Planter:

You can turn your ordinary terracotta clay pot into cute and stunning pineapple planter by adding air dry clay onto it. It will be a perfect centerpiece or a gift for your friends and beloved ones. Lines Across .
Art Piece Using Tree Branches: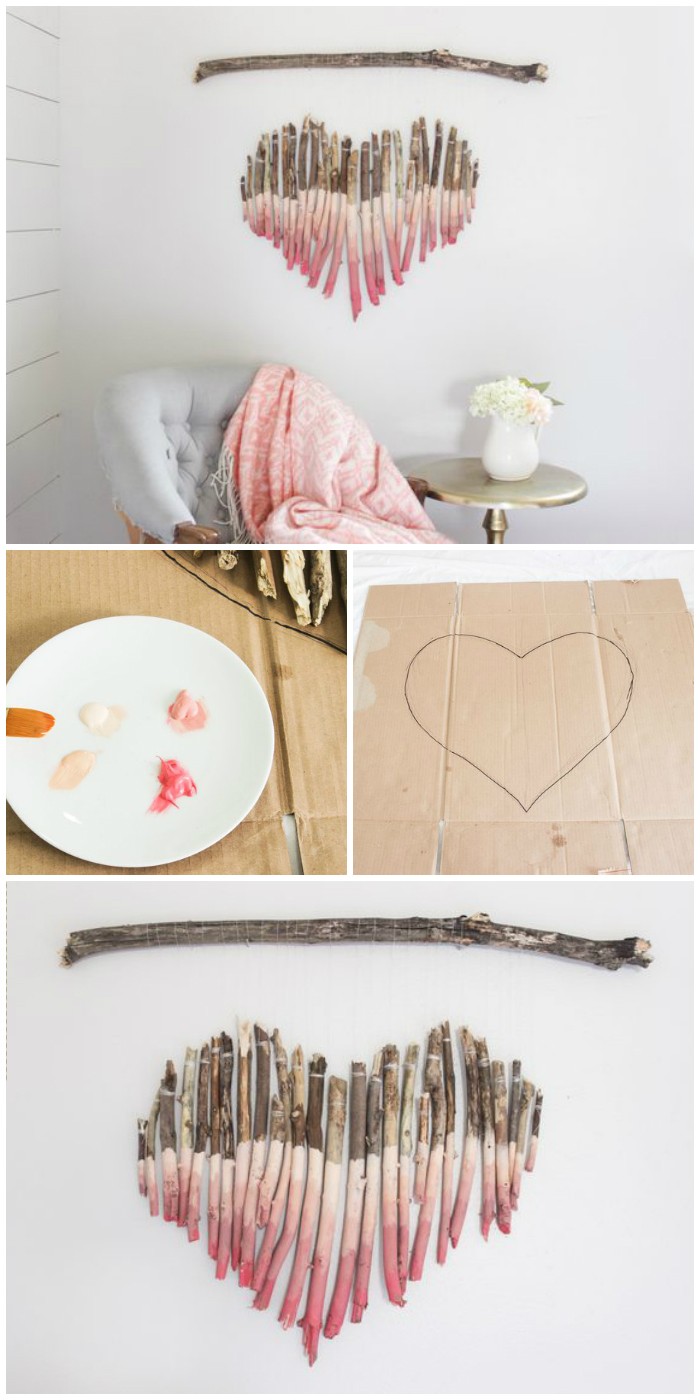 Give your art skills a new way. Make this heart-shaped wall art from tree branches, driftwood, and strings. It will make the wall of any room stunning and outstanding with this art piece. eHow .
DIY Pom Poms Flowers:

Pom poms are very popular nowadays and they make everything more elegant and beautiful. Make these pom pom flowers from yarn and place them in a mason jar. This is a great handmade centerpiece to decorate your baby room or add it to your wedding decorations. Kelly Elko .
DIY Book Page Roses:

If you have a bundle of newspapers and do not know what to with them then here is the best option for you. You can turn old papers into beautiful roses an display them into a vase as a centerpiece. Grillo-Designs .
Storage Box From Cardboard Box: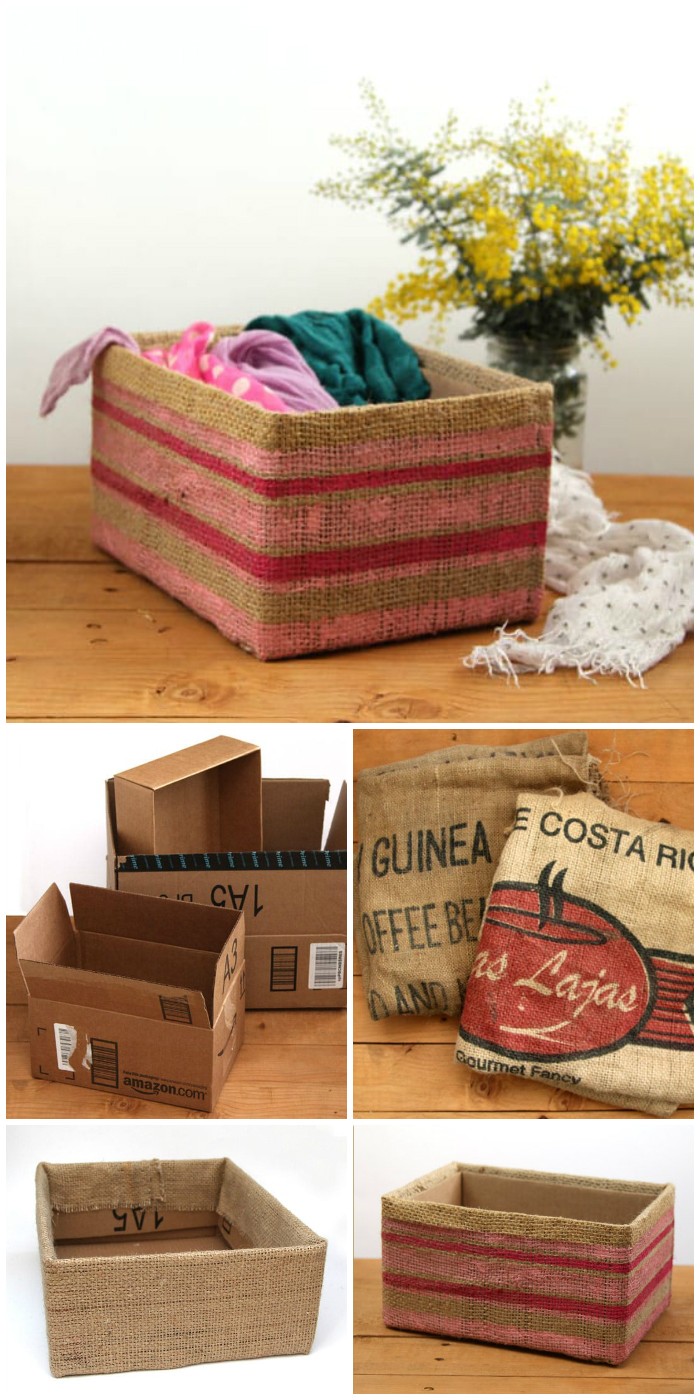 Cardboard boxes can become very beautiful and amazing storage boxes. The procedure is very simple. Just add burlap of coffee bean bags around them and create these gorgeous storage boxes. A Piece Of Rainbow .
DIY Wooden Tilt-out Trash Can Cabinet:

Trash cans look not too good in kitchens but they are necessary too. You can change the to add trash can in your kitchen by following this DIY wooden tilt-out trash can cabinet. It is very simple and easy project. To get complete tutorial click the link that we have given you here. bydawnnicole
DIY Wood and Plastic Baskets Storage Rack:

The storage problem is everywhere whether you have a small living space or a large doesn't matter. You have to need some smart solutions to store and organize your all stuff and items. Here we have shown you a DIY wooden rack to organized your all needy things very smartly without spending a lot. Try this one idea at your own home to make it more organized and creative. shanty-2-chic
Unique Neon Table with Metal Legs:

Coffee tables are a must-have furniture accessory for every home. But it does not compulsory that you buy an expensive coffee table from a store. You can give build your own DIY coffee table and give it your personal touch by adding neon pain on its legs. It will look gorgeous and very creative. the-brick-house
Industrial Wooden Coffee Table: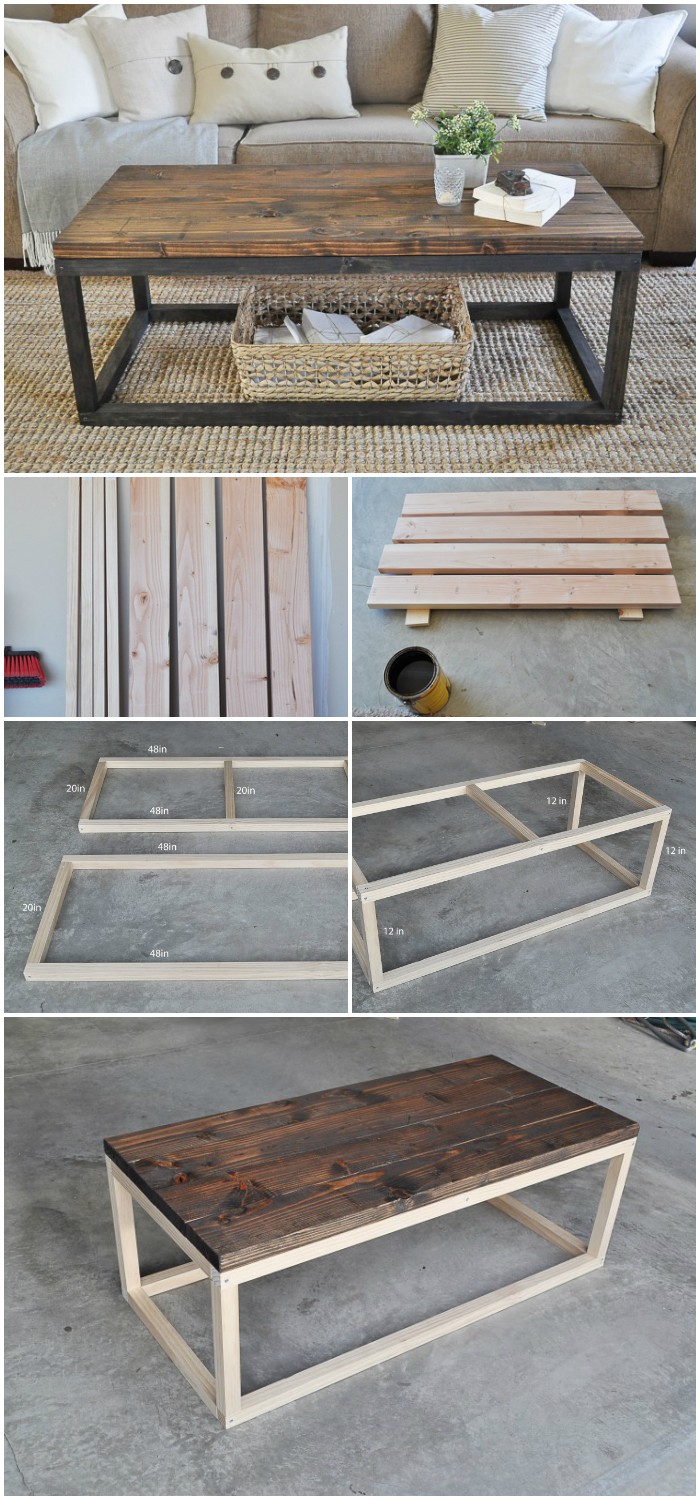 If you want to add a rustic or industrial decor to your home try this industrial wooden coffee table. It is not very difficult as well as not very expensive. To follow the instructions click here. littleglassjar
Creative PVC Pipe Bike Rack: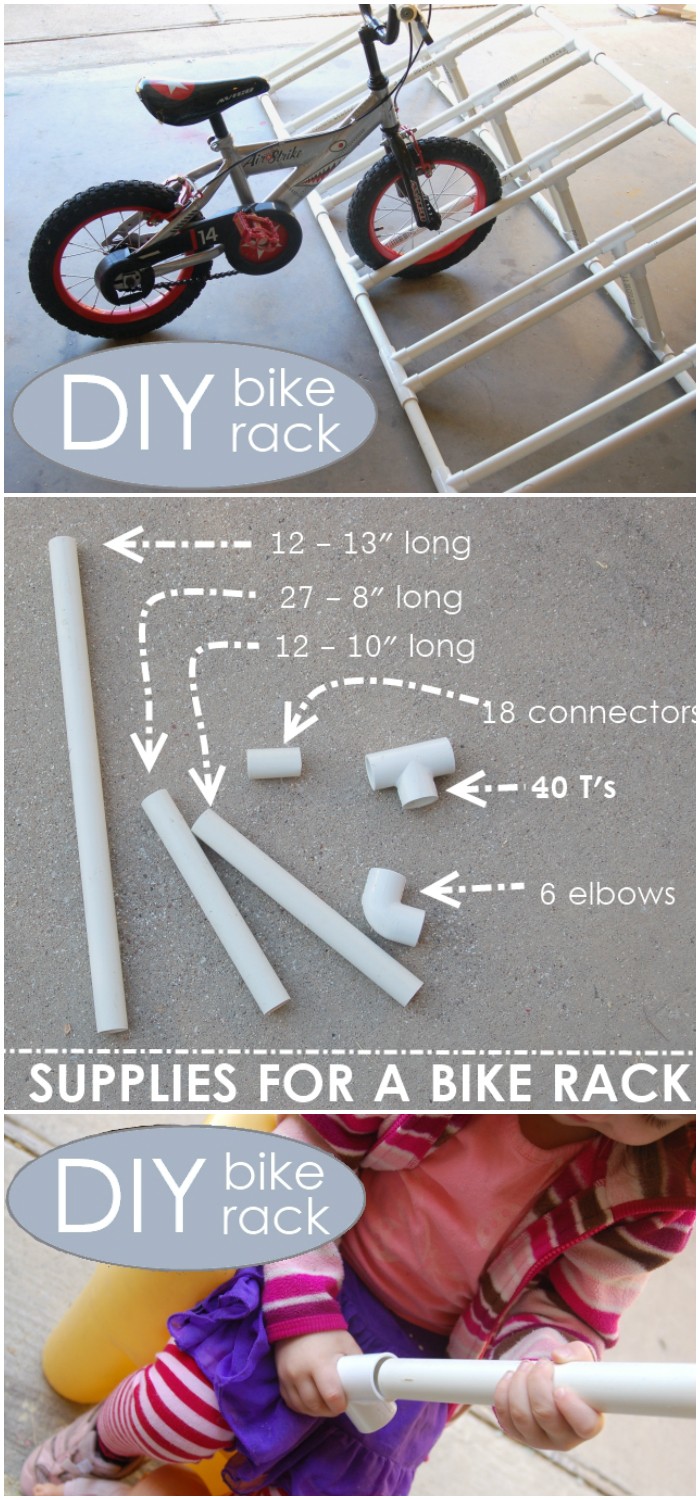 If you have tired up about parking of your bicycles? This DIY PVC pipe bike rack will really help you out to solve your problem. Your kids will love this creative idea a lot and enjoy to park their bike and bicycle here. kidsactivitiesblog
Precious Mini Macrame Succulent Egg Plant Hangers:

This is an amazing and one of the cutest cheap DIY projects. Try these precious mini egg succulent plant hangers this easter to beautify your home. This will prove a very cheap way to add a touch of Easter decor to your home. apartmenttherapy
Wooden Vegetable and Fruit Organizer:

Are you searching for a creative idea to store your fruits and veggies at home? Try this wooden rack idea to organize your all fruits and veggies. This is one of the best cheap DIY projects. overthebigmoon
DIY Necklace and Bracelet Holder: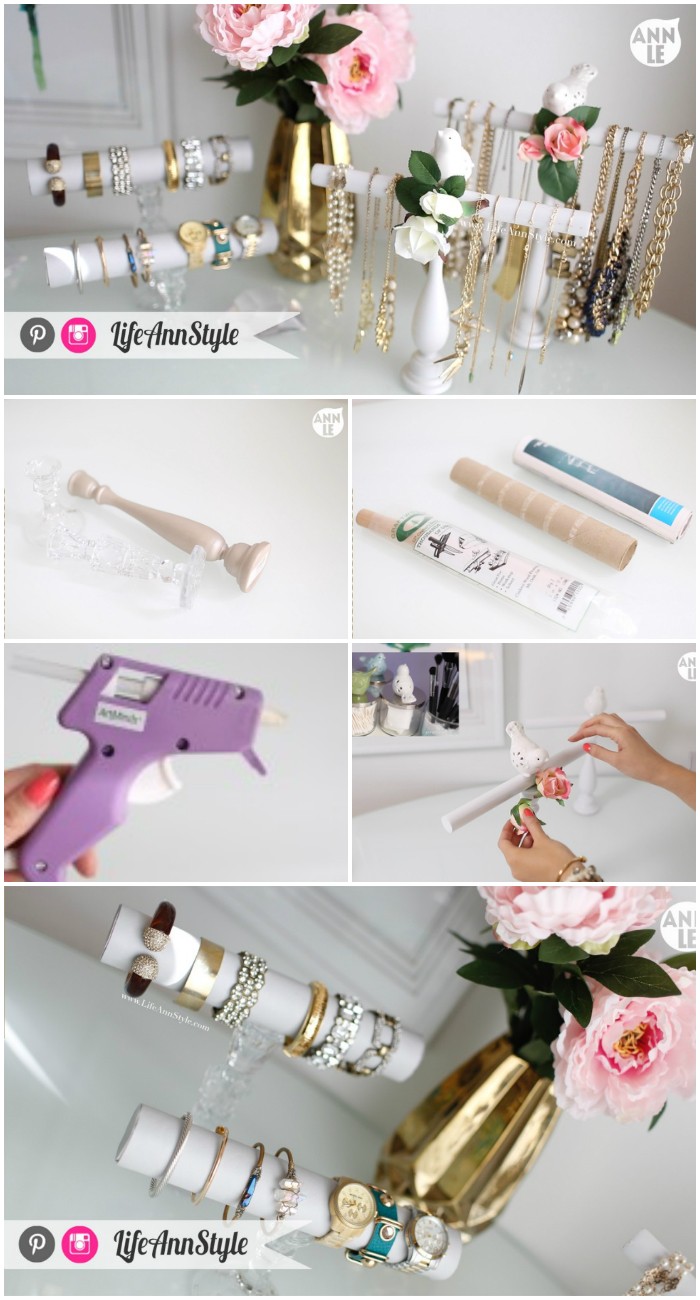 Organize and display your jewelry and accessory in a different but stylish way by making this DIY necklace and bracelet holder. lifeannstyl
Ring Magazine Holder:

Don't throw your magazines here and there. Make these rings from iron or from any other metal and attach them to the walls. Put your all magazines into them where they will look more organized and settled. monsterscircus
DIY Chalkboard Jars: Cheap DIY Projects

To make these cute little chalkboard spice jars you have to need spray paint, neat and clean glass jars and chalkboard labels. This project will help you out to organize your all spices and find them easily by labeling them. Tutorial: sarahhearts.com
DIY Metallic Mirror Frame:

Turn your old and boring mirror into stylish and unique just by adding metallic gold paint. It will add a beauty to your living space and make it more decorative and attractive. Tutorial: www.hometalk.com
Article source: http://www.diyhomedecorz.com/cheap-diy-projects/
More DIY Home Decor Ideas and Resources
---
---