Here are some of our favorite DIY Christmas wreath ideas that are so easy to assemble, you can even get the kids involved. Learn how to make a Peppermint Christmas wreath, a Gingerbread house wreath, a natural-looking pinecone wreath and a Christmas wreath made out of presents…what could be better than a wreath made out of presents?!
Sweet Treats Peppermint Christmas Wreath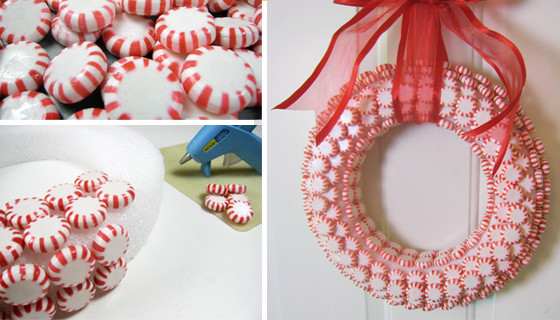 What you need:
White 12″ foam wreath
Hot glue gun & glue
250 Starlight peppermint pinwheel mints
3″ red ribbon
Open the mints (but don't eat them). If you want, you can wrap the foam wreath in red ribbon, but that's up to you – if you want a red background or if you like the look of the bright white foam. Using the 12″ foam wreath, hot glue 2 peppermints onto the top of the wreath, 2 peppermints onto the outside of the wreath and 2 peppermints onto the inside of the wreath. Continue this process until you have about 6″ left to go on the wreath. You can try to get it as uniform as possible, but note that in some cases the peppermints will not line up in a row of 2 and you will end up with a little triangle of peppermints – don't fret, about 2 peppermints later it will line back up and you won't notice a thing. I think this happens because the peppermints are not exactly the same size.
When you have about 6″ left to go, dry stack the peppermints onto the top of the wreath until you find the right fit – again, since they are not the same size, you might have to select a different one until you find a peppermint that will fit. Once they line up the way you want, hot glue them into place and repeat the steps on both the outside and inside of the wreath. At this point, you can finish off the wreath or go back and create an additional layer of peppermints on top to give the wreath more dimension (that's what I did in the photo above). Note: I didn't use all 250 peppermints on this wreath, but you need some extra to solve the sizing/spacing issue – plus, not all of the peppermints will be pretty enough to put on the wreath. You can set those aside for the Peppermint Tray project.
Once your peppermints are in place, tie a bow around the top using red, 3″ ribbon and make a loop with the ribbon to use for hanging.
---
Sweet Treats Gingerbread House Christmas Wreath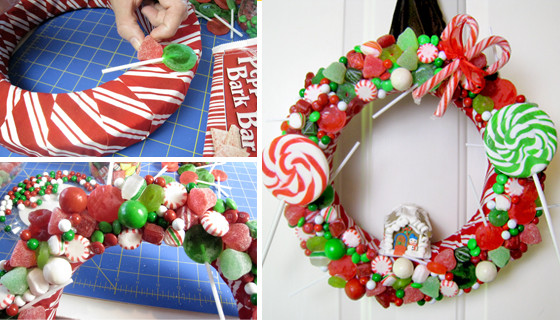 What you need:
White 12″ foam wreath
Hot glue gun & glue
Small candy canes, gum drops, peppermint pinwheels, licorice pieces, lollipops – any type of candy that you would find on a gingerbread house
Gingerbread house-shaped cookie
Brown ribbon
Red or red/white striped ribbon
Wreath hook
Lay the wreath down on a table and open up all of the candy. Wrap the foam wreath in red or red and white striped ribbon. Dry stack the candy onto the wreath and when you're satisfied with the look, take a picture of it so you know how you're going to position the candy. Next, start gluing. Make sure every inch is covered so you'll want to have some small candy pieces on hand to use as fillers. Once the wreath is covered, hot glue the gingerbread house cookie onto the center bottom of the wreath. Glue a brown ribbon onto the top of the wreath and attach it to a wreath hanger to hang it on a glass or metal door or a window wreath hanger if you want to display it in front of a window.
---
Pine Cones & Holly Berries Christmas Wreath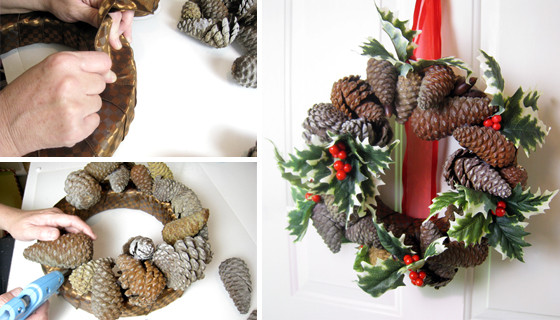 What you need:
White foam wreath
Different sizes/shapes of pine cones
Holly berries
Leaves
Hot glue & gun
Brown ribbon
Red ribbon
Lay your foam wreath form on a table and cover it in brown ribbon. Assemble your pine cones so they're ready to use. The more diverse your pine cones are, the more fun the wreath will turn out. With a hot glue gun, attach as many pine cones to the wreath form as you can, doubling up layers in some areas to ensure some dimension. Hot glue the holly berries and leaves in the remaining open areas on the wreath and add a few sprigs to the pine cones. Tie a large red ribbon to the top so you can attach the wreath to the door.
---
Christmas Presents Wreath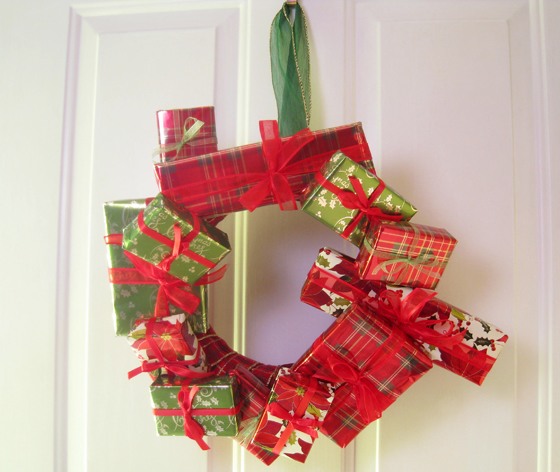 What you need:
White foam wreath
Small cardboard boxes or Styrofoam squares (various sizes less than 4″)
Coordinating wrapper paper, bows and ribbons
Small gift tags
Hot glue gun & glue
Color-coordinating ribbon to wrap the wreath
Wreath hanger
After you've gathered all of your items, lay your foam wreath on a table and wrap it with the color-coordinated ribbon. Dry stack the boxes (or Styrofoam squares) onto the wreath so you know where your boxes are going to go. You might want to number the boxes or take a picture of the wreath so you can remember where the boxes go.
Wrap the boxes (or squares) with the wrapping paper and attach gift bows and ribbons to make them look like real gifts. For added magic, attach small gift tags with your children's names on them. Now it's time to add the gift boxes onto the wreath – you can set them neatly in a circular row, or you can arrange them to look like a pile of gifts. Hang the wreath using a wreath hanger.
More DIY Home Decor Ideas and Resources
---
---
---
Article source: https://www.improvementscatalog.com/RoomForImprovements/diy-christmas-wreath-ideas/