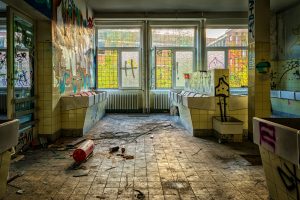 Retiling your bathroom can give the space a bright new look, which is perfect if you're sick of discolored tiles and mildew. However, you don't necessarily need to get a pro in to do it. It can be a little tedious and repetitive, but if you're careful, you can be left with a luxurious bathroom that you really love. Here's how to retile your bathroom to get the bright look you're hoping for:
Get The Right Tools Together
Make sure you have absolutely everything you need before you get started. They are as follows:
●     Plastic sheeting to protect your bathroom
●     Your chosen tiles
●     Thin set adhesive
●     Sandpaper
●     Wet saw (you can rent one if you don't own one)
●     Safety glasses
●     Notch trowel
●     Bucket of water
●     Sponge
●     Rags
●     Flathead screwdriver
●     Level
●     Rubber mallet
●     ⅛ spacers
●     Sharpie to mark your cuts
●     Measuring tape
Prep Your Area
Make sure your area is prepped before you begin. Level a wall with patches of of thin set adhesive if you need to. Scrape off loose paper or paint, or lightly sand glossy walls. Remove outlet plates and switches before you begin. The wall should be clean and dry before you get started.
Measuring
Getting your measurements right the first time around will save you a lot of hassle. You don't want to have to start something all over again! Measure carefully around your windows, corners, and outlets before you begin.
Plan Your Wall
You need to plan your wall with the pattern you want before you start. You should try to avoid awkward slivers of tile along the wall if you can. Practice dry laying the tiles on the floor to get an idea of what you want it to look like. You should also do this if you're retiling the floor. Use spacers in your layout to get an accurate idea of what it'll look like. Continue to reposition your tiles until you find the best lay out. It's now time to mark your layout on the wall. Sometimes the edge of the floor can be crooked, so use a level as your guide.
Using Your Adhesive
Mix up your thinset with the instructions, ideally it shouldn't be too wet or too dry – the consistency of peanut butter is perfect. Your tiles won't stick properly if it's too dry, or they will droop if it's too wet. Only use as much adhesive on the wall as you can apply tiles to in 5-10 minutes. Some thinset dries really quickly. Creating grooves in your thinset with a trowel will remove excess adhesive, and will keep the tile stuck to the wall more effectively thanks to the suction. Double check all tiles to ensure they are level. Remember that it's better to clean off excess thinset when it's wet with a screwdriver and sponge than to chip it off later. Once your adhesive gets too thick and dry, make sure you make a new batch. If you just add more water it won't be as sticky as it should be. One batch may only last 30 minutes! Really wiggle and press your tile onto the adhesive to ensure it's stuck too. The thinset must then be left to cure for 24 hours, so no showering.
More DIY Home Decor Ideas and Resources
---
---