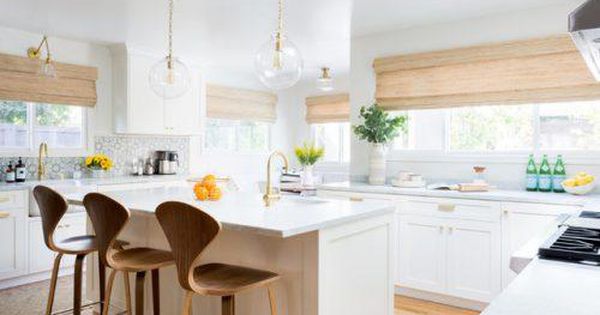 Mitchell Parker, Houzz
1. Delineate rooms with metal and glass dividers. Open floor plans are great, but sometimes you need the option of sound buffering and privacy. The metal-and-glass divider shown here provides that, keeping things feeling airy while allowing for the two rooms to be closed off from one another.
Doors: Clement; flooring: The New & Reclaimed Flooring Co.; wall paint: Skimming Stone, Farrow & Ball
2. Consider a leathered-finish countertop. Countertops come in all kinds of finishes, and it's worth looking into each one to see which is right for you. The leathered finish on the Snow quartzite countertop shown here offers a bit of texture and helps hide fingerprints, as opposed to, say, a polished finish that tends to highlight every smudge.
3. Try mini subway tiles. You can't go wrong with classic subway tile. But for a different take on the style, consider going with a mini subway tile mosaic, as shown here on the backsplash. It offers a bit more texture and helps make a compact kitchen look a bit more spacious.
4. Don't forget pet-friendly design. There are a lot of great ideas in this 63-square-foot laundry room, but one way it really stands out is through its pet-friendly features. Here, a dog bed provides a cozy spot for the family pooch, while to the right of the cabinet sits a water station. The cabinet holds dog food, while the drawer pulls out to reveal food bowls.
5. Get a storage-savvy coffee table. The name "coffee table" implies that all you'll be doing is setting a steaming cup of joe down on its surface, but so much more happens with our coffee tables. That's why going with a storage-packed piece is a good idea. Here, a flat file with wheels offers slim drawers for tucking away remotes, charging chords, magazines, coasters, candles and so much more.
6. Develop a material palette. It's common to discuss a color palette when designing a room, but don't overlook a focus on a material palette. Having a strategic plan for how materials will work together can elevate the look of your space.
7. Try wall-mounted faucets. Mounting faucets on the wall instead of the countertop makes the latter a bit easier to clean, and creates a breezy yet high-end look.
Vanity paint: Cavernous DE6364, Dunn-Edwards; sconces: Restoration Hardware
8. Consider quartz that looks like marble. Quartz countertops resembling marble isn't a new concept, but the styles and options are getting better and better.
9. Go with wallpaper. Just like quartz is getting better at mimicking marble, wallpaper designs are constantly improving. I bet you couldn't tell that the driftwood paneling in this bedroom is actually wallpaper. (You can even see nail holes!)
Wallpaper: Timber, Andrew Martin; bedding: Tommy Hilfiger via Amara; nightstand: Go Modern
10. Install a chandelier in the bathroom. It's hard to think of a room in which a chandelier doesn't instantly enhance the design credibility. The small shimmery light here brings elegance and sparkle to this contemporary Miami bathroom.
Chandelier: Bling by Robert Abbey, YLighting; wall lights: New Level, WAC Lighting via YLighting; ceiling light: Canter White Dolce, Shop Candelabra; counter: Mystery White marble, Marble of the World; floor tile: Porcelanosa in Ramsey; wall tile: Porcelanosa in Japa Blanco; shower: Radiance, Hansgrohe; shower floor tile: Thassos shell mosaic, Ann Sacks
11. Add sea grass shades to warm up a white kitchen. Everyone knows that wood is a great way to bring warmth to a stark white space, but that can get costly really quickly. For an easier update, consider installing sea grass shades, as in this kitchen. They bring that much-needed warmth while also introducing texture. Of course, they also block sunlight and heat.
12. Play with purple. It's fine to stick to neutrals like white, gray and beige in the public spaces of your home, but when it comes to the bedroom, why not have a little fun? This rich, deep gray-purple (Hazy Lilac by Benjamin Moore) punches up this teenage girl's bedroom in a way that exudes class while still being a bit playful.
More DIY Home Decor Ideas and Resources
---
---
Article source: https://www.forbes.com/sites/houzz/2017/07/12/12-trending-decorating-tips-to-try-this-week/