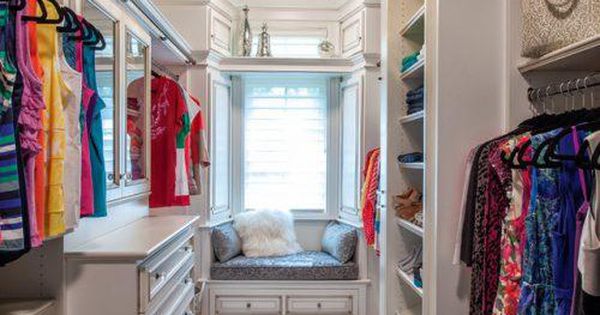 Karen Mills, Houzz
If you're lucky enough to have a walk-in closet — an admitted luxury — why not make it a beautiful one? The first step is creating the proper storage, but beyond that it's all about styling your space so that it feels inviting. Here are five styling tricks to make your real-life closet feel like a high-end boutique dressing room. Which strategy would you like to try out?
1. Introduce Seating
A seating area in your walk-in closet isn't just a fun design element, it's also pragmatic: a place to sit while you're putting on shoes or pulling on tights.
Cabinetry: custom; wood floor: 5½-inch-wide white oak planks finished in DuraSeal in Special Walnut and Chestnut; cabinetry veneer: The Wood Gallery; bags: Hermes
This Portland, Oregon, homeowner had very little closet space in her master bedroom, so she turned a sleeping porch into a walk-in dressing room and closet. The room has smart storage with ample drawers and rods, and she added the all-important ottoman for seating. She also copied a few tricks from boutiques, hanging some of her jewelry from necklace forms.
2. Group Like Items
This boutique-style closet shows the impact that displaying like wardrobe items can have. Here, the shoes are displayed with toes outward; an alternative is one toe out, one toe in. Not only is the display practical, as it makes it easy to find the right pair, but it takes on a gallery wall effect.
Lighting fixture: via Pimlico Interiors; shoe case: custom
This is the shoe collection of Jennifer Margolin, an event planner and personal stylist, who has more than 250 pairs. Margolin advises clients to group their clothes and shoes by color. It's a good strategy for purses as well.
3. Hang a Chandelier
Placing a chandelier in a closet ups the glamour factor. Here, the blue-painted ceiling adds emphasis to the light fixture. Also notice the beautiful boxes on the upper shelves — a great way to hide clutter.
Ceiling paint: Underseas SW 6214, Sherwin-Williams; cabinetry: custom, Wooden Hammer, Grand Rapids, Michigan; chandelier: Clarissa, Pottery Barn; carpet: Fabrica Fine Carpet & Rugs; window treatments: Hunter Douglas
The crystal chandelier and styled shoe collection create a smart look in this remodeled New York home that was originally two brownstones. Displaying shoes and purses together also creates a boutique look.
4. Show Off Your Personality
Introducing art or other decor that has meaning to you helps create a space that feels more personal. This is the closet of actress and fashionista Mary Alice Stephenson. It features an image of model Kate Moss — fitting for someone as involved in fashion as Stephenson. The egg chair, lamp and chandelier repeat the colors in the art and amp up the design. The center island has pullout trays for organizing jewelry, and the furry area rug adds a cozy feel.
Some great options for showcasing your personality include hanging a print by your favorite artist, displaying a favorite clothing item and adding a fun wallpaper behind your shelves.
Lighting fixture: custom, Closet Factory
In this San Francisco dressing room and closet, the stunning black gown, coordinating art and contemporary light fixtures showcase the homeowner's love of high-style glamour.
5. Layer in a Rug
Introducing a rug in your walk-in closet creates a soft surface for bare feet while adding color and texture. Here, the pale rug lightens up the room and brings warmth to the industrial-style metal shelving units.
Homeowner Sarah Brown's third bedroom was too small for a double bed, so she and Chad Zentner turned it into a walk-in closet. Notice how the blue rug adds color, warmth and style to the neutral space. (So, for that matter, does the patterned yellow-and-white bench.)
More DIY Home Decor Ideas and Resources
---
---
Article source: https://www.forbes.com/sites/houzz/2017/07/11/how-to-turn-a-walk-in-closet-into-a-glamorous-dressing-room/