Hi-Tech Cooking in Style
Range Oven Trends: If you're looking for a new range oven or just want to know what is out there, take a look at the latest design trends in kitchen appliances for ranges. As with other consumer products, manufacturers have been adding more technology, more style, and in some cases, more color options to today's range ovens. The additions are geared toward making the appliances more beautiful, easier to use, and more energy efficient.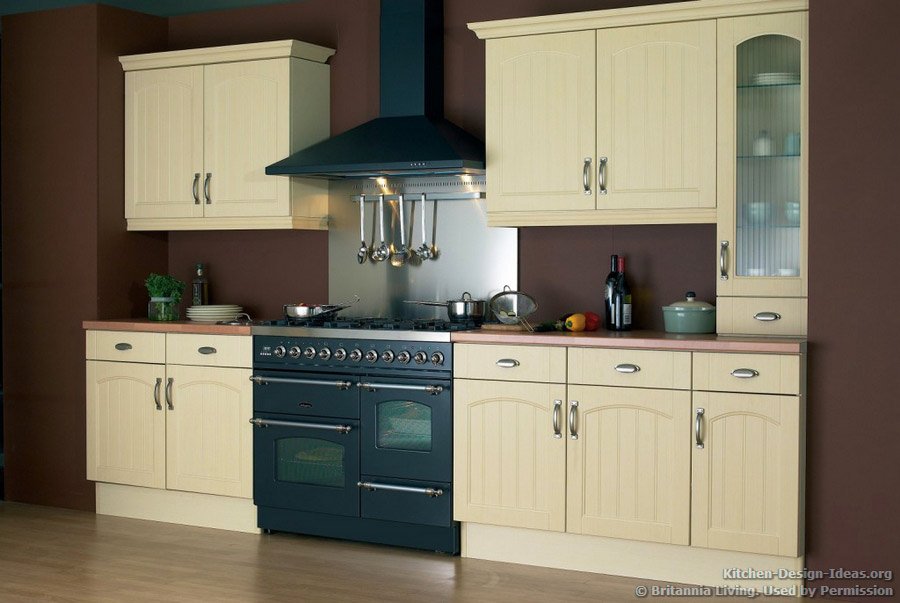 Cooking multiple dishes is a breeze in this small yellow kitchen, thanks to the graphite black stove featuring two ovens (and two warming drawers!) in one standard range oven.
A Touch of Class…
Many range oven manufacturers are adding classy styles and colors to their product lines. AGA and Rangemaster have been doing this for a long time, eschewing the boxy all-stainless look on many models in favor of a vintage style. Classic car lovers and period style home lovers will appreciate the growing list of available looks.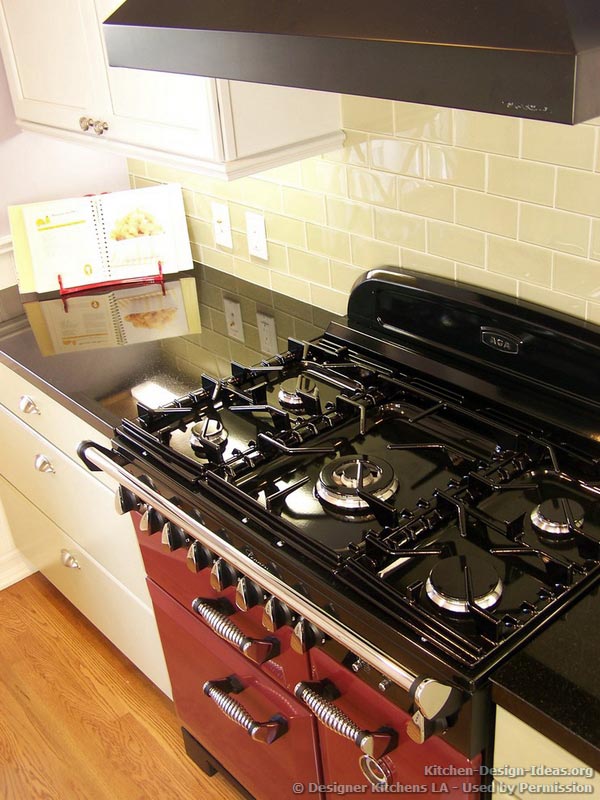 This glossy red AGA range oven features a black cooktop and classic styling. "Color" is one range oven trend we don't see going away.
… and Color!
Shopping for a range oven is likely to become more and more like shopping for a new car, with multiple colors and options available for each model.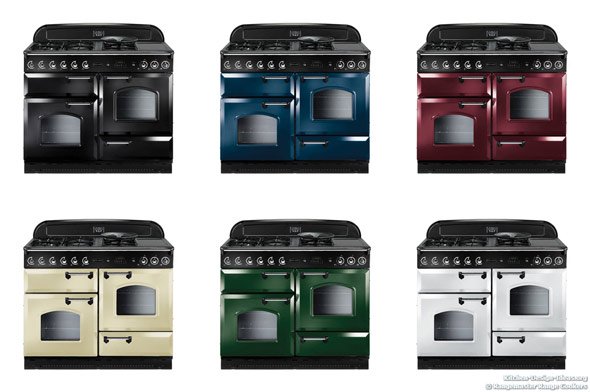 These Rangemaster Cookers come in several classic colors to compliment just about any modern or traditional kitchen design.
Dual Oven Ranges
Some ranges have two ovens built in, so you can cook two or more dishes at different temperatures at the same time. The dual oven feature is meant to provide convenience for people cooking large meals or for people who are busy and don't have time to cook dishes separately.
Another new feature on ovens gaining in popularity is a temperature-controlled warming drawer. Usually found underneath the oven, you can place dishes into the warming drawer to keep the food hot while the rest of your meal is cooking.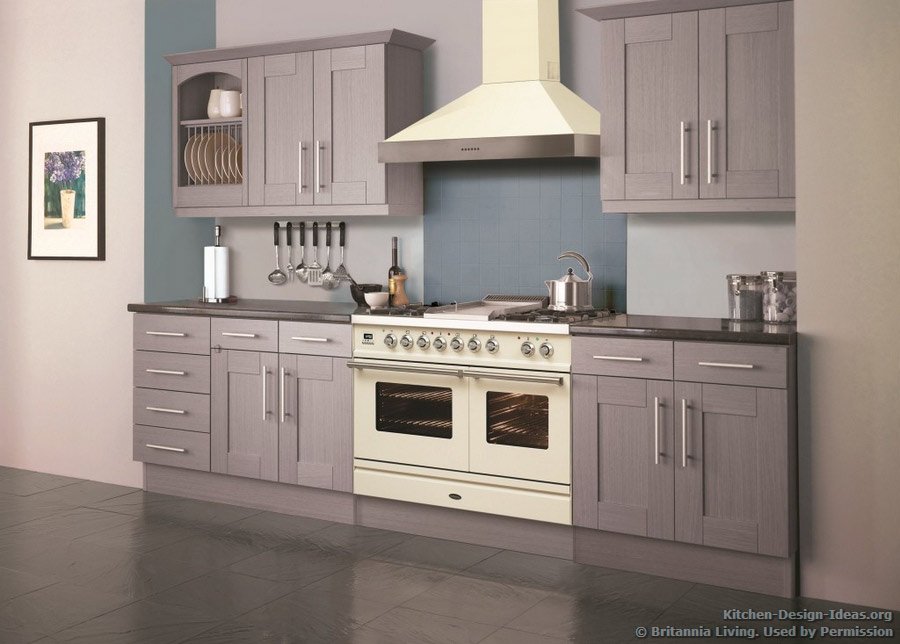 The soft lavender hues of this shaker kitchen play beautifully against the cream-colored dual oven range by Britannia Living.
Timing Controls
More and more ovens now include advanced timers that allow you to set precise cooking times and temperatures hours in advance. For example, you can place food into the oven in the morning but set your oven to start about an hour before you return home from work. Hi-tech functionality is one range oven trend that's here to stay.
Multiple Cooking Options
Multifunction ovens are able to employ more than one cooking element. For example, a dual function oven can use traditional heating or convection. You can choose to use traditional for basic meals and convection, with its circulating fans, for when you need your food to cook faster.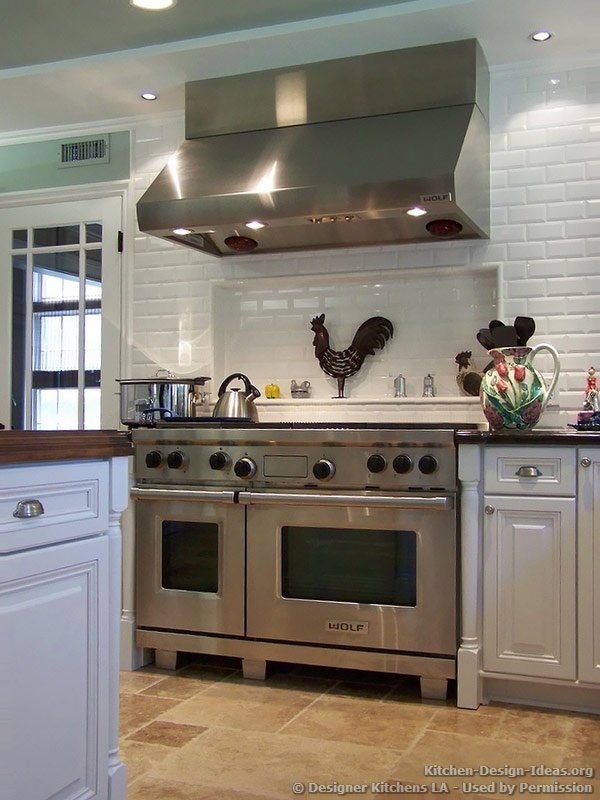 This Wolf range is a chef's dream. Ten-inch air ducts are required for the powerful exhaust vent due to the high BTU output of the cooktop on this professional range.
Steam is another heating type that is becoming more popular in range designs. Steam uses less energy than the more traditional heating types and may allow food to retain more of its nutrient properties.
Wider Views
Gone are the days of ranges with a tiny window you had to peer through to see your food. Being able to clearly see your food cooking is a distinct advantage in cooking, especially if you're trying a new recipe or want your food to come out just right. Newer oven designs incorporate larger windows and better lighting so you can easily see inside your oven.
Smart Tech
A computer control system built right into the range is a growing trend in oven and stove designs. The touch screens and more advanced interfaces that we see in today's double ovens are transferring ranges as well. For example, with some touch-screen control centers, you can press a standard temperature you're looking for or the look you want for your selected food, such as dark for well done. Other features such as automatic baking allow the oven to adjust the time for you.
High-End Models
Professional or aspiring chefs often insist on Wolf ranges (like the one shown above) for their precise control and powerful performance, while luxury clients love AGA ranges for their enduring quality and iconic design.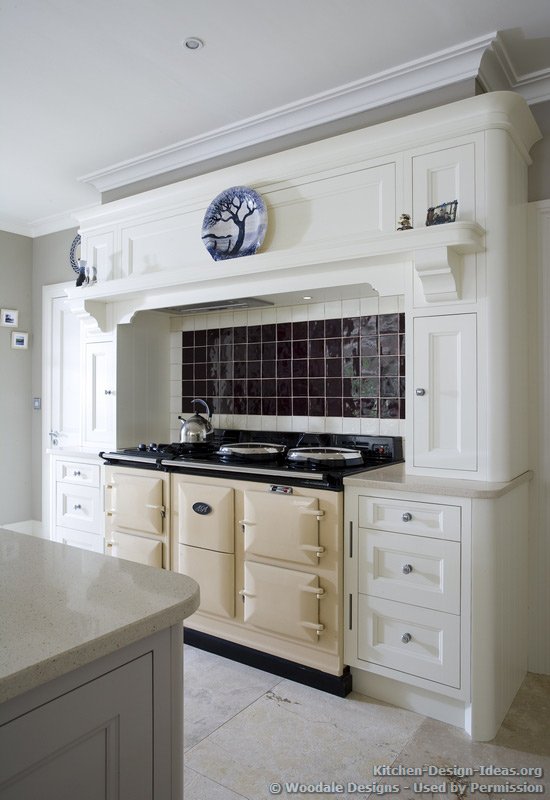 For a classy and luxurious range, look no further than a cast-iron AGA range oven like the one shown above. This cream-colored stove gives a bit of a
vintage feel
to this classic white kitchen.
Shopping Advice
While it's important to be aware current range oven trends, it's equally important to take your time when selecting a major appliance. Compare oven features and reviews before you buy a new appliance so you get a quality product with the features you really want and need. Traditional oven lines, such as KitchenAid (in the US) or Rangemaster (in the UK), are a good place to start your comparison shopping.
More DIY Home Decor Ideas and Resources
---
---
The more attention you give to selecting a range, the better your chances of being happy with your new kitchen in the long run. Most of all, have fun!

Article source: http://www.kitchen-design-ideas.org/range-oven-trends.html