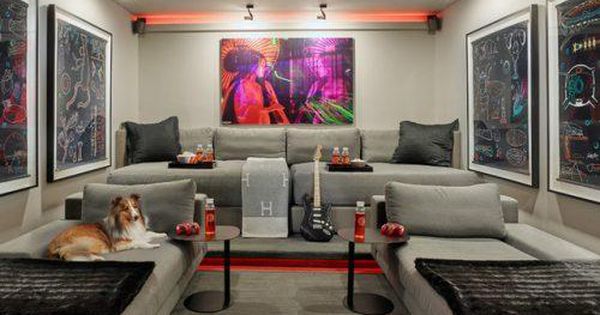 Mitchell Parker, Houzz
1. Put that corner cabinet to use. Most corner kitchen cabinets are like purgatories for rarely used pots and appliances. If you could use that extra storage space, consider a pullout solution like the one shown here from Peka.
2. Consider a tile floor welcome mat. This Victorian in Vancouver, British Columbia, is full of knockout design ideas that begin literally as you first step foot into the house. A mosaic tile inset acts as a welcome mat and a place to set wet or muddy shoes.
3. Don't feel confined to white kitchen cabinets. Sure, white kitchen cabinets are everywhere, but don't think you have to go along with the trend to have a stunning space.
4. Try a wood-plank backsplash. If you're looking for a way to add a bit of rustic charm to your kitchen, consider reclaimed-wood planks.
5. Get groovy with your countertop. Not a fan of countertop drying racks? Look into fashioning custom grooves in your countertop to help drain away water, as this custom bamboo countertop does.
6. Use a mirrored panel to hide the TV. Competing focal points is a tough challenge to tackle. In this living room, where the TV and the fireplace compete for attention, the designer solved the dilemma by hanging an oversize panel clad with mirror on rollers.
7. Try brass in the bath. Polished chrome remains the go-to finish in bathrooms, but brass accents can add an enhanced sense of luxury and sophistication.
8. Hang a swing. There's a lot to love in Indian actor Irrfan Khan's apartment, but the traditional jhoola swing captivates us most.
9. Install an outlet in a drawer. Bathrooms can get quickly overrun with clutter, especially if you have a lot of plug-in devices and chargers that don't always make it back into the cabinet below. An outlet in a drawer is a smart solution that allows you to keep your devices always at the ready and out of the way.
10. Go with a succulent centerpiece. If you need a break from swapping in fresh flowers for your table centerpiece, think about using succulents instead. They look great, last for years and are perfect for the summer months ahead.
11. Know your gray paint colors. Gray is one of the most popular paint colors for walls. But choosing a gray isn't as easy as it sounds. Houzz contributor Becky Harris spoke to several design professionals to see which gray paint colors were their go-tos. Interior designer Carl Mattison favors Repose Gray by Sherwin-Williams, which was used for the walls in the kitchen shown here.
12. Show off your trim. If you're looking for a statement wall treatment that doesn't go as bold as graphic wallpaper, consider painting just your trim. Here, blue trim in Van Cortland Blue by Benjamin Moore contrasts nicely with walls in White Chocolate, also by Benjamin Moore.
13. Embrace white and wood. You almost can't go wrong with this winning combination. A backdrop of white will give you a bright, energetic space, while generous doses of rich wood will bring warmth and character.
14. Convert your garage into a movie theater. OK, do you need to park your car, or cars, in the garage? If the answer is "not really," then you'll want to check out this garage conversion, for which the homeowners kicked their cars to the curb in exchange for a home theater. They even saved space for a hallway of tall cabinetry to handle the usual garage items that need a place to live.
More DIY Home Decor Ideas and Resources
---
---
Article source: https://www.forbes.com/sites/houzz/2017/07/04/14-design-and-decor-ideas-everyones-talking-about-this-week/