A sectional is usually made up of two or more pieces. Generally speaking, the fewer pieces you use to create your sectional, the more reasonable the price will be. Sectionals bring softness and warmth to a modern space. The sharp lines, metal and glass of a sleek, modern apartment can feel a bit cold.
Whether your space is large or small, family friendly or slick and modern, see if there is a sectional that will work with your style and space. There's nothing like snuggling up under a blanket on a big, squashy sectional for comfort. Just be sure to aim the TV toward the center of the sectional so everyone seated has a decent view. Check out the choices we have below.
1. 8th West Residence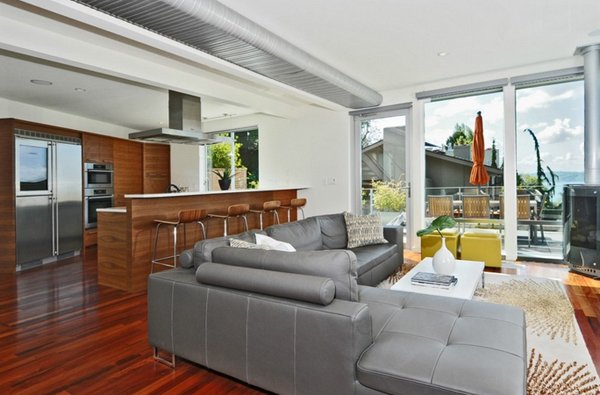 Don't you just agree that choosing a simple design for a sectional, like this grey one in the picture. Goes well with the color palette the designer chose for this home.
2. Bond Street Loft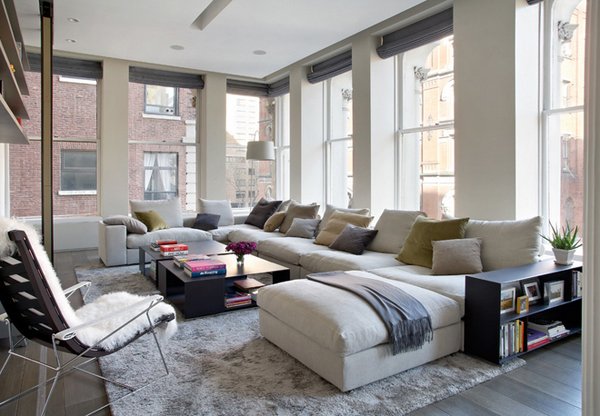 Warm things up by bringing in a generously sized, delightfully comfortable sectional to plunk down on. And unlike in the past, sectionals today are available in slimmed-down, modern silhouettes that look right at home in an urban loft.
3. Bowman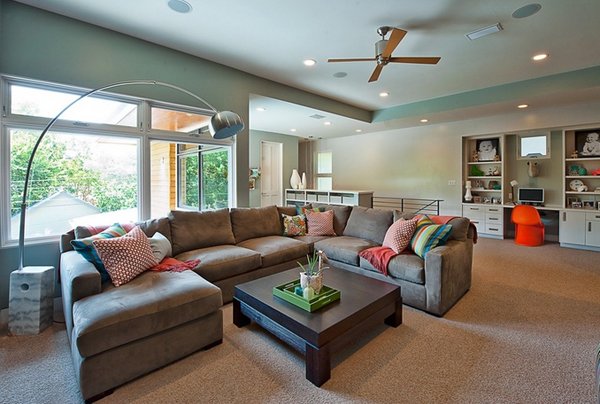 This mocha brown sectional looks really comfortable and cozy! Because of the velvet material, this sectional sure will be easy to sleep on!
4. Breezy Beauty in 750 Square Feet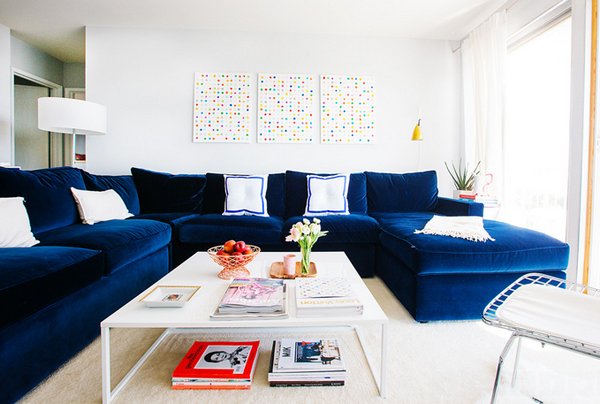 A plush navy sofa. On trend yet classic, a navy velvet sofa works equally well in eclectic, contemporary and traditional spaces. A big sectional like the one shown here can handle a large-scale coffee table – choosing white keeps it from looking too heavy.
5. Bridgehampton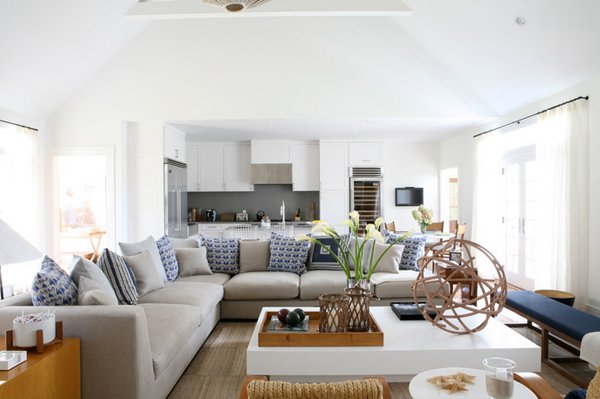 If you have an open floor plan, tie the spaces together. It could be with an accent color, a material like rattan or reclaimed wood, or a collection that is spread out between the different areas.
6. Chicago Living Room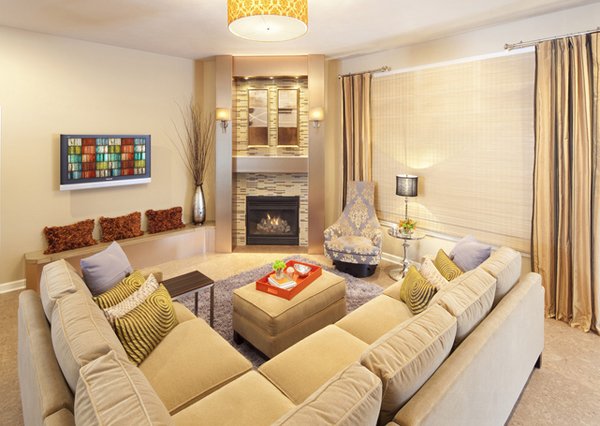 Try something as simple as adding a colorful tray to the center of your coffee table or ottoman. I love the colors of the Lacquer Wood trays at West Elm. For large coffee tables, get two to place side by side.
7. Dutch Apartment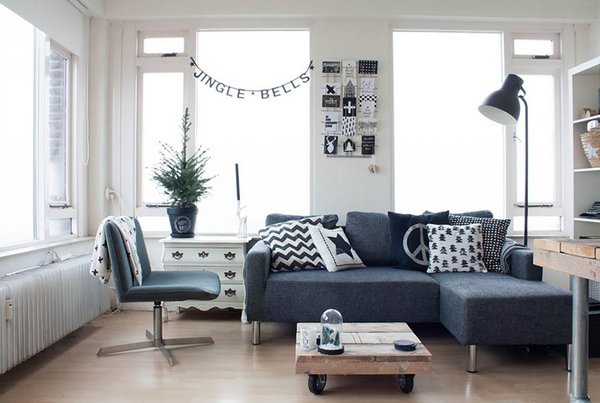 Since the space is small, they went with a compact sectional to provide ample seating. We managed to fit in everything we needed without the room being cramped or cluttered, says van der Kooij.
8. El Marr Drive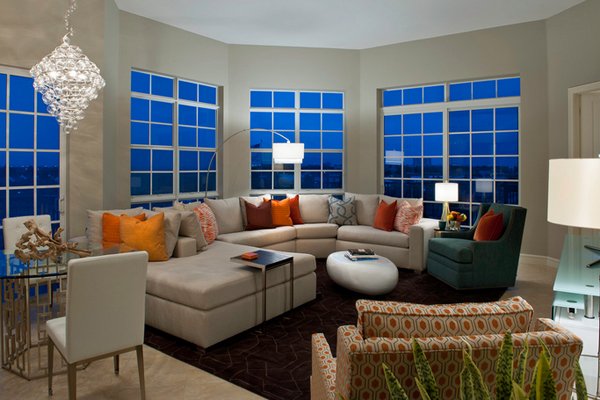 The sectional is a custom designed and built piece that helps meet the needs of the is family…you can sit at the game table and still engage with others in the room or the teenage boys can lounge on the bench sections of the sectional while a movie with the rest of the family.
9. Evanston Lakefront Home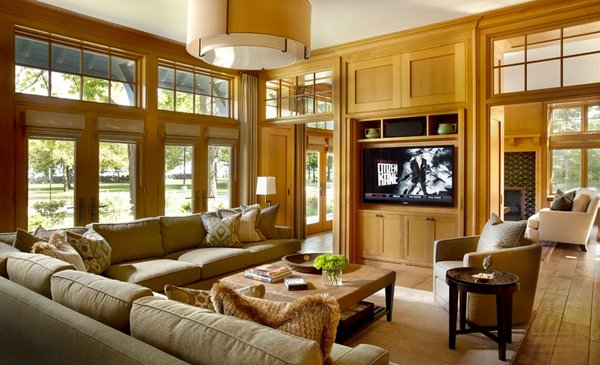 Warm, inviting, serene. The windows are the focal point.
10. Hampstead Artist's House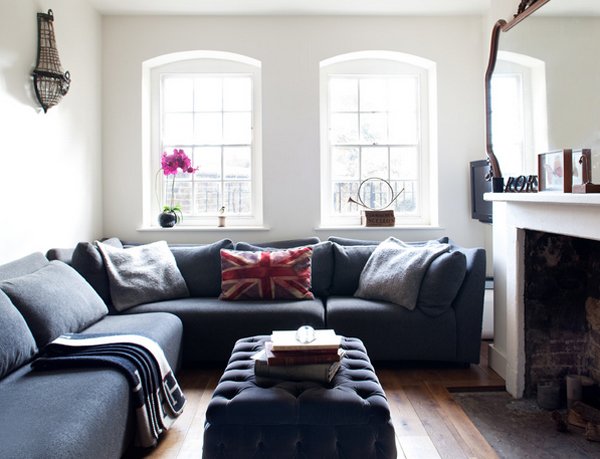 It seems like it shouldn't work, but filling a compact room with a sectional can actually make the space feel larger – and way more comfortable.
11. Madison Park Residence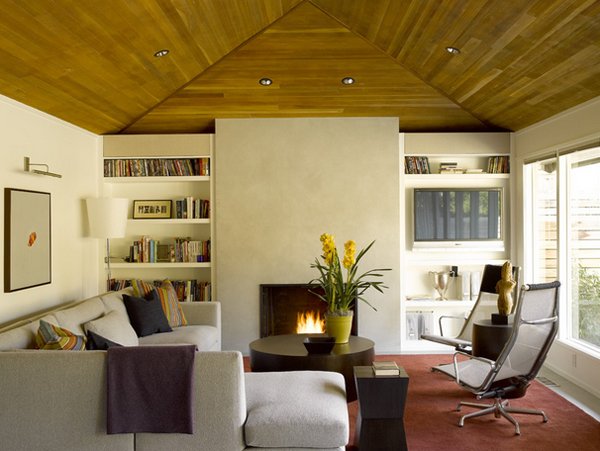 A simple palette of concrete, wood, metal, and stone provide an enduring atmosphere that respects the vintage of the home.
12. Marin Remodel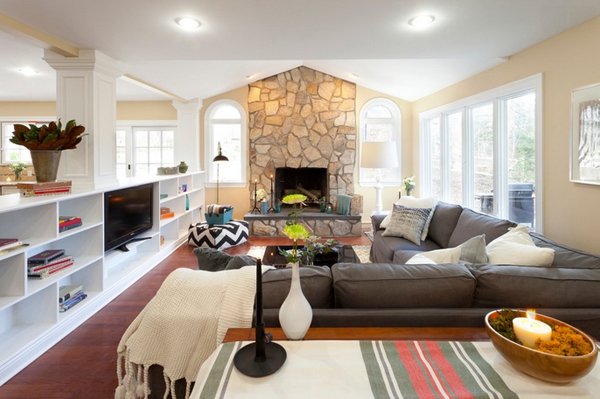 If you are changing from multiple types of seating to a sectional, brace yourself. The different footprint will take some getting used to. That's okay; just don't panic.
13. Newport Ocean Front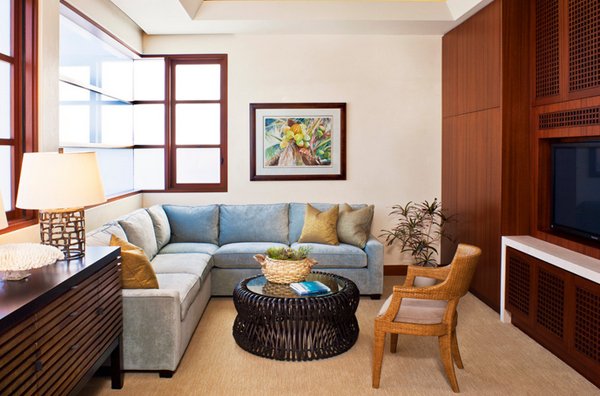 A small-scale chair has one wonderful advantage over the other chairs in a room: It's easy to move. It will readily go where you want it to go, when you want it to go, and it will stay there until told otherwise.
14. Pacific Hillside Retreat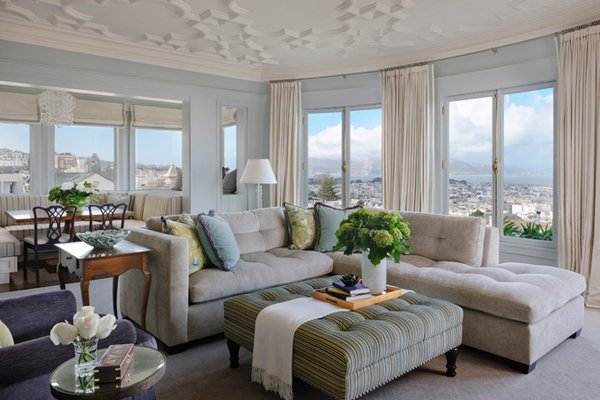 An ottoman with exposed legs not only can keep the center of your sofa feeling light, but it can also keep the space formal.
15. Private Loft Residence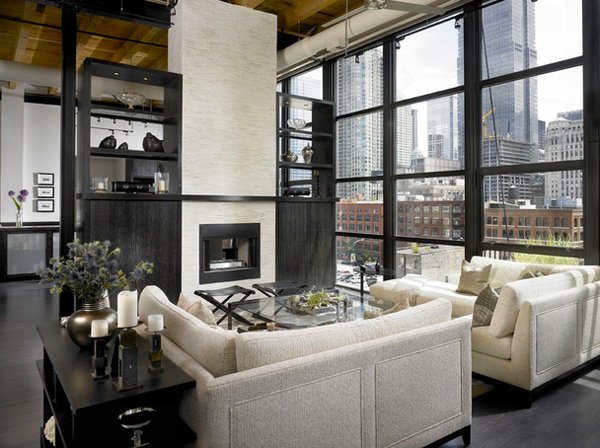 The unique shape of this pair of couches lends the comfort and space of a sectional while still leaving an open walkway.
16. San Diego Family Room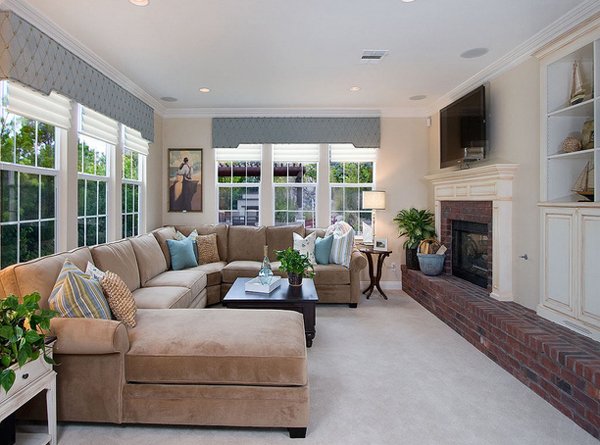 Get over the fact that you think your room is too small for a sectional sofa. There are plenty of petite models available. If all you do in this room is lounge in front of the tube and fireplace, don't fret over a sectional that's a space hog.
17. San Francisco New Project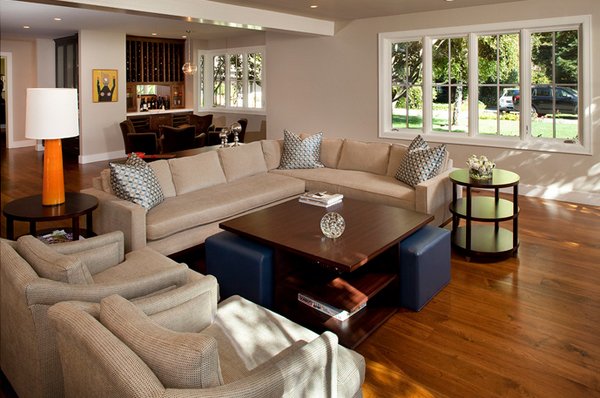 Stunning coffee table right? It matches the cute sectional and arm chairs!
18. Sophisticated Beach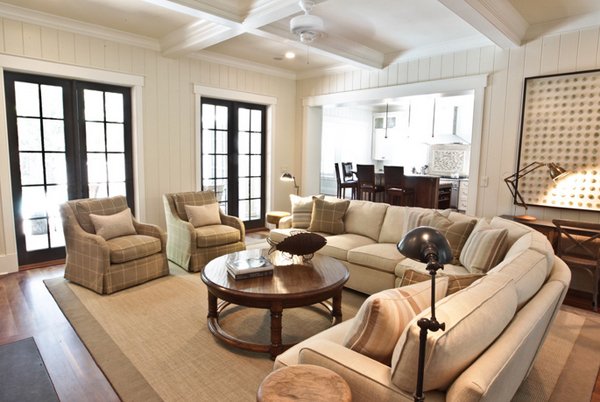 The sectional sofa works to define the footprint of the living room. The designer had the client paint the doors dark to help give the room some depth.
19. The American Dream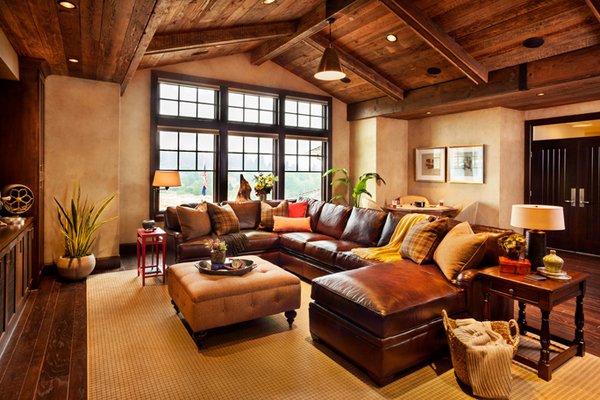 The size and the shape of this sectional sure is huge but comfortable and fancy! The rustic feel to this family room is really stunning.
20. Traditional Living Room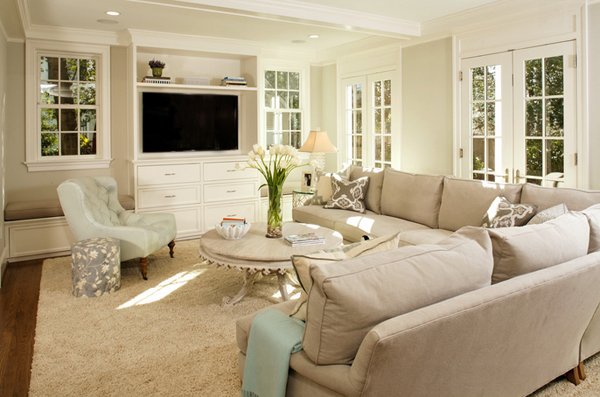 I love the traditional feeling of this living room! Looking at the sectional in this living room, I can surely say that this space it worth every penny.
When you start filling up an expansive living space with smaller pieces of furniture – a sofa here, a few armchairs and a side table there – it can start to look cluttered. Choose a roomy sectional instead to keep things simple and streamlined. You can also try a curvy sectional if you want a different look!
Article source: http://homedesignlover.com/living-room-designs/living-room-layouts-with-sectionals/
More DIY Home Decor Ideas and Resources
---
---