The mantel is a central focus at Christmastime, which is certainly fitting, because it's center-stage for the appearance of Santa himself! Stockings are hung below it and fires are lit inside it, making the mantel the ideal place for Christmas decorating ideas. Starting at the top, above the mantel, here are some ideas on how to decorate your mantel for the holidays.
Above-the-Mantel Christmas Decor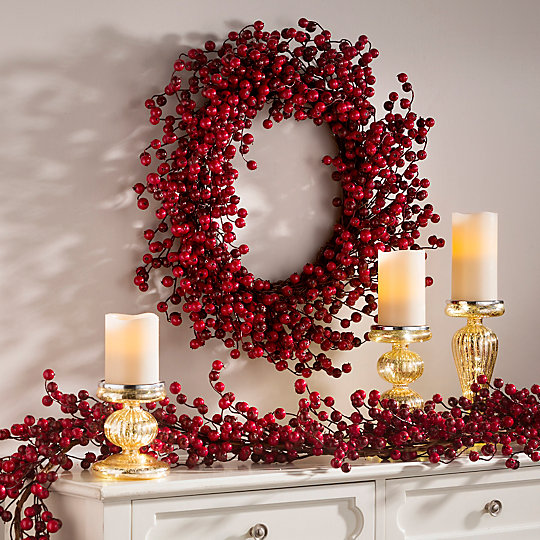 Many people hang art above their mantel. Some hang a mirror. Others may display a flat-screen TV. Whatever's up there, chances are there's a nail there, too! Consider taking down the year-round element and replacing it with a Christmas wreath. We love the look of this Christmas Berry Wreath because it adds a pop of color to your wall and instantly draws your eye to the mantel. Stream Berry Christmas Garland on top of the mantel and place candle holders of different heights in between. The Berry Christmas Wreath coordinates nicely with rustic holiday decor, red & white Christmas decor or, if you're going for a minimal design this year, it's bright and festive enough to be the only holiday decor that you display.
---
Atop-the-Mantel Christmas Decor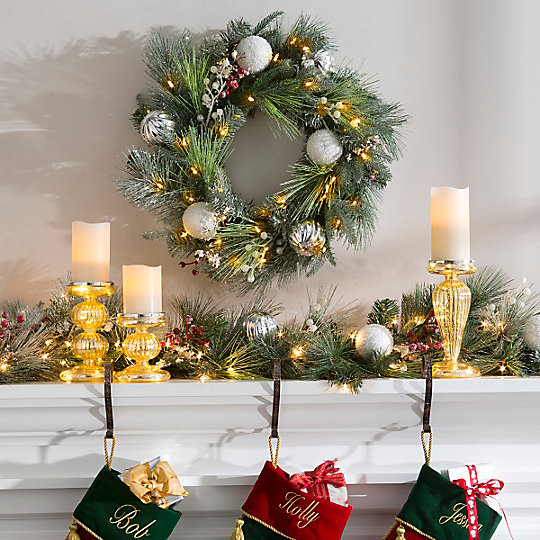 While we're on the topic of mantelpieces, let's talk mantel garlands. You can simply weave Christmas garland among the items that are already on your mantel (candle sticks, family photos, etc), or you can replace those year-round items with seasonal decor (more on that below).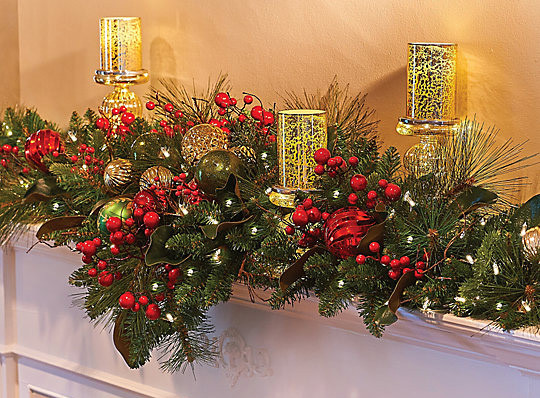 Or, if you prefer, place Christmas mantel garland that is specifically designed to sit atop a mantel. It measures 6′ long and 18″ deep and comes pre-decorated with an assortment of red, green and gold ornaments, magnolia leaves, pine cones and faux red berries. Just sit it on the mantel, place some coordinating candle holders and candles in between the branches and you'll have an instant holiday mantel.
We like to rotate our year-round mantel decor, like family photos, with special seasonal items. Consider displaying favorite Christmas ornaments, like the ones that are too big to fit comfortably on the tree, or even beloved stuffed toys or dolls from your or your children's childhood. Perhaps there are some special Christmas books or Christmas-themed photos that you could display among your lighted mantel garland.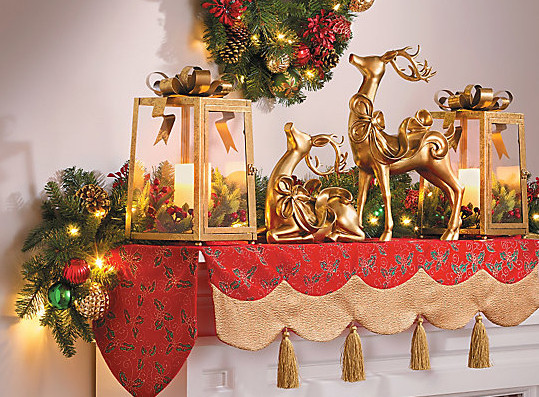 For a jewel-toned Christmas display, lay a red and gold Christmas scarf atop the mantel. It's beautifully decorated with a festive holly pattern and has a scalloped gold edge and gold tassels that dangle off the end. Flank the ends of the mantel with gold metal Christmas lanterns that are shaped like presents, complete with metal bows on top. The lanterns include an LED pillar candle sitting in a mini wreath decorated with berries. Along the back of the mantel, add some lighted Christmas garland to give your display some depth. Showcase a pair of gilded reindeer decorations right in the center of your Christmas mantel display to complete the look.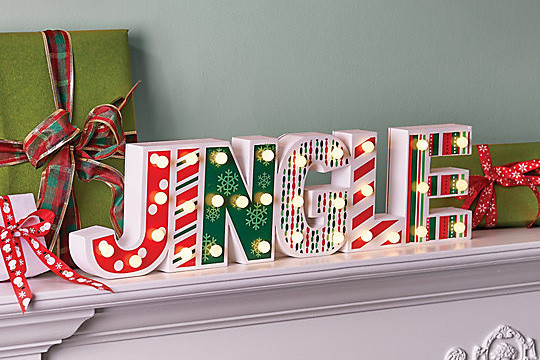 For a minimal, yet festive Christmas look that adds a punch of color to your room, sit a lighted wooden Jingle sign right in the center of your mantel. Get 3 or 5 different-sized gift boxes, wrap them in coordinating paper and sit them around the sign. The Christmas sign is battery operated so you don't have to worry about running cords down the mantel.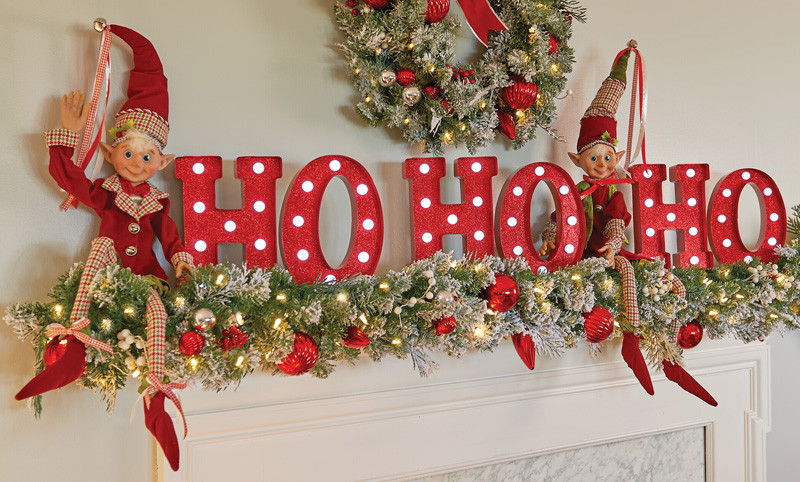 This classic Christmas mantel display is grounded with thick, pre-lit Christmas garland that features red and white berries, shatterproof ornaments and elegantly frosted tips. On one end of your mantel, sit a playful, poseable Christmas elf with one hand up to greet your guests as they marvel at your Christmas mantel display. Place 2 of the 3 lighted HO HO HO marquee signs next to the elf. These Christmas signs are battery-operated so you won't have tangled cords in your garland. Sit another elf next to the second sign and flank the far end of the mantel with the third piece of the marquee Christmas sign. Finish off the look by hanging a coordinating Christmas wreath above your display. Now that's festive!
---
Below-the-Mantel Decor
Below the mantel means mainly one thing at Christmas: stockings! We like to let our Christmas stockings take center-stage, so the Christmas decor items we favor are ones that enhance the overall look of those stockings.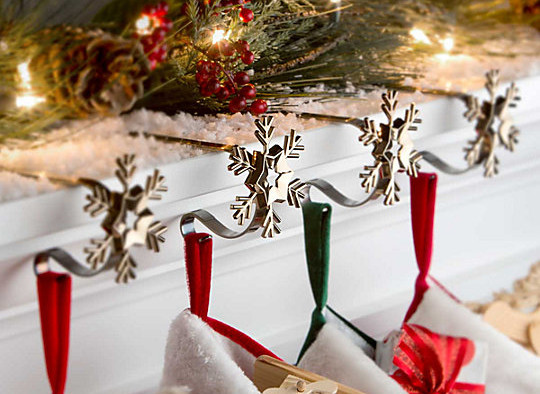 Stocking hangers are multi-functional Christmas decor. Not only do they hold your stockings, but they also can be a stylish mantel decoration that coordinates with your other Christmas decor. If you already have your mantel decorated or you just know that you won't have a lot of extra space up there, attach lightweight, yet sturdy stocking holders that have gripper pads that attach to your mantel.
For tips and unique ideas on how to hang stockings, see our article "Creative Ways to Hang Christmas Stockings."
---
Article source: https://www.improvementscatalog.com/RoomForImprovements/christmas-decorating-ideas-mantel-decor/