Amanda Pollard, Houzz
The living room is the space that everyone enjoys relaxing in, so it figures that most members of the household will have an opinion on what it looks like and prioritizes. We've rounded up nine common design considerations along with compromises that should keep the peace.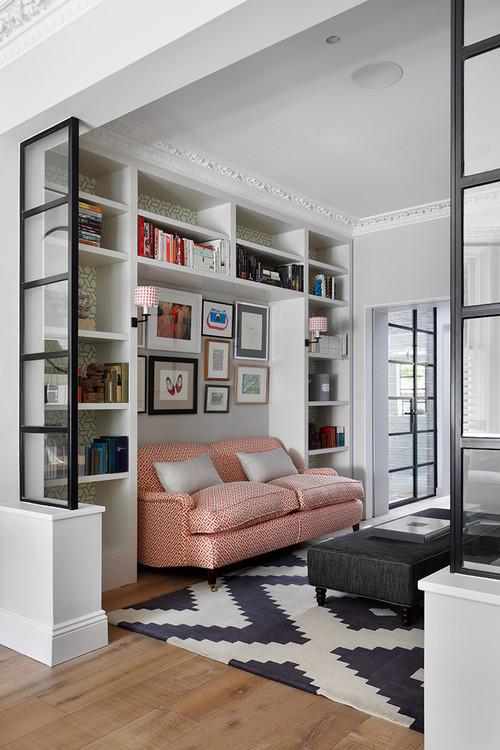 1. Colorful sofa. There's a reason gray sofas are so popular — they go with everything. But what if you'd prefer something more interesting? It's a difficult decision, as a sofa is such a big investment. You want it to last for a long time, and your favorite color now may change a few years down the line. It's tempting to play it safe and go for a neutral that won't go out of style (or that will please others in the house), even if it means compromising on your color preference.
The compromise: Design trends come and go, but our own tastes tend to stay the same. Look around your home, and you may find that most of the objects in it are a similar shade. Opt for a sofa in a color you really love (and that goes with most of the other design pieces and accessories in the room), and chances are you'll still adore it in five or even 10 years' time. And you can please your family or housemates by letting them choose the other seating in the living room.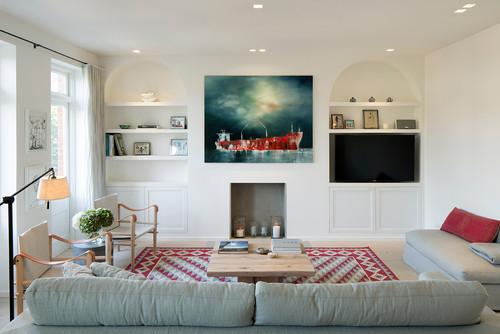 2. Large TV. For some, a large flatscreen is a style statement worth displaying on the wall; for others, it's an item that ruins the calm look and feel of the living room. If your preference is for a streamlined room with only the fireplace as a focal point, you may be wondering what to do with the TV. Many of us have only one living room, so it's a design dilemma that can cause some issues.
The compromise: It's possible to have a TV without it taking over the whole room. Plan an alcove where the television can be tucked out of the way, as the designers have done here. Alternatively, build a shelving unit with a door that hides the television when closed but that doesn't obscure the screen or otherwise get in the way when open.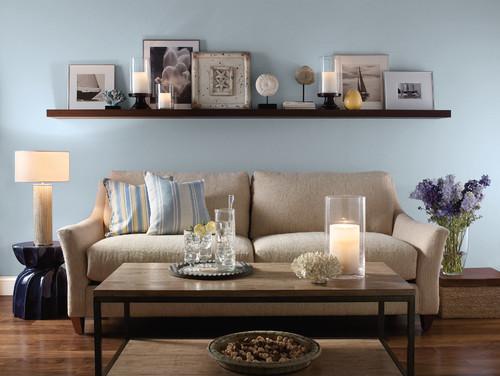 Related: Coffee Table Sets You Won't Have to Compromise On
3. Artwork. The choice of art you put in your living room can be very personal. An artwork loved by some may be disliked by others. And what if you have too many pictures and not enough space to hang them? A gallery wall is a good compromise, but it still requires a decision and commitment that could cause discord.
The compromise: If you just can't make a decision on your art display, go for the versatile option of a picture ledge instead. These narrow shelves allow you to arrange a selection of artwork without committing to lots of holes and hooks in the wall. When you change your mind, simply swap pictures for a new selection.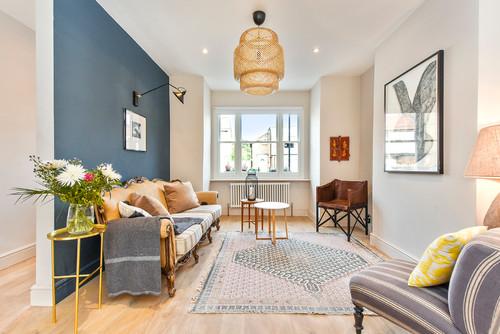 4. Bold wall paint. Some people love white walls as a backdrop for brighter accessories, while others prefer a bolder hue on their vertical surfaces. The color you choose for your walls can have a huge effect on the look of the room, so a dispute over the shade can bring your whole decorating project to a standstill.
The compromise: Go for a mix of the two by painting one wall in a bold tone and leaving the others neutral. Here, the wall behind the sofa sports a deep blue that contrasts with the rest of the space and makes a cozy feature of the seating area.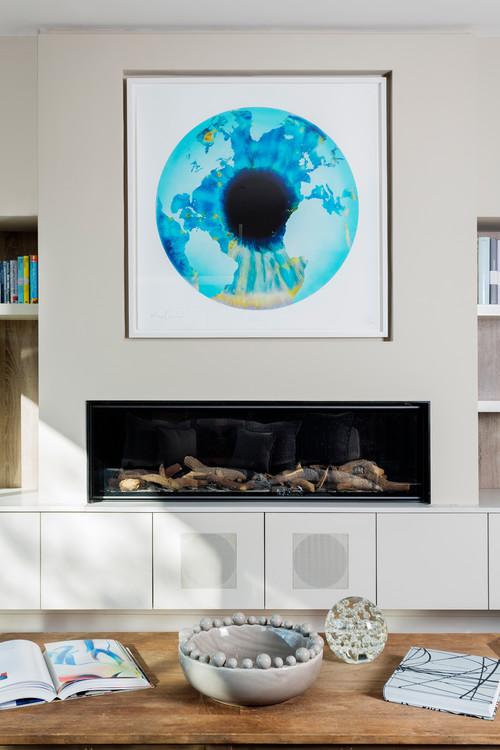 5. Log fire or wood-burning stove. There's nothing better on a cold day than snuggling up around a real log fire, right? Well, not if you don't like the smell, the mess and the hassle of storing logs. For some, the process of lighting a fire and cleaning the grate is all part of the fun; for others, well, it's just plain annoying.
Related: Fireplace Accessories Everyone Can Agree On
The compromise: If you're averse to the fire-building rigmarole but still like the coziness of a fire, you could opt for a gas fireplace instead. There are also some attractive and energy-efficient electric models that look and feel very much like the real thing, so you can enjoy the experience by simply turning it on.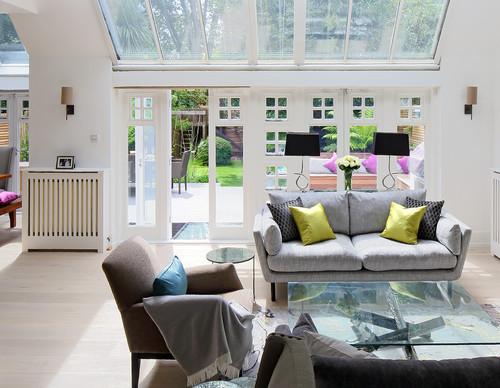 6. Radiators. They're one of the most essential elements in our living rooms, but many of us have old radiators that don't look very nice or match a new design plan. You may want to replace them with something more modern, but the people you live with may not want that, either for taste reasons or budget constraints.
The compromise: If you really don't like the look of your radiators and are on a tight budget, conceal them with radiator covers. You can find models nowadays that suit all tastes (and budgets), like the modern version here. They also provide extra storage surfaces.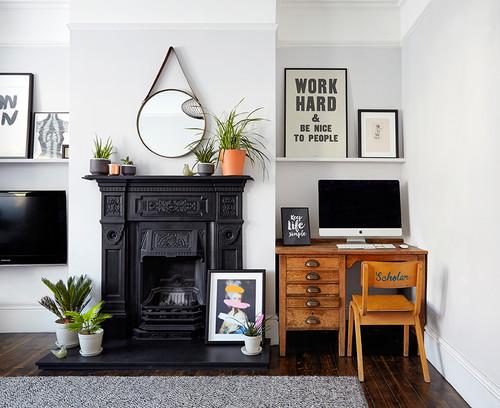 7. Office space. Not many of us have a dedicated study, so it's often necessary to put a desk somewhere else in the home. It can make sense to utilize a corner of the living room, but the people you live with may object to what they assume will be a mess of paperwork and a cumbersome office chair.
The compromise: Reassure everyone that your desk doesn't have to detract from a calm, relaxing living room. You can blend the work area in with the rest of the room by choosing an attractive desk and chair. And you can keep the space tidy with plenty of closed storage, so it becomes a gorgeous feature rather than an eyesore.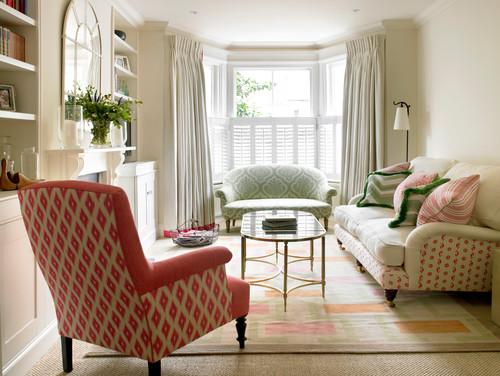 8. Window treatments. Shutters are popular right now, and you can see why — they look stylish and are a practical choice for adding privacy and diffusing light. However, curtains can bring a softness into the room and make the space feel warm and cozy when they're drawn in the evening. What if you want shutters and everyone else wants curtains?
The compromise: If your budget allows, go for the best of both worlds. In this gorgeous living room, shutters block the view inside the bay window, while curtains add a soft border on both sides.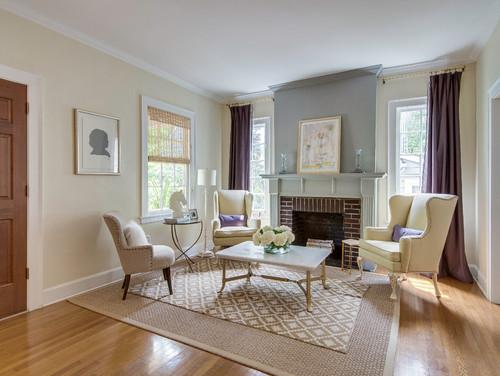 9. Statement rug. A big, bold rug will transform a room, and in a neutral space, it can offer a welcome boost of pattern and interest. However, if your style is more pared-back than pepped-up, you may find a bright, patterned floor covering hard to live with.
The compromise: To provide interesting texture without the vibrant tones or patterns, try layering two neutral rugs. Here, the designers positioned a patterned mat over a natural floor covering. The colors of both are neutral, but the introduction of layers makes the rugs feel special.
More DIY Home Decor Ideas and Resources
---
---
Article source: https://www.forbes.com/sites/houzz/2017/09/08/9-compromises-for-decor-decisions-likely-to-cause-debate/