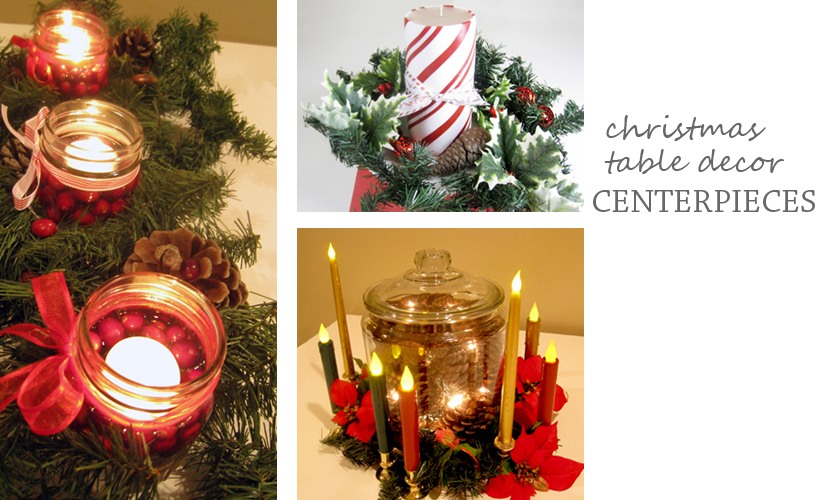 Christmas table decorations are a must if you are in charge of Christmas dinner this year. Luckily, there are some really fun DIY Christmas centerpieces that don't cost too much and are pretty easy to do like Lighted Cranberry Jars, a Wreath Candle Centerpiece and a Lighted Pine Cone Jar.
---
Cranberry Jars Centerpiece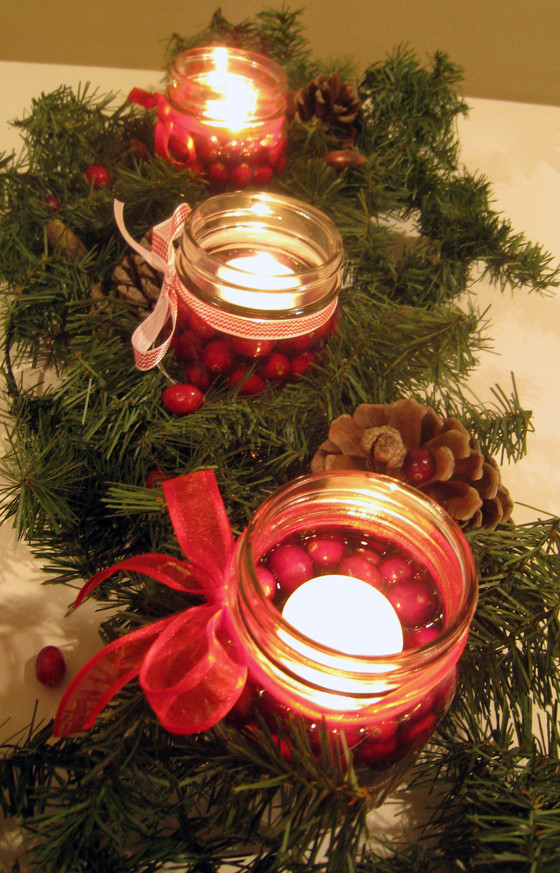 What you need:
3 Canning jars
Bag of fresh cranberries
3 floating tea lights
3 different styles of red ribbon
Scissors
More DIY Home Decor Ideas and Resources
---
---
Depending on how large your table is and how big you want your centerpiece to be, you might need more than just 3 canning jars. I used 3 pint-sized canning jars because I didn't want the centerpiece to be too tall.
Fill each jar 1/4 full with cranberries. Fill the jars with water, leaving 1″ of empty space at the top of the jar. Once the cranberries float to the top of the jar, gently set a floating tea light in the center of the cranberries. Tie a ribbon around each jar, just below the rim. Cut the ends of the ribbon to about 2″. Arrange the jars down the center of the table. Place fresh evergreen sprigs on the table around the jars and sprinkle in some pine cones and some cranberries, if you have any left.
---
Wreaths Candle Table Centerpiece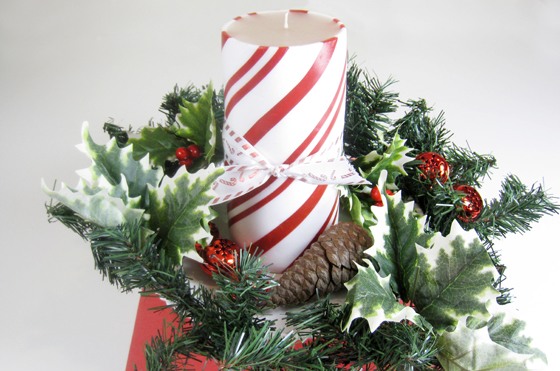 What you need:
Small evergreen wreath
Cake pedestal or wide candle holder
Pillar candle
Red bells
Ribbon (optional)
Perhaps one of the easiest Christmas centerpieces to make is with a wreath. Purchase or make small evergreen Christmas wreaths – make sure the opening is large enough to hold a pillar candle. Lay the wreath on a cake pedestal and set the pillar candle in the middle of the wreath. If the inside of your wreath is quite a bit wider than your candle, place 3 taper candles of varying heights in the center of the wreath, rather than using a pillar candle. Add some jingle bells and maybe some pine cones to spruce up your wreath. Tie a ribbon onto the candle to finish it off.
---
Lighted Pine Cone Jar Centerpiece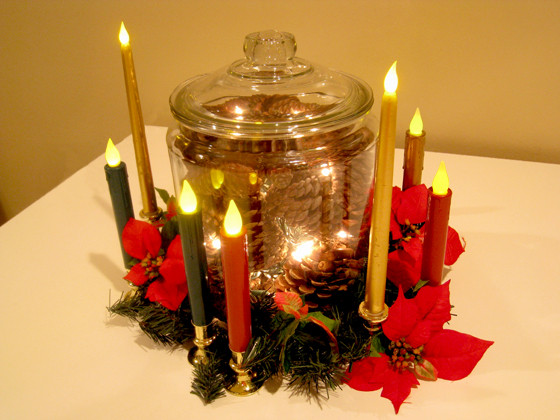 What you need:
Large clear jar
Pine cones
Acorns
Wireless lights
Greenery
Poinsettia leaves
Candles
Make sure the jar is nice and clean because any smudges will be magnified when you light it up – and the last thing you want to do is fill the jar up and then have to pull everything back out to clean it. Not fun. Once your jar is ready to go, fill it up half way with pine cones. It might look like you have too many in the jar, but once you add the lights, it won't look as cramped. Then, drop some lights in and make sure you weave them in and out of the pine cones. Leave half of the light strand out of the jar so you can use it later. Then, add the rest of the pine cones, fill in any remaining holes with acorns and add the rest of the light strand.
Lay greenery around the jar and stick Poinsettia leaves in any open spaces. Tuck decorative candles into the greenery to give the centerpiece more depth.
These are just a few centerpiece ideas to show you how you can decorate your Christmas table. Do you have a favorite go-to Christmas centerpiece? Share it in the comments below – we're always looking for new ideas!
---
Article source: https://www.improvementscatalog.com/RoomForImprovements/christmas-table-decorations-christmas-centerpiece-ideas/