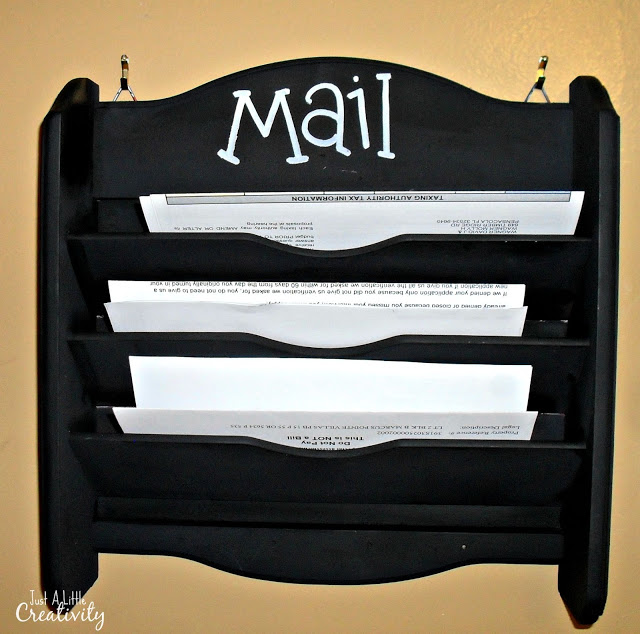 So, all you crafty (and not so crafty) folks out there, raise your hand if you've ever had a great idea, and then totally bombed it your first try.
That's exactly what happened to me when I tried to makeover this grimy white mail holder.
I needed something to sort the mess of mail we get, and I found this at a thrift store for $1.99.
It's solid wood, so that was a plus. But it was dirty white, and had broken hooks on the bottom of it. I thought about how to make it over, and had the perfect idea (or so I thought).
First I painted it in a nice deep red, which took about a million coats and waaaay too much of my time. That should have been my clue to abandon ship, but no. 
I never did get an even coat of the red, so I decided to use my distressed paint rub technique to cover some of the craziness of the red. "Okay" I thought, I could work with the final results. It occurred to me that while this holder would function just fine, there was no real way to tell whose mail should go where.
My bright idea? Use a paint pen to write our initials on the side. M for Molly, D for Dave, and B for bills to be paid.
I'm going to show you this horrible, terrible, awful result knowing full well this may make you lose all respect for my skill. 
Here it is, I'm hanging my head in shame…

Omgeeeee.
I wanted to throw it away. Instead, I just tucked it away in my art room, perhaps to be resurrected one day, perhaps not.
A few weeks ago, I posted about a Pottery Barn Chalkboard Knock-off project for my office makeover. It was after that I had the idea to dust off my sad little mail holder and spray paint it black to match the chalkboard. I'm not sure why I didn't think of it before, probably because I was too frustrated.
I still liked the idea of labeling where our mail should go, so being much more careful and creative, I wrote "his, hers, theirs" on the side.

Finally, a finished product I'm happy with. In the end, I'm glad I didn't quit, throw it away, and go buy something else. As often as I talk about creative ideas, I admit the lesson I learned is that sometimes a great idea just doesn't work on the first try, but it's often worth it to try, try again.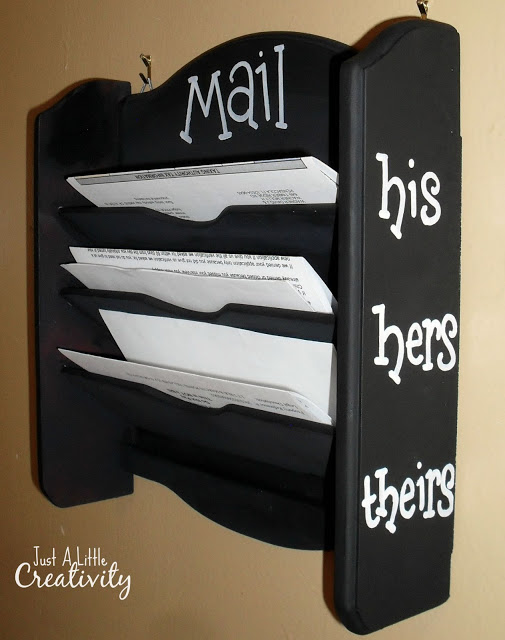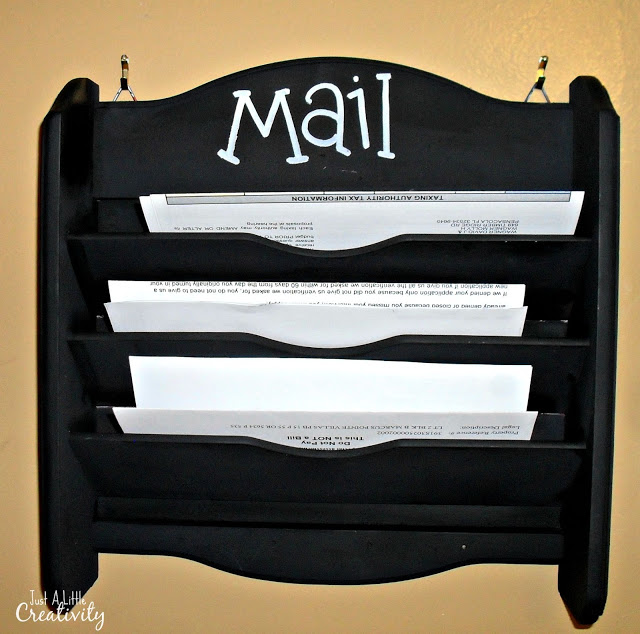 More DIY Home Decor Ideas and Resources
---
---
Article source: http://www.justalittlecreativity.com/2011/09/confession-time-good-bad-and-ugly-diy.html