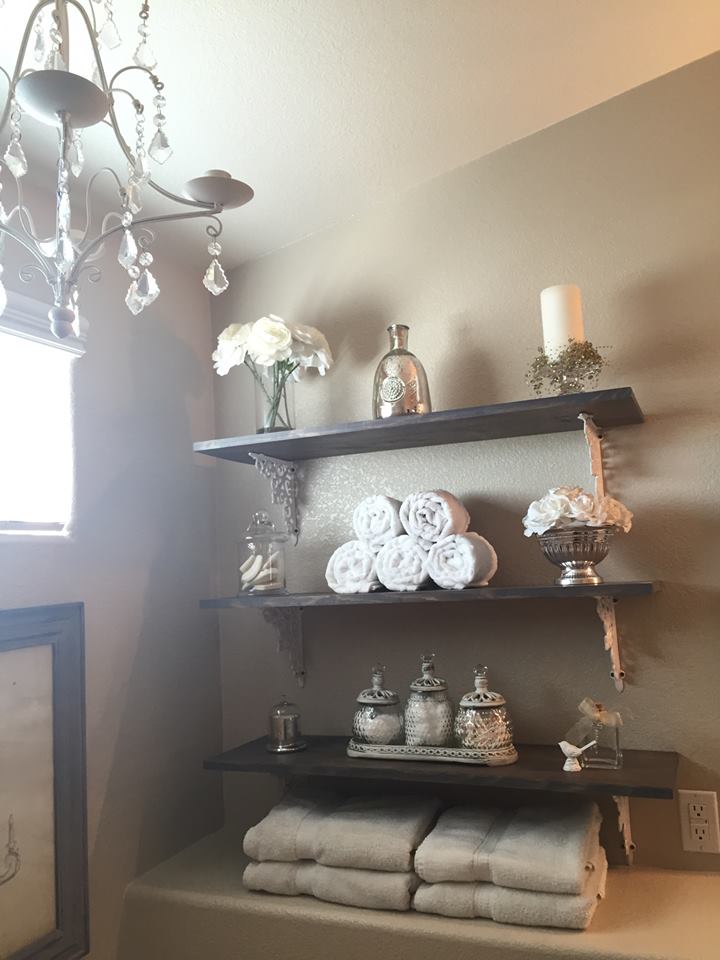 At initially, I hung a gorgeous, high print I enjoyed and then had some cute pieces of decoration and towels sitting on the shelf. And then it came … this beautiful and easy AND low-cost, might I include, shelving display screen.
Here is what I did:
1- Went to the house enhancement shop and bought (1) 1 x12 x10 \u2032 whitewood slab. Will cost you around $25-$ 30.
2- Cut in to (3) 3 pieces with my saw (however home improvement shop will do this for you and probably much easier to take house in car). I'll save the leftover piece and make an indication out of it or something.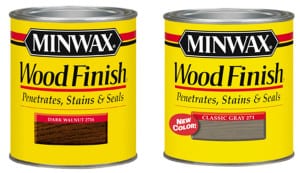 3- Lightly sand and then stain the wood. I enjoy these 2 spots. I use one coat of the Dark Walnut and then a coat of the Classic Grey.( I use this combination on almost whatever in my house … i just love it!) You can seal it with a coat of polyacrylic however I did not. Let dry overnight. Less than $10 for both small cans.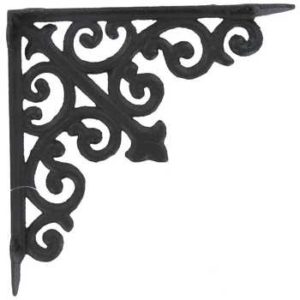 4- I acquired these 8 decorative iron brackets from Hobby Lobby ( here ) and spray painted them white. At 1/2 off, they were only $3.50 each,.amounting to just $21 for all 6 brackets.
I began 8 up from the bottom (the height of the bracket) and then I spaced the brackets 12 apart. KEEP IN MIND: Utilize your stud finder and if you are not screwing into the stud, make sure to utilize a wall anchor as the iron bracket + wood racks + decoration will get heavy.
6- Here's the fun part … DECORATE !! See? Easy peasy! I got some pieces from around my home and moved things around. Then I bought a number of other things from House Goods (a.k.a. my home far from home).
I discovered this darling.The stressful, the jewels on top, the hob knob containers … it was calling my name from throughout the store!!!!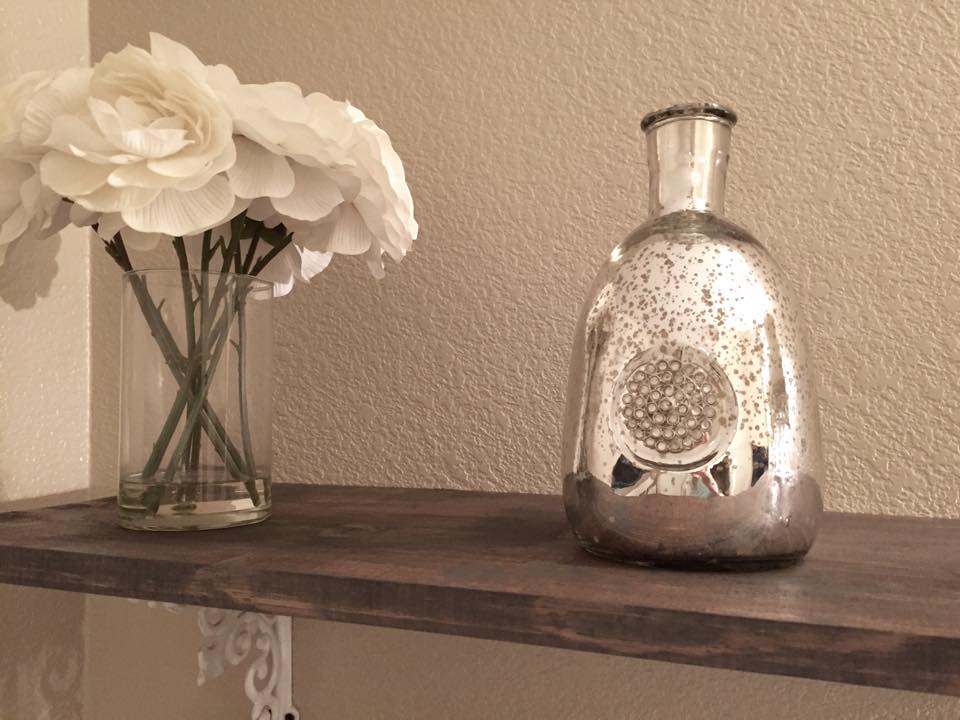 I love like glass! I found this beautiful vase and the flowers at Home Goods a while ago.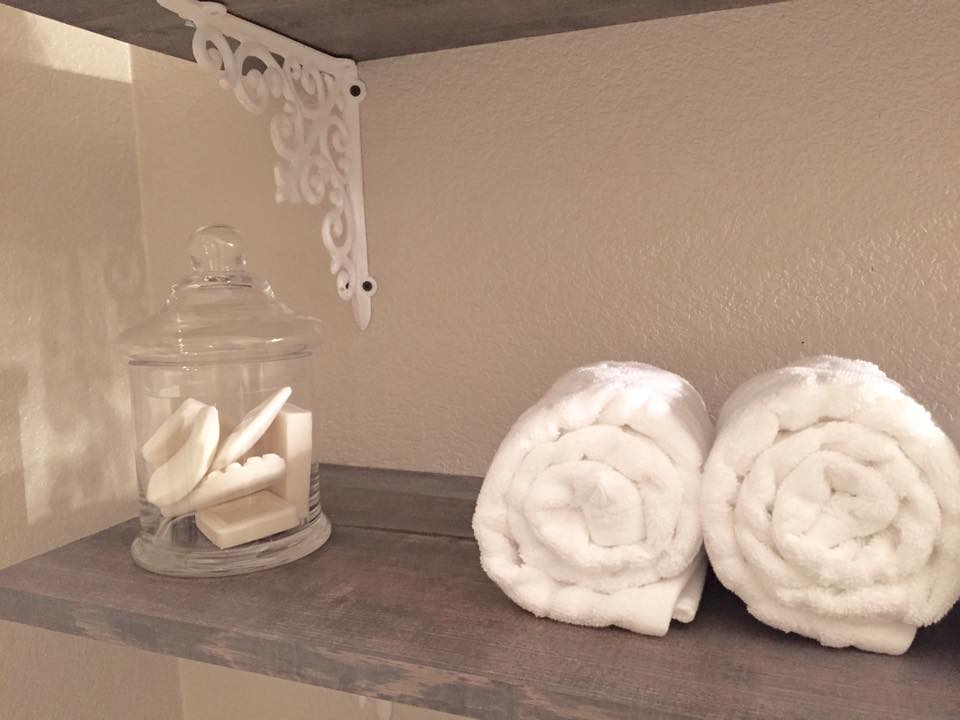 I like rolling hand towels. I particularly like the textured ones. Make sure to roll them all the same method and deal with the open ends to the back.
I love to keep them in my Visitor Linen Closet in an unique basket. I also thought it would be adorable to unwrap them and put them in this apothecary jar to display on my shelves.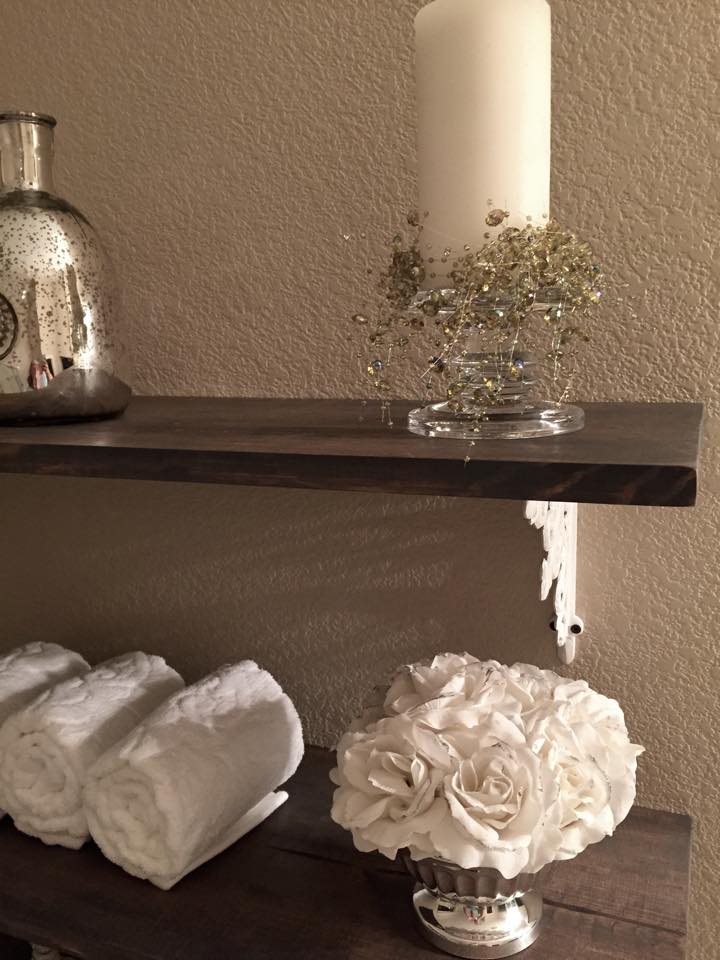 This cute sparkly hair around my candle light is from Rod Functions. It looks green however it's a taupe color face to face therefore so pretty! And I likewise found this charming little potted faux increased plan there too for $7 on clearance. Woot woot! The glittery ends of the roses actually include such an attractive touch!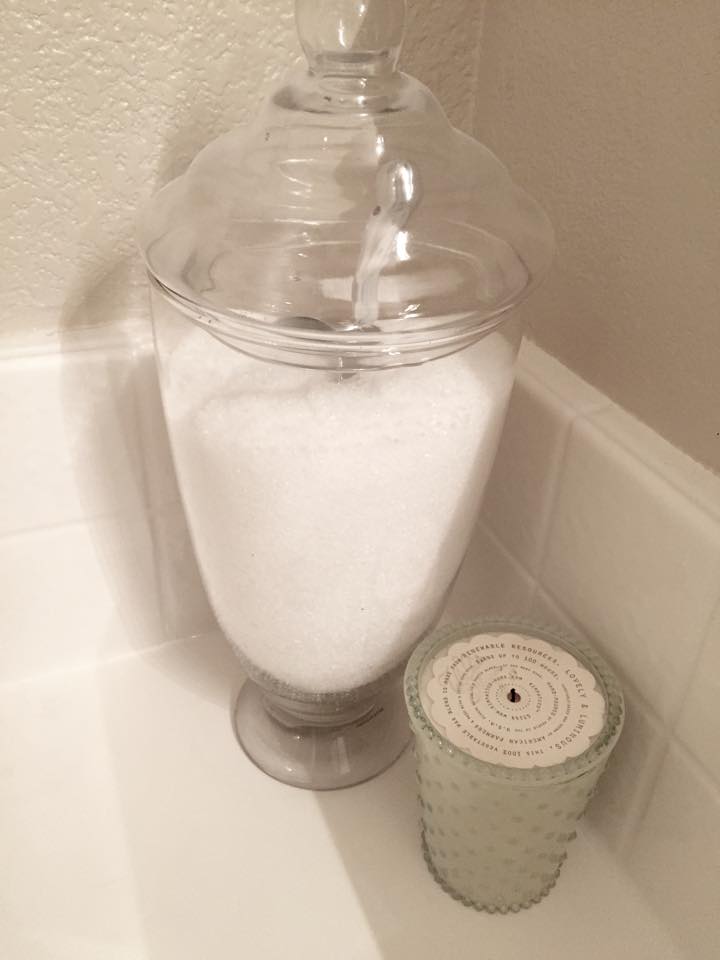 Along the side of my tub, I not just have one of my favorite candle lights (so charming in this hobnail jar) but I have a big apothecary jar filled with Peppermint Epsom Salt. I like to take a hot bath with that in it two times a week to detox (will share my favorite dishes quickly.).
How beautiful are these chandelier prints ?! It's hard to inform but they have some swarovski crystals that I included prior to framing them. They look so quite in the daylight.
How fun is this chandelier?!! I shopped my garage and found it in this mismarked box (thanks movers … grrr) and was black. I removed and washed the crystals, which was really easy, and after that spray painted it white and included the crystals back on. Night and day, I tell ya! I am soooo thrilled with this space!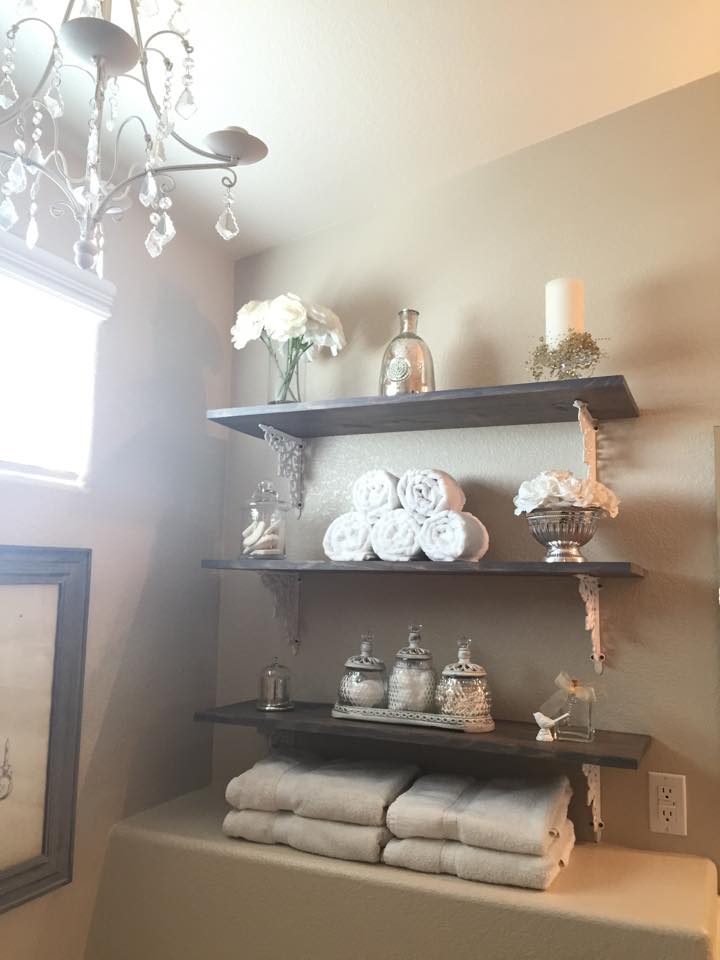 Taking a bath now TRULY feels luxurious!!! On that note, I believe I'll take one right now and read a great book!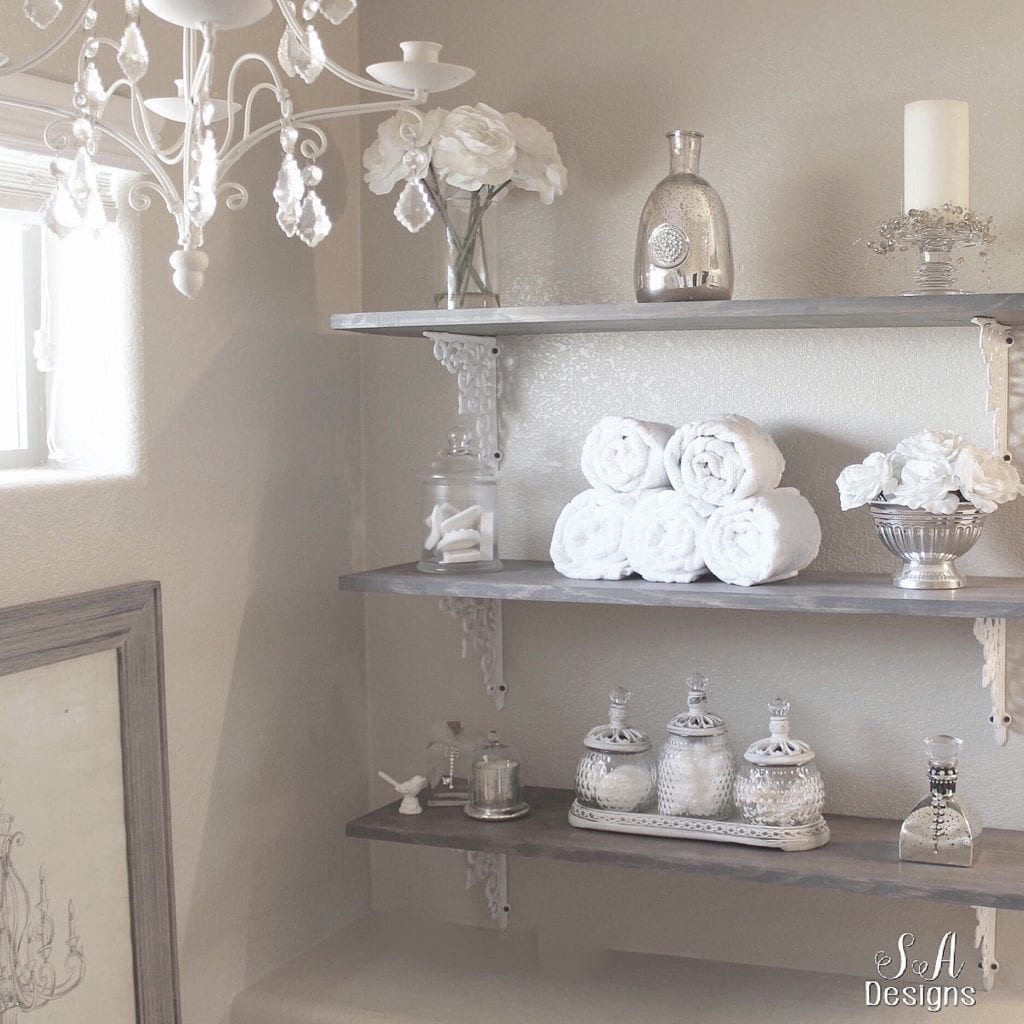 Article source: http://www.summeradams.com/diy-bathroom-shelving-tutorial/
More DIY Home Decor Ideas and Resources
---
---