Holy schnikes, it's been 5 months since I last blogged. WHOA. At least I can say I've had a good excuse–I bought my first house!
When I last wrote, I was in the process of moving. It was quite the chaotic time, as I was in a race to find a new renter to replace my existing lease so that I could move into the new home. My landlord was understanding about letting me out of the lease for my first house, but we still had to go through the stress of showing his house to prospective renters. Because I had so much boxed up, I don't think many people could visualize what the house could be for them. That's why I scrambled to create a house tour here, but then we settled on another solution: let me out of the lease in lieu for 1/2 month rent and my security deposit. While I wouldn't do it again like that, it all worked out and I've been living in my very own house since September.
Lots of people ask, "Why now?" Answer: I had a great opportunity. While I've lived in apartments and rented homes since I first moved away from home 20 years ago, I had a chance to buy a home I already loved. See, this house is the home my parents lived in for years. My mom passed away 4 years ago, and my stepfather continued to live here. Then he met his girlfriend and their relationship evolved to wanting a house together, so he decided to sell this one.
This house was already like a second home to me, full of sentimental value and nostalgia. I knew the town, the neighborhood, and the history of the house, like its repairs. It was also a good chance to continue building my credit… and more importantly, have something of my own. I no longer have to worry about my rent being increased, if the owner will sell (had that happen once in an apartment :O), or feel edgy about how I make over the place (wall anchors/screws are my best friends). Furthermore, I never realized the importance of having equity until now, especially in planning for your future and retirement. So this was all (and still is) a major grown-up moment.
Enough of all this adulting crap. It's time for a little indulgence. You want the goods, right? You came to the right place, but I've only got teasers for you right now. You'll be a'ight. One of those growing up moments I realized in buying your first house is that your work is never done. I have lots of little projects to complete before I'll really feel accomplished.
First, the colors. I was so excited to paint and choose colors for all my rooms. I've painted walls in the past, but this time it was more special. Since my stepdad was the (now former) owner, I was able to paint the home before moving day. Here's what I first selected, and here's what I actually used. For the most part, they're the same color schemes I used in the last home.
I selected colors that would seamlessly flow well from one room to the next, to give a sense of flow and balance. I'm really pleased with these colors and have truly found my groove with palettes: large swathes of neutral shades with splashes of complimentary color, when desired.
First up, the living room and dining room, which were painted with Valspar's Cozy White. It's very similar to the paint used in my last home's living room/den, which was Divine White by Sherwin Williams. It has a warmth that borders on it being a shade of cream. It's not too cold and not too warm—it's a Goldilocks shade. It's harmonious while providing a touch of contrast against white trim.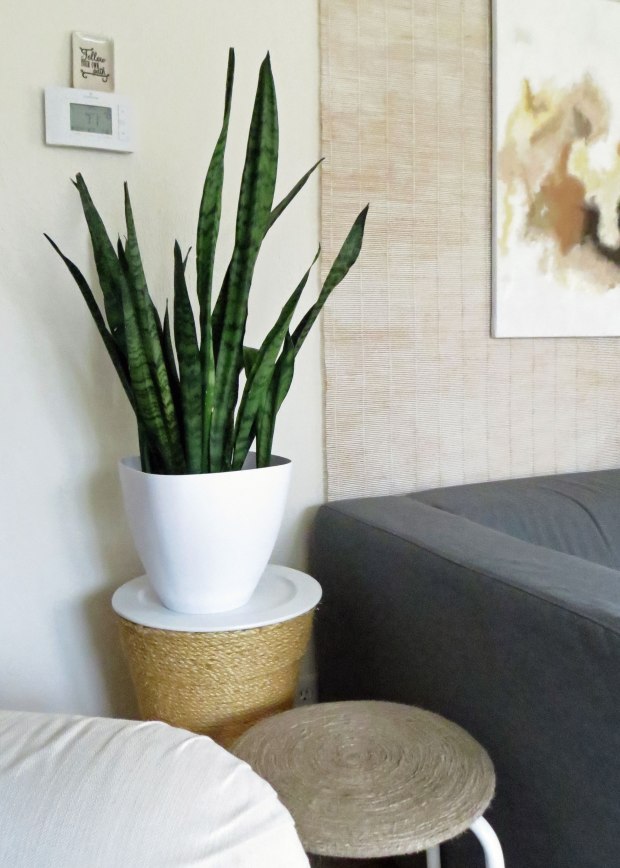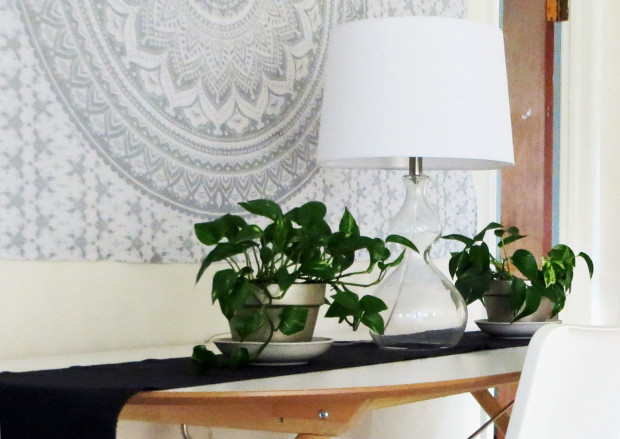 Since it's a 2-bedroom house, I'm currently using the second bedroom as a den of sorts–instead of a home office like before. Here, I chose Behr's Juniper Breeze, to keep the same palette as my previous home office. It's a relaxing mint green that borders on neutral but has just enough saturation to give the home some variety.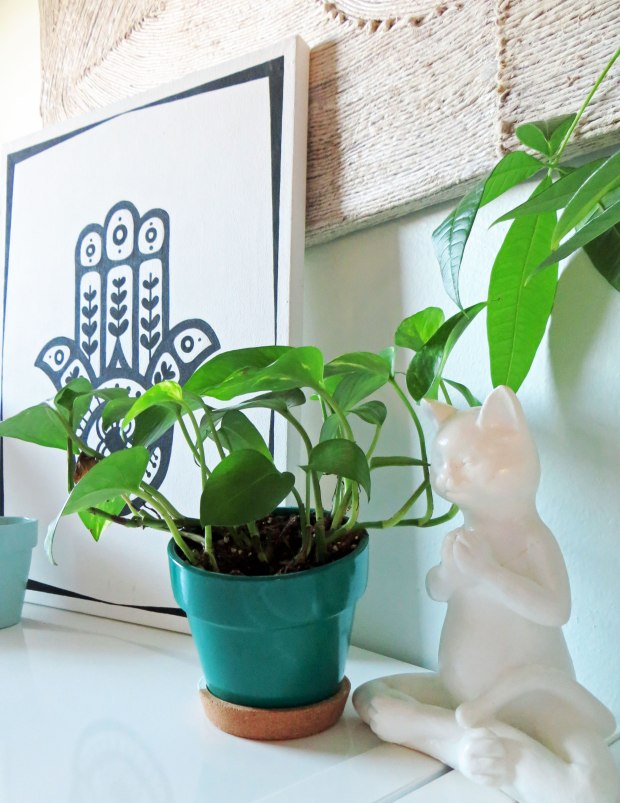 In the master bedroom, I continued my watery blues vibe with this airy, blue color, Behr's Absolute Zero. It's soothing, a perfect choice for a room where you want a peaceful vibe.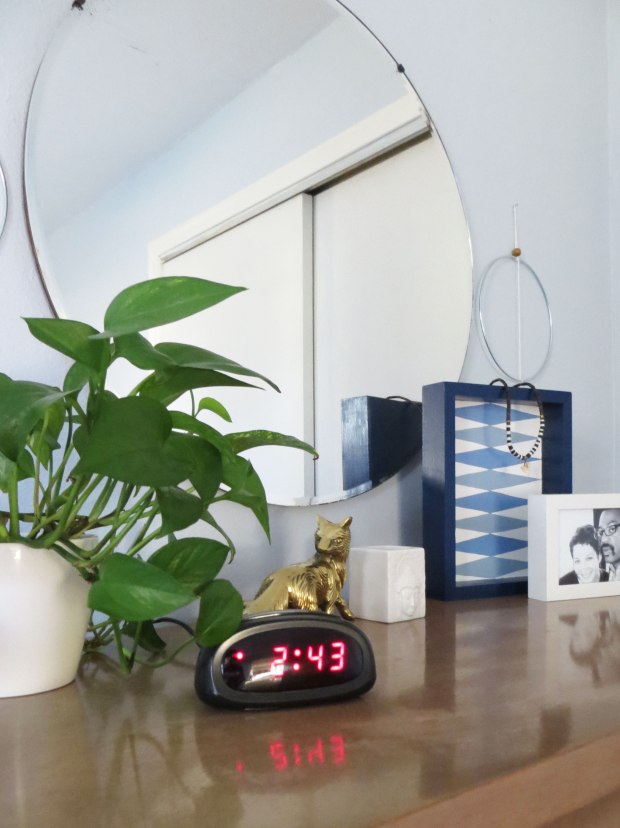 Here's where the new house gets a little wacky: I have a pink kitchen. No, not Barbie pink (not that there's anything wrong what that), rather a rosy-gray pink. In the other rooms I made safe, tried-and-true color choices but here I wanted to experiment. And so I chose Mocha Ice by Behr: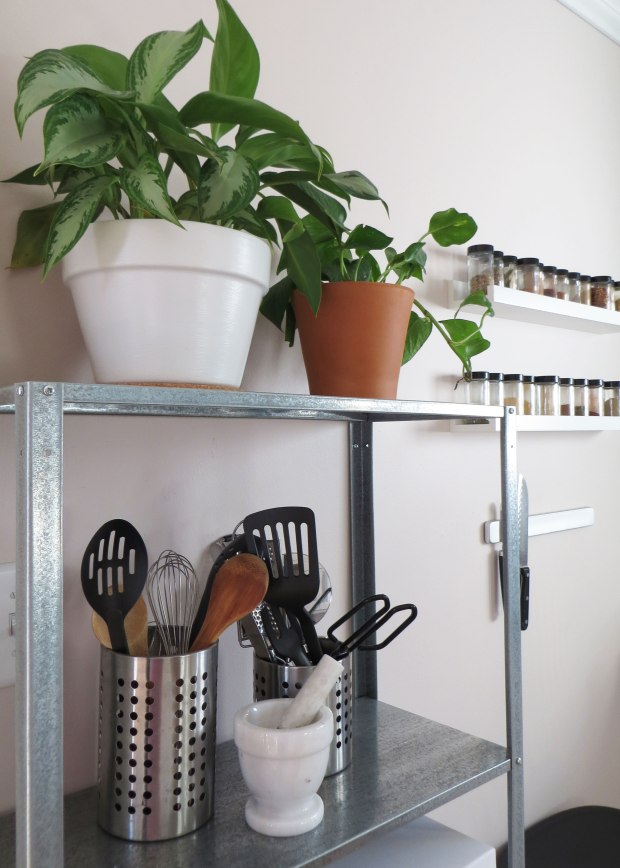 For the bathroom, I originally painted it a light, cool gray. But for some reason, the lighting in there made it a purple-gray whiich was no bueno. I decided to use the leftover paint from the kitchen and go with the same color. I'm glad I went that route, because even with the right gray it wouldn't have felt right. This is a cool pink, but with a little warmth– gray would've felt too cold. And the sweet thing about the difference in light here is that it transforms it into a different version, with more lavender undertones.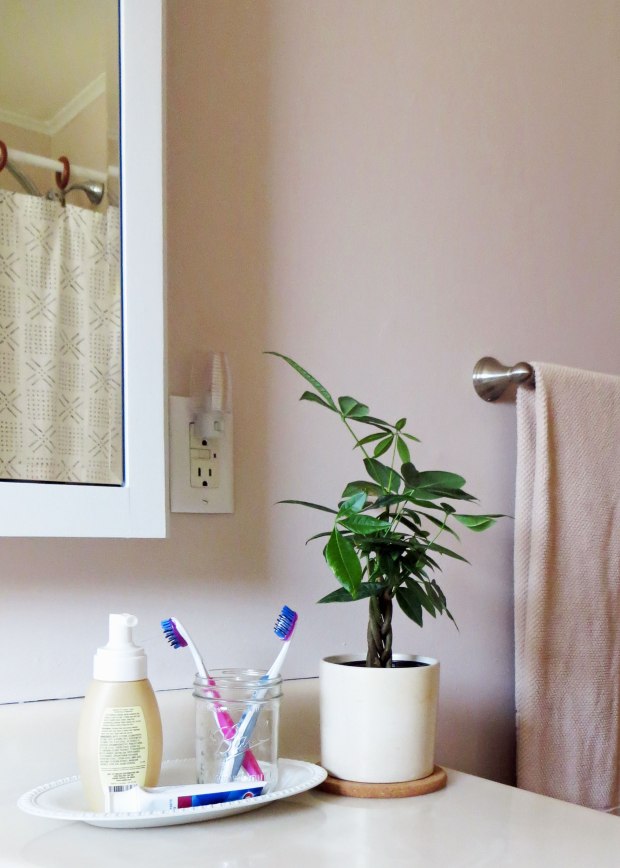 That's all you get for now. Creating a house tour for your blog takes a lot of time, perhaps moreso because I have a type-A personality, but still. Most important is ensuring the proper natural light is harnessed and with it being winter in Michigan, that can be a crapshoot.
But I promise it will not take 5 months before you see the rest of my house. Especially since 5 months from now will be spring, which means tackling something I've never done– gardening. I can't wait to learn all about curb appeal… and be able to step outside without my snot freezing instantly. Giggidy.
More DIY Home Decor Ideas and Resources
---
---
Article source: https://thedecorguru.com/2018/01/06/good-excuses-first-house-sneak-peek/