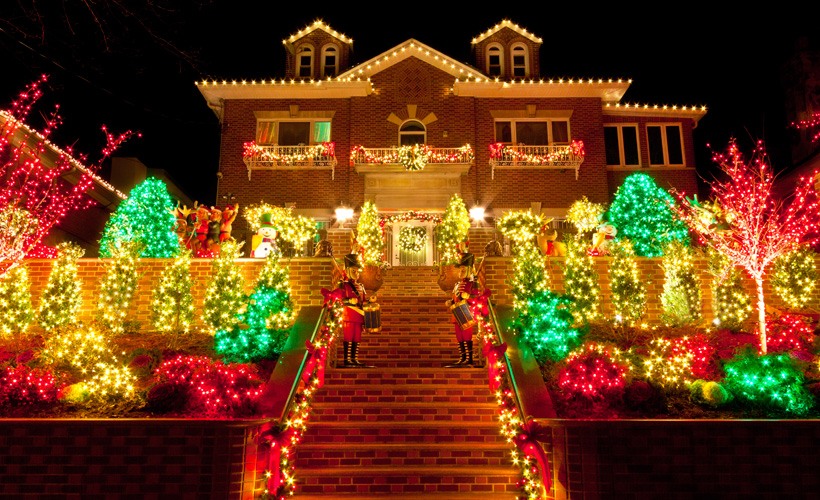 With everything that seems to go on around Christmas, it is easy to forget to turn the Christmas lights on or off. Whether you have lights around the outside of your home, a great set up of Christmas tree lights, or a whole yard display, having some technical help could make controlling your Christmas lights a little easier.
Wireless Remote Control System
One way that you can control Christmas lights is with a wireless remote control system. When it starts to get dark at night, you simply push a button on the remote control and your lights will turn on. You will not have to take a journey around the entire house trying to remember where you plug everything in. Just push a button! You can also use your remote control system to control your Christmas tree lights. Simply plug your Christmas tree lights into the transmitter and plug the transmitter into the outlet and you'll be ready to control the lights from the comfort of your sofa – you don't have to crawl behind the tree to turn on your lights anymore!
Christmas Lights Timers
When you are out purchasing your Christmas lights, look for specific Christmas light timers. They come in a variety of styles, but you can read the packaging to figure out which timer will be right for you. Determine whether the timer is for outdoor lights, indoor lights, certain wattage, etc. There will be instructions with the timer that will teach you how to set the timer so that the lights will come on when you want them to. Some timers are set by the hour and others by the light using a photocell.
Controlling Your Christmas Tree Lights Tip: If you have a relatively new home and you see that one outlet in your room is upside down – instead of 2 holes on top and one on the bottom, the outlet has the one hole on top and the other 2 on the bottom – more than likely, this outlet is controlled by a light switch in the room. If you can position your Christmas tree in front of this outlet, you can control your Christmas tree lights from the wall switch.
Computer Control of Christmas Lights
Decide how many channels you want to use. One channel could be one bush, one doorway, etc. Anywhere from 32-64 would be a good starting point.
Purchase a lot of Christmas lights. Enough to string throughout all of your channels.
Purchase a computer control system. There are systems that are completely built so all you have to do is install it. There are others that come in a kit with instructions on how to put it together.
Get online and join a forum or discussion where you can get some pointers from someone who has done this before. They can give you music, lighting, rhythm ideas and more.
Purchase the software for your system.
Design the display on paper so that you know where every channel will be. Some ideas include:

Net lights on bushes.
Icicle lights on the edge of the roof.
Wrapping mini trees with tree lights.
Making wire frames into different shapes, wrapped in lights.
Pull out the lighted reindeer outdoor Christmas decoration, lighted outdoor trees, sleighs, etc. – any lighted outdoor Christmas decoration that you want to use.

Create the program by collecting music and synchronizing the grid.
Set up a great speaker system.
Make sure you have enough power to run your show. Each strand of mini lights will use about 1/3 amp, so plan accordingly.
Check your display every morning to make sure it is all still intact.
If something is not working out right, play with the software on the computer to see what you can change up on your grid.
---
Article source: https://www.improvementscatalog.com/RoomForImprovements/how-to-control-christmas-lights/