Giving your kitchen a makeover doesn't have to be a huge project. In fact, there are a number of low-budget ways to give your kitchen a brand new look without investing too much dough.
Here are just a couple of minor projects you can undertake that will breathe new life into your kitchen's tired aesthetic:
Install New Light Fixtures
If your current kitchen is lit by one central fixture, you might have an off-balance ambiance. Consider adding a few more fixtures to break up glare and create a perfect blend of decorative and functional lighting. Bar lights, under-cabinet lights or other ambient lighting will help give a new feel to your kitchen.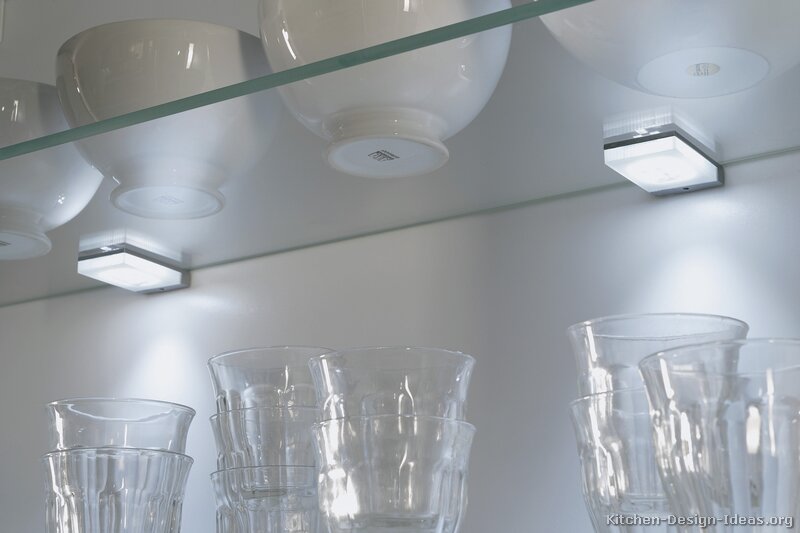 Cabinet lighting has been a
hot trend
recently, and for good reason: Beautiful lighting can make an ordinary space shine.
---
Change the Colors
A fresh coat of paint or a bright accent wall can really make your kitchen pop! Alternatively, consider creating a mosaic tile backsplash or using vintage or colorful decorative accents for visual interest.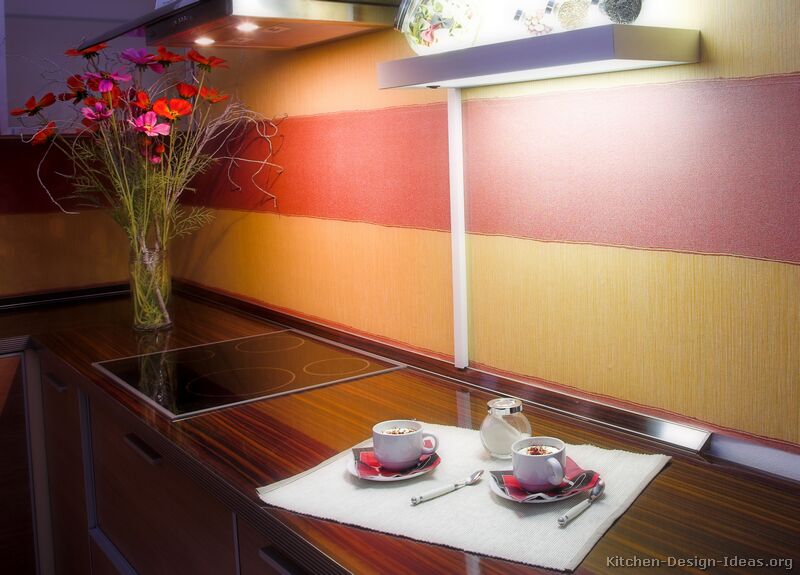 Bold color stripes create an eye-popping accent wall in this kitchen. Visit our
color schemes guide
for more ideas.
---
Upgrade the Countertops
Changing out countertops is a great way to give your kitchen an all-over new look without too much investment. You can choose stone materials, like marble, slate or granite or, if you're really on a budget, just change out colors on your laminate counters and add a new color or pattern to the room.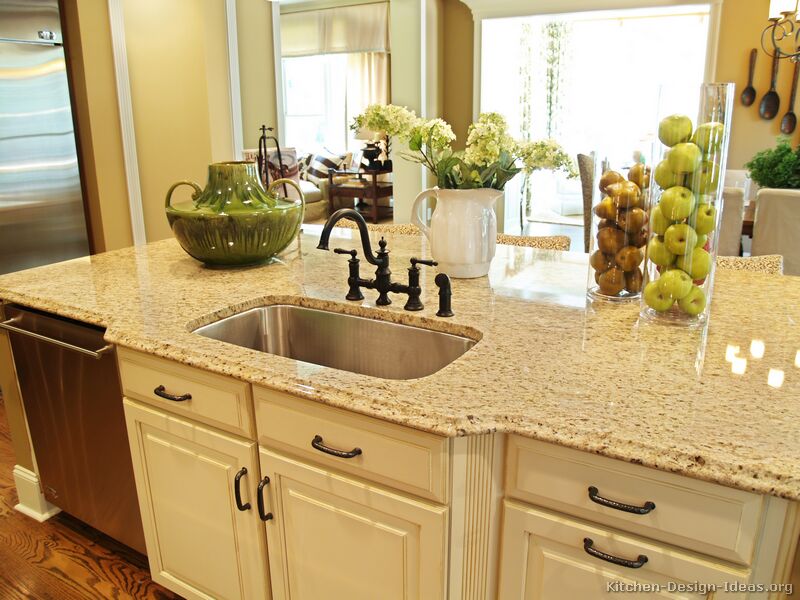 New countertops can add value and life to a kitchen without requiring an entire remodel.
Click here
for a plethora of granite colors to spark your imagination.
---
Revamp the Cabinets
In most kitchens, cabinets cover a large amount of real estate. Because of this, updating or changing them out can have a huge effect on the overall look of the room. If you can't afford to completely replace your existing cabinets, try revamping your old ones. A popular trend lately is glass-front cabinets. Simply remove your cabinet doors, cut out the front panel (leaving a two- to three-inch border around it), and insert clear glass panes. This gives your kitchen an open and airy look.
If replacing cabinets is outside your budget, you can always repaint cabinets or stain a light wood darker for a whole new look and feel. Even updating the cabinet handles alone can make a big difference!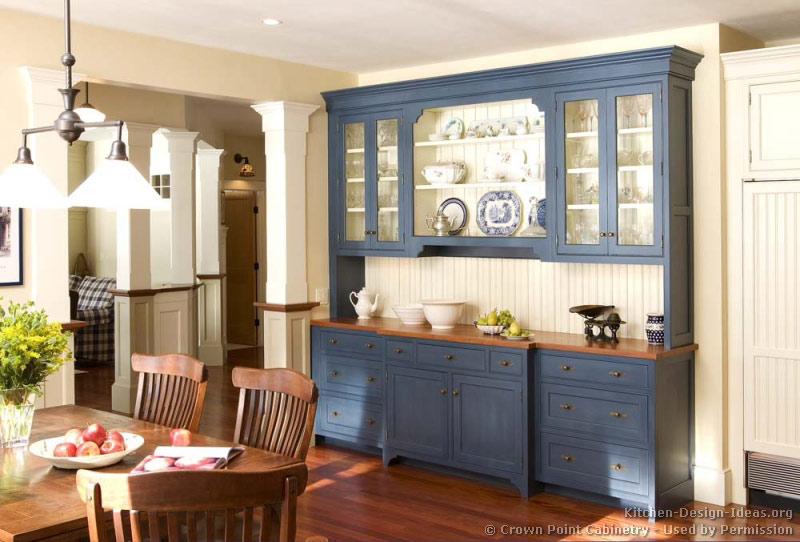 Painting old cabinets and adding glass panels can be an inexpensive way to revamp the look of your entire kitchen.
---
Add an Island
If you have the space, adding or upgrading an island not only transforms your room; it may also give you more space to cook, chop and serve up food. You can choose to get an island installed professionally – and have it match your countertops – or you could opt for a roll-away island, which you can typically find at any major furniture store or outlet. Most feature underside cabinets and drawers, giving you additional storage space.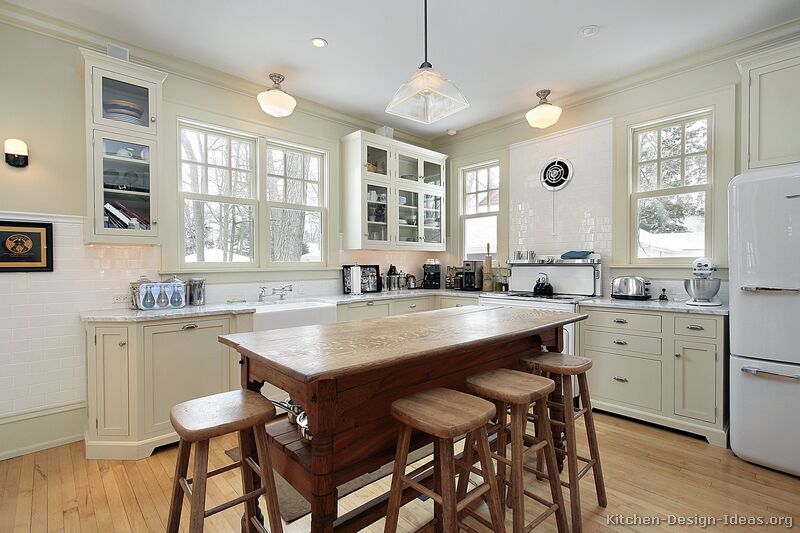 If you enjoy DIY projects, you can try refinishing an old work table into a beautiful and functional island. Source:
Vintage Kitchens Gallery
.
---
Create a Bar
If part of your kitchen is blocked off by a wall, consider knocking half of it out and turning the lower half into a bar. This can open up space between rooms and create a better space for entertaining. You can even get bar stools to match your décor to really pull the room together.
Article source: http://www.kitchen-design-ideas.org/minor-kitchen-remodels-make-huge-difference.html