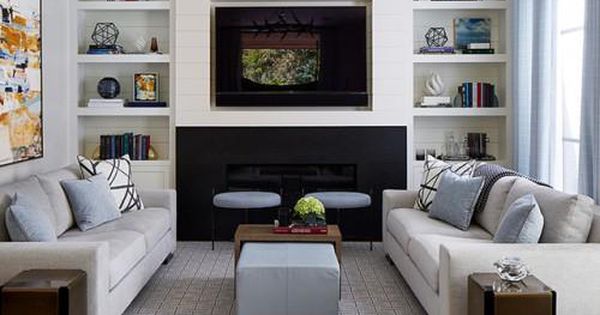 Mitchell Parker, Houzz
Every week, Houzz features dozens of fantastic homes and rooms with remarkable design characteristics. We pulled out some of our favorite decorating tips from feature stories this week to give you a list of notable tips and tricks to try in your next project. Which idea is your favorite?
1. Wrap your fireplace in shiplap. Fireplace walls can be a bit of a challenge to decorate. It's a large expanse of space to fill, and sometimes a large mirror, piece of art or TV isn't enough to make it feel pleasing to the eye. That's where shiplap can come in handy. The milled boards still give you a rather neutral surface, but its grooves provide a subtle textural detail that's just enough to make a big design impact without feeling overbearing.
2. Paint your baseboards to match the wall. This little design trick has several payoffs. Use it to create softness, promote coziness, allow other details in the room to pop and more.
3. Try a wallpaper backsplash. If selecting tile for your kitchen backsplash is bringing you down, maybe it's time to think outside the tile box. The owner of this houseboat chose a dazzling wallpaper depicting the likenesses of famous historical queens to create a wonderfully vibrant and original detail.
4. Install a chandelier in the bedroom. Looking for a way to add extra design points to your bedroom? Consider a statement chandelier. If your ceiling is already wired for lighting, this is a relatively quick and easy maneuver to elevate the style of the room.
5. Hide the TV with art. Our screens offer us endless hours of entertainment, but when turned off, they can sometimes be a source of decorating melancholy. The large black rectangle can feel like a closed eye of Sauron amid an otherwise delightful decor scheme.
One remedy to consider is hiding the screen with a piece of art or, in the case shown here, a piece of art split in two and hung on rolling tracks.
6. Show off your personality. A home isn't really a home until it features items that truly express part of your identity. Here, a roommate in this Kansas City, Missouri, home proudly displays photos paying tribute to Dolly Parton.
7. Back your shelves with wallpaper. Papering an entire wall in a graphic design can be a bit daunting. For a more subtle approach, consider papering the space behind open shelves. Display objects in front for a peek-a-boo effect that will make your shelves really make a statement.
8. Paint your wood floor. This bedroom from the same home as the previous image is full of fun ideas, but the painted checkerboard floor has to be the most impactful. Consider this bold idea for a kid space or guest room to add energy and happiness.
9. Use orange to bring warmth. If you've got a home with a lot of concrete, brick or other stark materials, look to incorporating warm colors such as reds, yellows and oranges, as shown in this Swedish home.
Article source: https://www.forbes.com/sites/houzz/2017/06/06/this-weeks-most-popular-decorating-trends/