Pictures and Inspiration
Rustic kitchen designs embrace the rural lifestyle with robust cabinetry, warm colors, and hearty wood with plenty of character. Best of all, the popularity and beauty of rustic kitchens is not limited to mountain cabins, but can be found in suburban homes near you.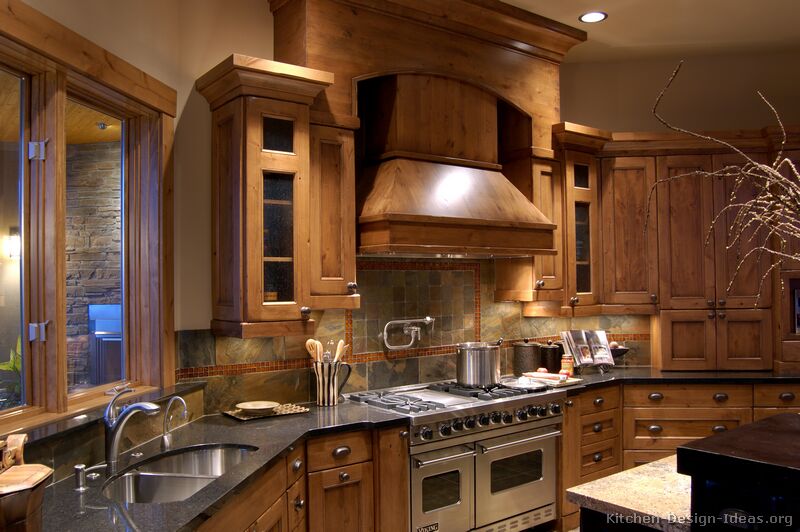 This rustic kitchen is ready to cook with its pro Viking range, giant wood hood, pot filler faucet, and slate tile backsplash.
Back to Reality: Many fancy kitchens are made to be admired at a distance; Rustic kitchens are made to be used. Their down-to-earth style and lived-in looks make rustic kitchens among the most comfortable and inviting rooms to be in. Antique kitchen cabinets, apron sinks, wooden beams and stonework are trademarks of great rustic kitchen designs.
Setting the Mood: Sometimes rugged, but often cozy, rustic kitchens have a timeless and natural appearance. Wide-planked wood floors, antique brass hardware, knotty wood cabinets, and hammered copper all contribute to the earthy atmosphere of the rural lifestyle.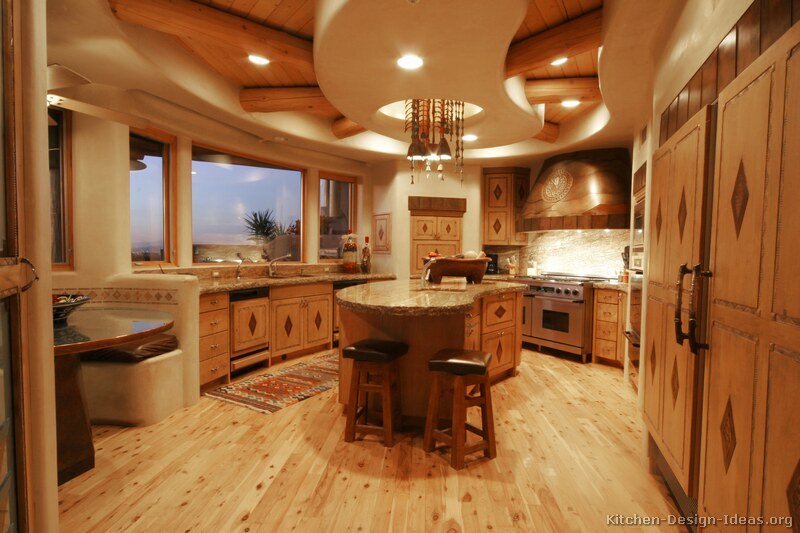 Curved adobe walls, inlaid wood cabinets, chiseled granite, log ceiling beams, and knotty wood floors give this Santa Fe style kitchen its rustic charm.
Decorating Ideas: When we think of "Rustic" we often think of "The Old West." A Winchester rifle next to an American flag, a lantern set atop rustic kitchen cabinets, and images of horses and livestock forged in brass… all these can bring to mind the old American dream of a "home on the range." Rustic kitchen design can also reflect styles from other regions, including Southwestern styles, Farm and Country styles, Desert/Adobe styles, and Lodge/Mountain motifs.
Completing the Look: If you have the space, be sure to include an old rustic kitchen table and chairs for informal meals. You'll want to hang out a while in your cozy new kitchen. Instead of glossy polished countertops, try honed or flamed granite which has a natural satin appearance. Butcher block countertops look fantastic on rustic kitchen islands. If you're feeling adventurous, soapstone or honed marble are also make great rustic countertops.
Kitchen Design Gallery: Above are some pictures of rustic kitchens for your enjoyment. Keep a journal of your own design ideas and take notes of what you like.

Article source: http://www.kitchen-design-ideas.org/rustic-kitchen-designs.html