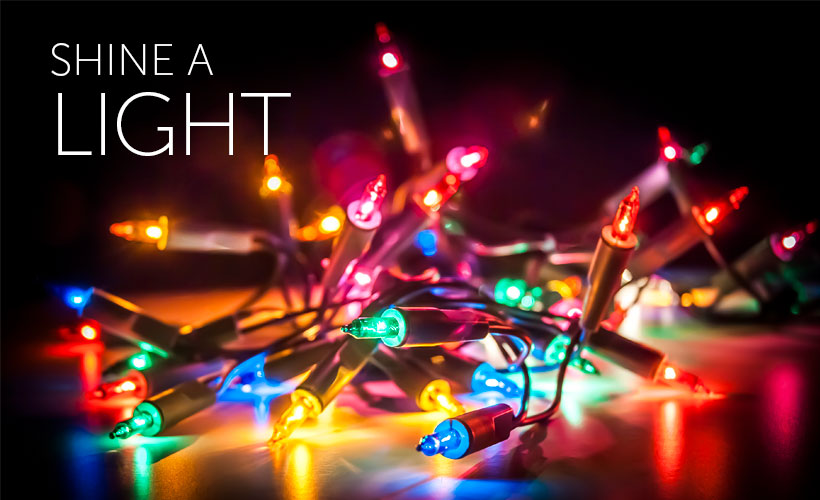 Decorating for the holidays may be something you enjoy, or it may be a chore. Either way, knowing how to hang Christmas tree lights will make your job a little less stressful and should help it go a lot quicker as well. Whether you are a Christmas decorating professional, or if this is the first time you have strung Christmas tree lights, the following ideas will help to get you started.
Tips for How to Hang Christmas Tree Lights: Understanding Safety
Know the Number – When you head out to purchase Christmas tree lights, know how many you will need for your particular tree, as well as what type you should use. For every foot tall that your tree is, you can hang 100 lights. For example, if your Christmas tree is 8′ tall, hang 800 lights. If the tree is 12′, hang 1200 lights.
Plugs and Extension Cords – Realize that you should only have a maximum of 3 light strands plugged together. In addition, only 3 plugs should be plugged into one power strip. Using 100-light strands for an 8′ tree, you will need 8 strands. Plug 3 together, another 3, and then 2. All 3 of those can be plugged into one power strip, or you can plug them into wall outlets, possibly using an extension cord.
Indoor Lights – You will find lights in various types including LED, clear, multicolored, and more. No matter what type you get, the Christmas lights will be specified as either indoor or outdoor lights. Make sure you have lights with the Underwriters Laboratories label and that they are for an indoor Christmas tree.
---
Tips for How to Hang Christmas Tree Lights: Hanging the Lights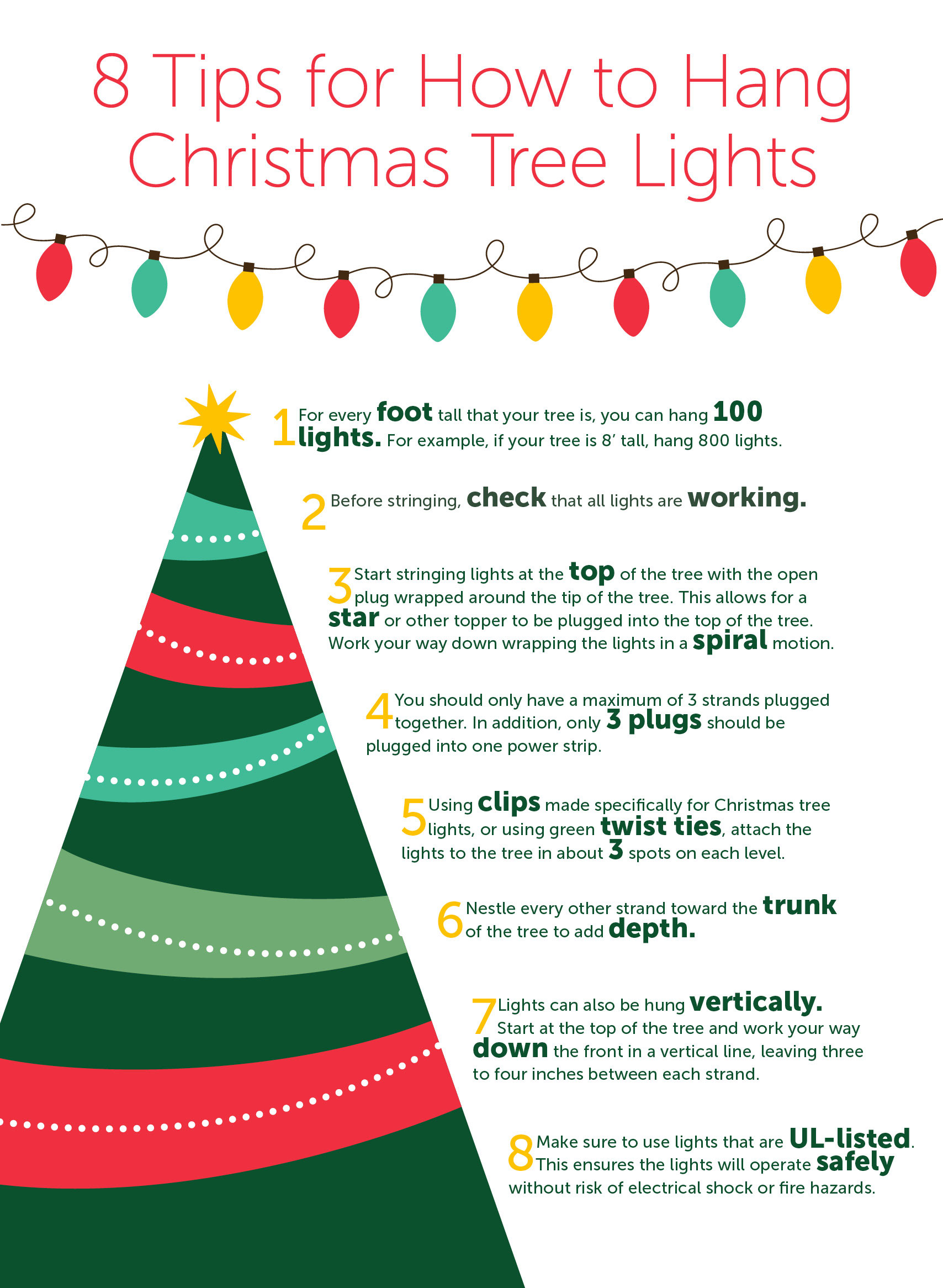 More DIY Home Decor Ideas and Resources
---
---
Begin decorating with Christmas tree lights, rather than with ornaments. There will be fewer obstacles in the way if the tree is void of ornaments when you string the lights.
Before hanging the lights on the tree, plug each strand into an outlet to check for lights that may have burned out. Replace any that are missing or burned out, or replace the entire strand if your Christmas tree lights will not turn on at all.
Begin at the top of the tree, wrapping the female connector of the light strand around the tip. Work your way down, wrapping the lights around the tree in a spiral motion. Nestle the lights back towards the trunk of the tree. Avoid crossing any of the strands. When you run out of lights and still have more Christmas tree, attach another strand, keeping in mind to only attach 3 together.
After you've added your first 3 strands of lights, it's time to add even more lights to the tree. Beginning near the top, attach another strand of lights to an outer top branch and work your way down the tree in a spiral motion. This time, nestle the strand of Christmas tree lights nearer to the tips of the branches. When you run out of lights, attach a new strand, ensuring that you only have 3 strands connected at one time.
Using clips made specifically for Christmas tree lights, or using green twist ties, attach the Christmas tree lights to the tree in about 3 spots on each level. You can do this as you go, or you can do it all at once when all of the lights are on the tree.
Plug the lights into the outlet, power strip, or extension cords to ensure that the lights look just as full as you want them to be.
Adjust the strands that may need to fill in any empty spaces and tuck any exposed cords into the branches and out of sight.
---
Article source: https://www.improvementscatalog.com/RoomForImprovements/tips-hang-christmas-tree-lights/