Below is a list of 10 DIY ideas for your kitchen. Following this list, or one very similar, can have your kitchen looking so beautiful and different in a matter of no time simply by sprucing things up and adding a personal touch to your accessories and appliances. So gather your supplies, set aside some time, and have a little fun this weekend.
Mason Jar Soap Dispenser via Love Grows Wild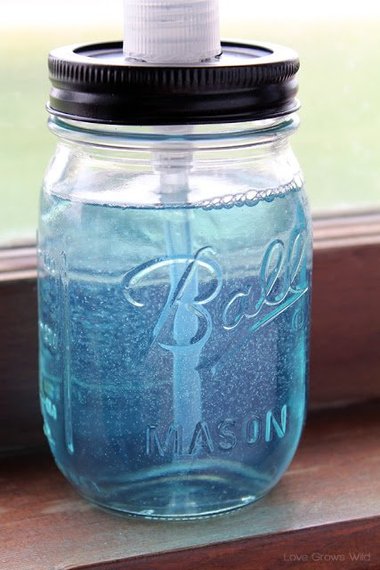 What You Need:
Mason jar
Soap bottle with pump
Glue
Spray Paint
With just these supplies you can create a totally chic alternative to that generic dish soap bottle (maybe even more than one?) we know you have lying around.
Ombre Painted Wooden Spoons via Say Yes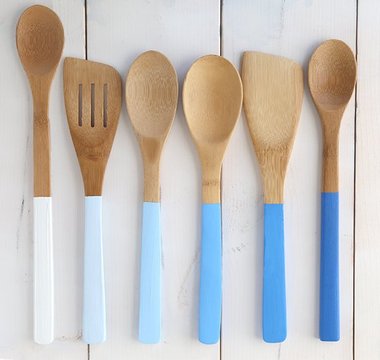 What You Need:
Set of wooden spoons
Masking tape
Craft paint
Foam brush
There are two positives to this. 1) You will finally be able to know which spoon is which, even if they are face down in a jar, and 2) This has to be the easiest project ever. By the way, there are no cons.
Painted Cutting Boards via Idle Wife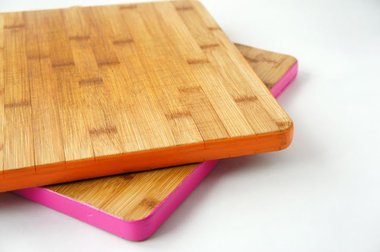 What You Need:
Bamboo cutting boards
Craft paint
Foam brush
Did you know that it's very bad if you're cutting your meat and your veggies on the same board? The bacteria from meat and poultry may stay on your cutting board long after you've pan-seared that baby up. If you're thinking of making a fresh salad and chopping up your greens on the same board, consider yourself warned: It's a no-no. Color-coordinate your boards! Better yet: Purchase a plastic board for your meats to make sure everything is as sanitary as possible.
Washi Tape Cabinet Shelves via Vorstellung von Schön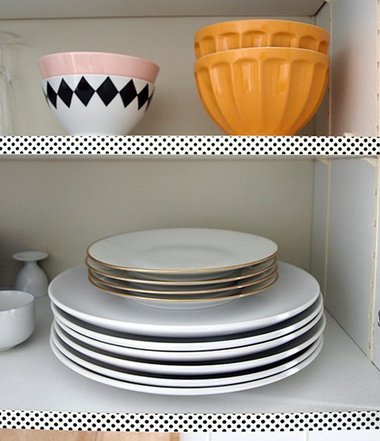 What You Need:
The best way to liven up your shelves is right at your fingertips!
Sharpie Mugs via Scribbles from Emily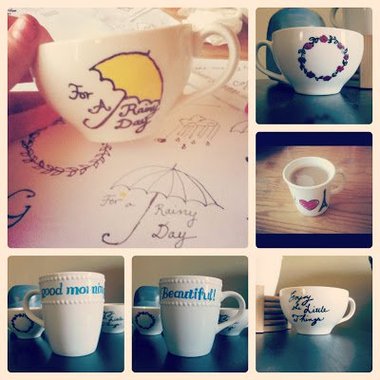 What You Need:
Printer paper
Pencil
Sharpie oil based paint markers
Graphite stick
Printer
Mugs
Oven
Make old mugs feel new again with these artful doodles!
Sewn Oven Mitts & Hot Pads via A Beautiful Mess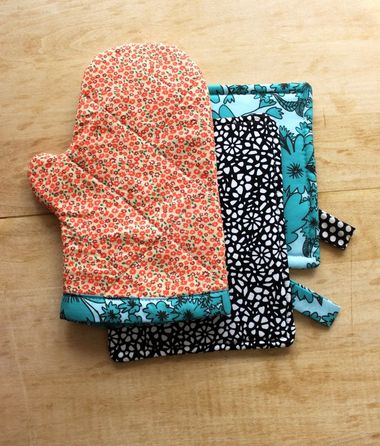 What You Need:
Oven mitt cut outs
Hot pad cut outs
Fabric
Straight pins
Iron
Iron Board
Sewing machine (or needle if you're old school!)
Thread
Shears
Who says you can't look cute in the kitchen? Even bold pops of color from small items such as kitchen mitts will surely liven the space up.
Serving Tray via Lemon Tree Creations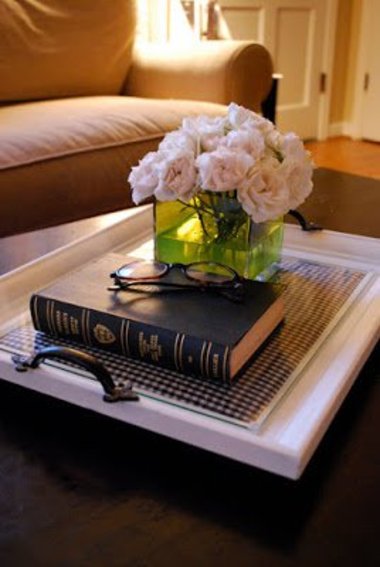 What You Need:
Frame
Paint
Paintbrush
Drawer handles
Screws & Screwdriver
Cardboard
Fabric
Nothing says "adult" more than a beautiful serving tray. Bring guests over for tea and present them with this A+ tray.
Stenciled Appliances via Hello Hydrangea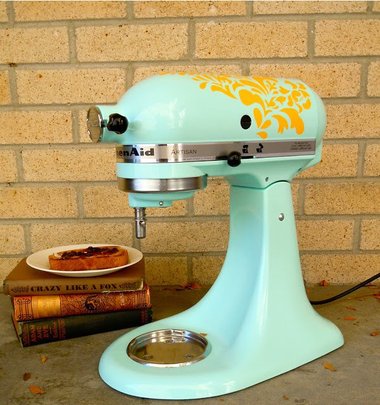 What You Need:
Tape
Stencil
Wall Pops
Scissors
Well, a KitchenAid mixer is a trophy in and of itself, but perhaps you have one that is looking a little dull? These stencils are pretty and add personality.
Embellished Hand Towels via Welcome to the Mouse House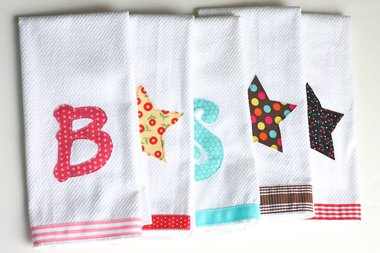 What You Need:
Hand towels
Wonder under
Fabric
Scissors
Iron
Template
Personalized hand towels aren't only cute, but also great for the environment (and your wallet)! Think of all the paper towels you won't have to buy and waste!
Chalkboard Paint Fridge via The Handmade Home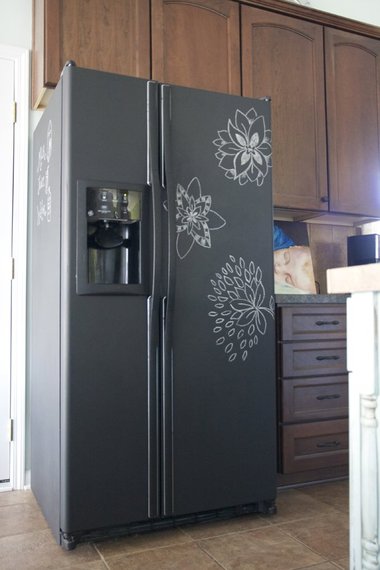 What You Need:
Small roller brush
Basic angled brush
Painters tape
Painting tray
Rags
Magnetic primer
Chalkboard paint
Nothing is off limits when it comes to chalkboard paint! Not only is the black sleek, but it's a great place to scribble messages and reminders.
More DIY Home Decor Ideas and Resources
---
---
Article source: https://www.huffingtonpost.com/entry/diy-10-bright-easy-kitche_b_5863586.html?utm_hp_ref=kitchen-ideas