Love farmhouse decor and furnishings? I just can not get enough of this look, but am discovering that some of the most awesome farmhouse looks are actually DIY ideas you can easily make yourself. From distressed pallet wall art to whitewashed furniture, these step by step tutorials will show you how to get the farm house style of your dreams! Add vintage charm to your bedroom, bathroom, living room and even your patio with these cool crafts and do it yourself ideas for farmhouse style home decor. We love all of them and just know you will, too. I love this super popular look for home decor. Just because it is trendy, does not mean your home will look at all like everyone else's. Each piece you make looks vintage and handcrafted, retaining an original charm that can not be replicated. Add custom quotes and art to yuour pievces, too, to create some statement pieces worth talking about. You are sure to fall in love with these creative DIY home decor ideas, we are having a hard time deciding which one to make next. Happy DIY decorating!
1. Entryway Gallery Wall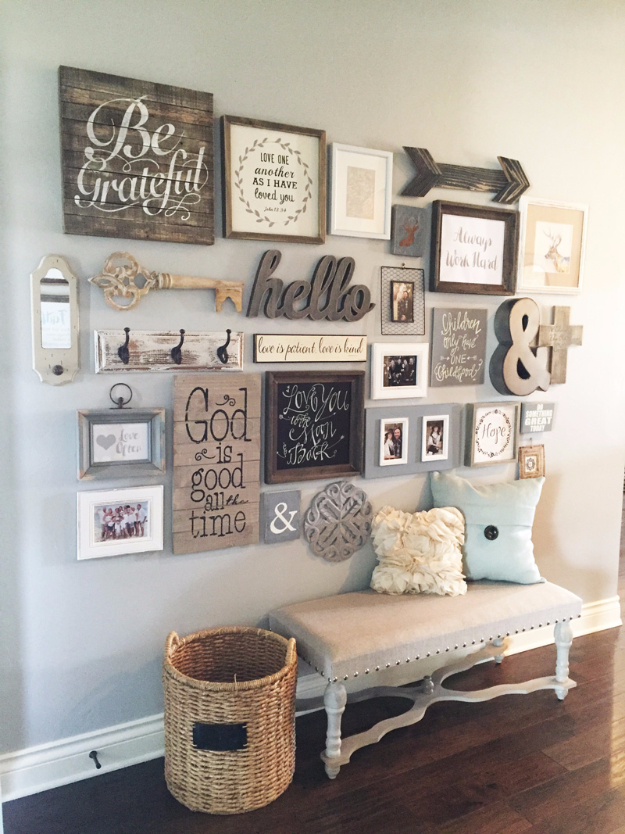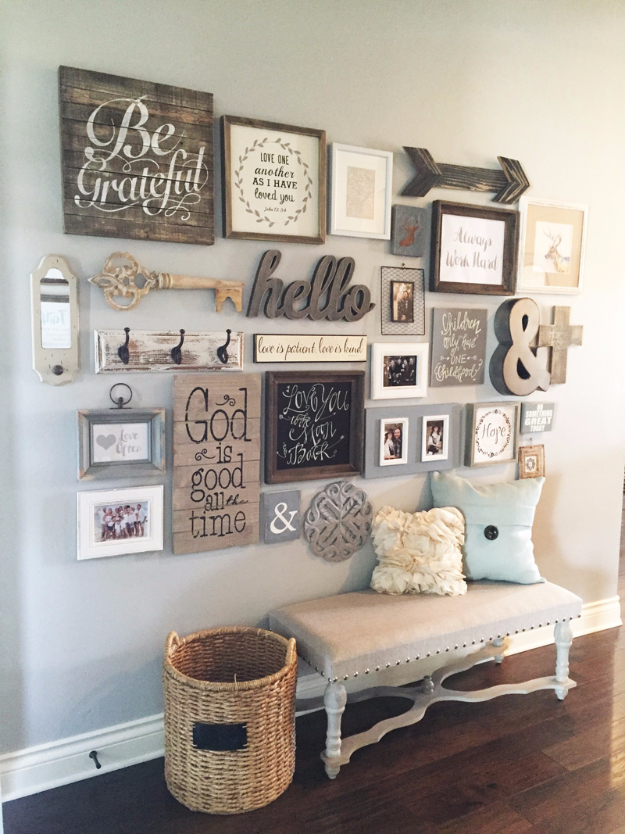 You've probably seen these amazing looking gallery walls in magazines but figured you had to be certified in interior decor to get one that looks half as good as this. Think again. This DIY gallery wall looks amazing and is sure to be the perfect accent for the room you just were not sure what to do with. This DIY idea looks super in an entryway or at the top of your stairs, but can pretty much go anywhere in the house. Pallet signs, quotes, old antique looking items all come together to make a charming vintage statement for your walls.
2. DIY Farmhouse Rustic Wooden Frame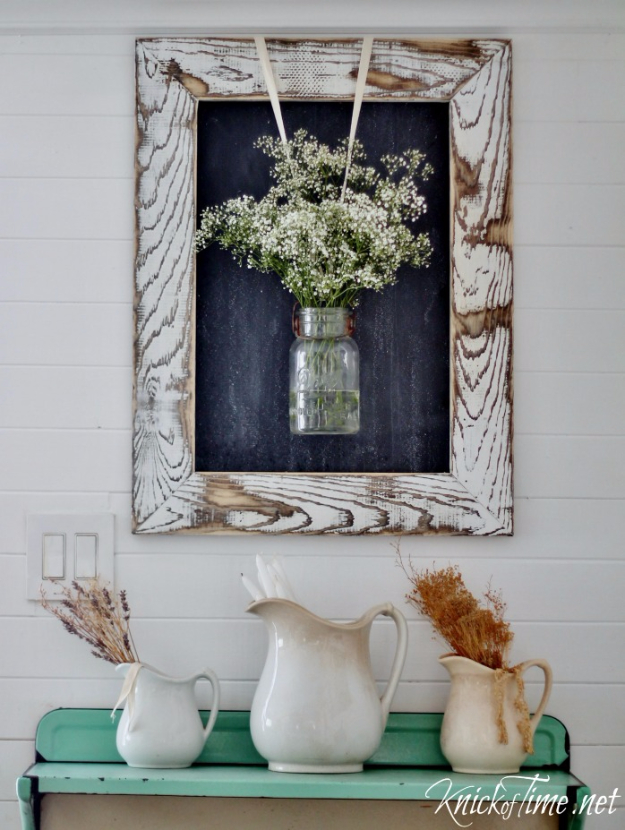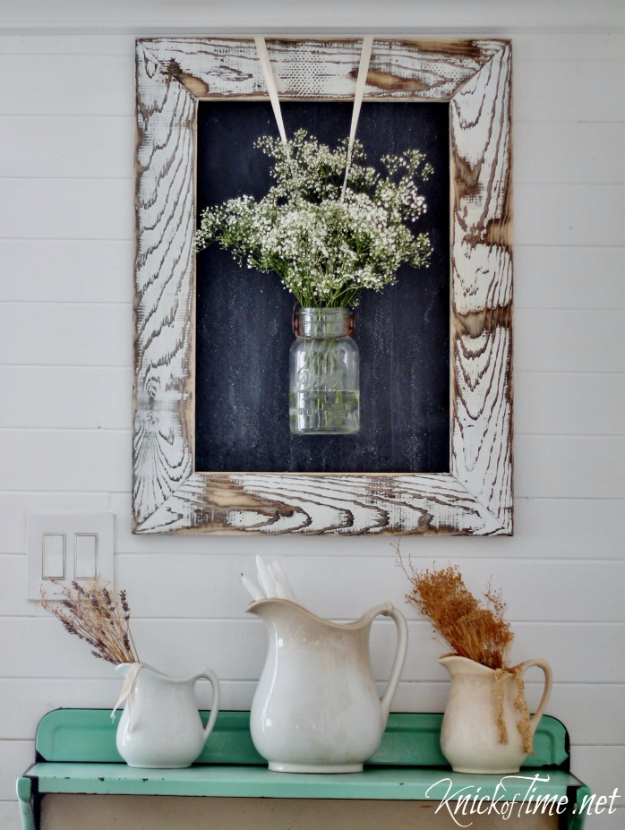 If you love mason jars, this DIY is for you. So incredibly easy for what you get. Simply hang a mason jar with dried flowers in front of a chalkboard panel lined with whitewashed distressed wood. You need this in your farmhouse kitchen now.
3. Arrow Art With Paint Markers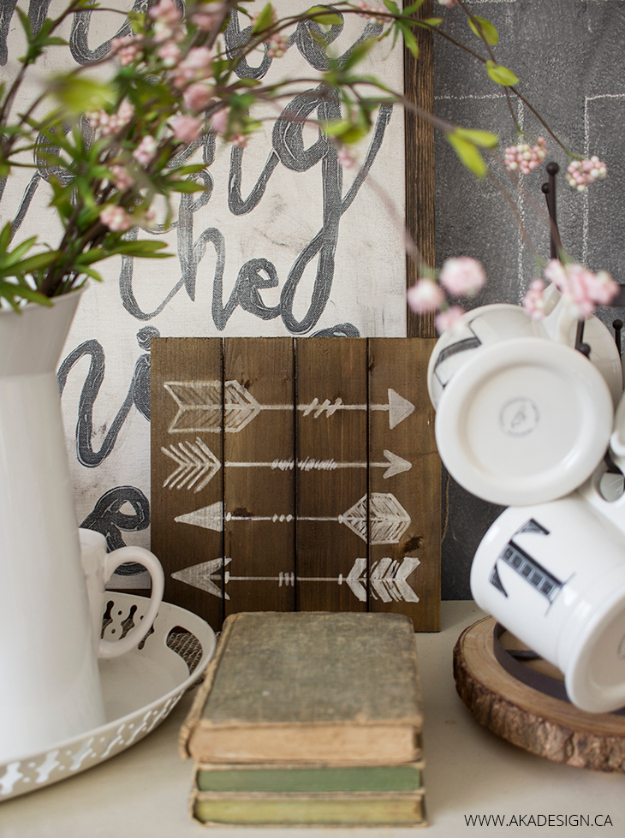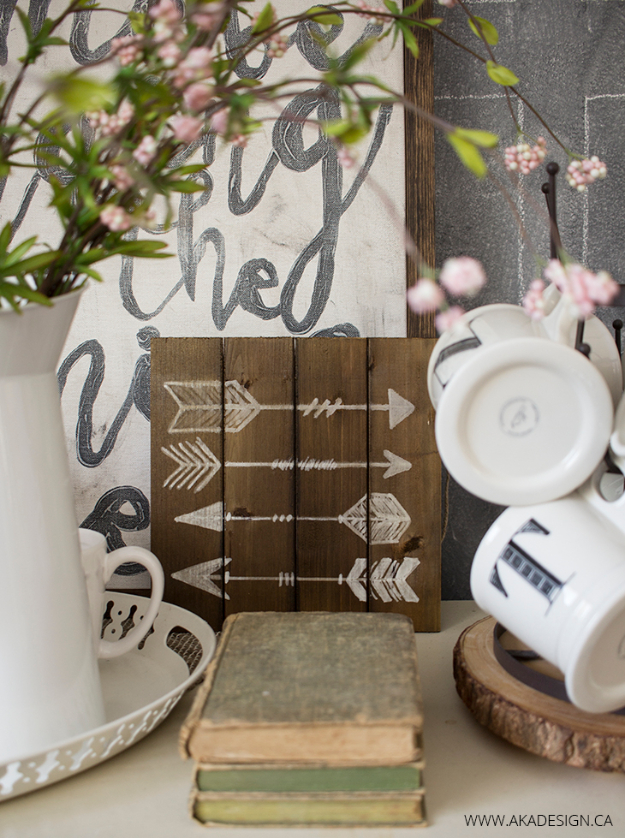 This little idea is so simple and super charming. If you need an easy vintage looking DIY, this step by step tutorial for arrow wall art is a must try. Done with paint markers and distressed wood, the arrows look like old chalk. Cute in any kitchen, bedroom, bathroom or living room, this is a versatile idea that works well with any farmhouse style decor.
4. Simple Rustic Crate Centerpiece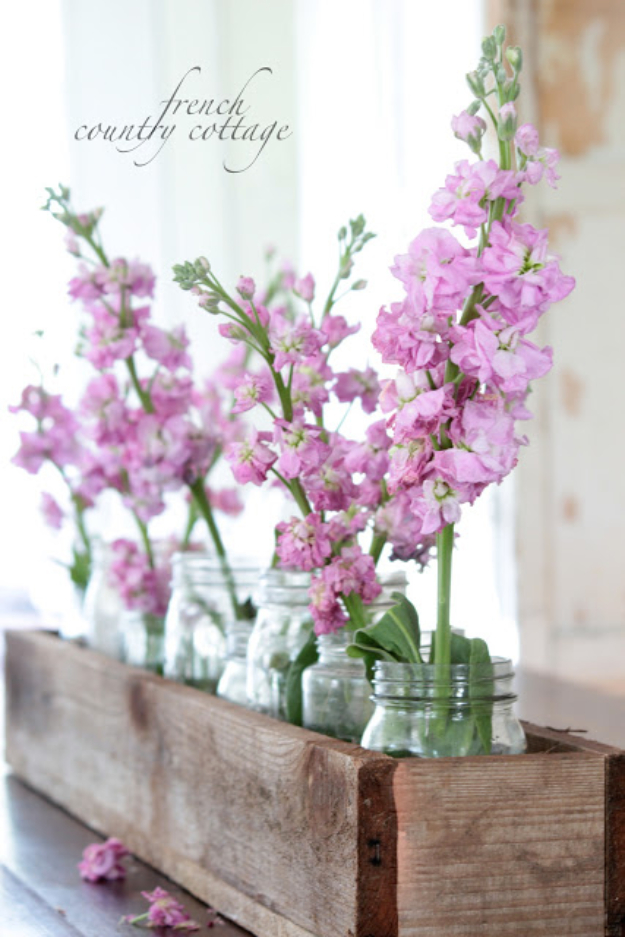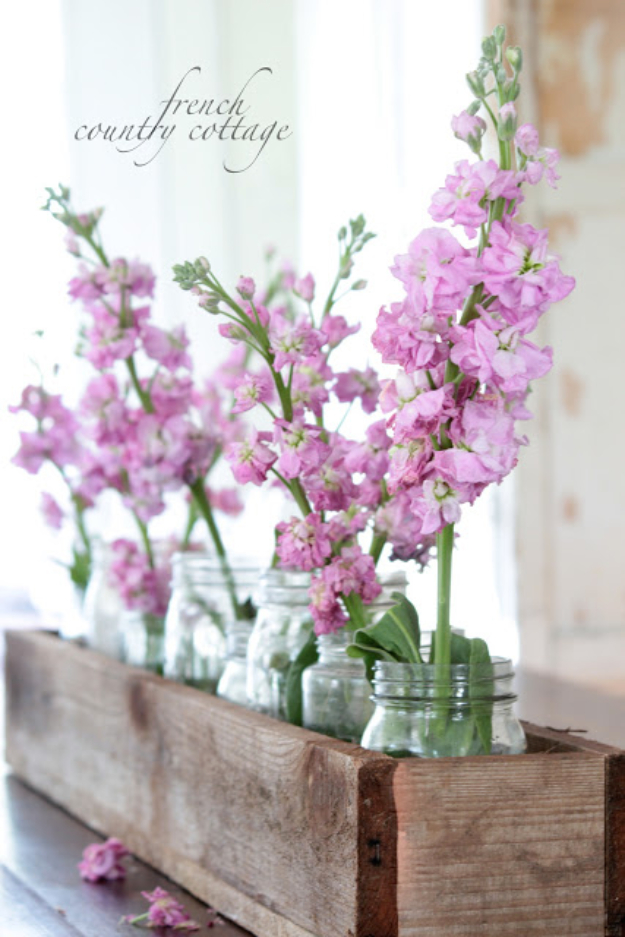 Ooooh. More mason jar loveliness, and this time, it makes the perfect table centerpiece (but also looks great in bathrooms and on entry tables) Make this charming rustic box and fill it with different size vintage mason jars and colorful flowers to complete the look. I made this for my mom on Mother's Day and she tells me every time I talk to her how much she loves it.
5. DIY Wood Framed Mirror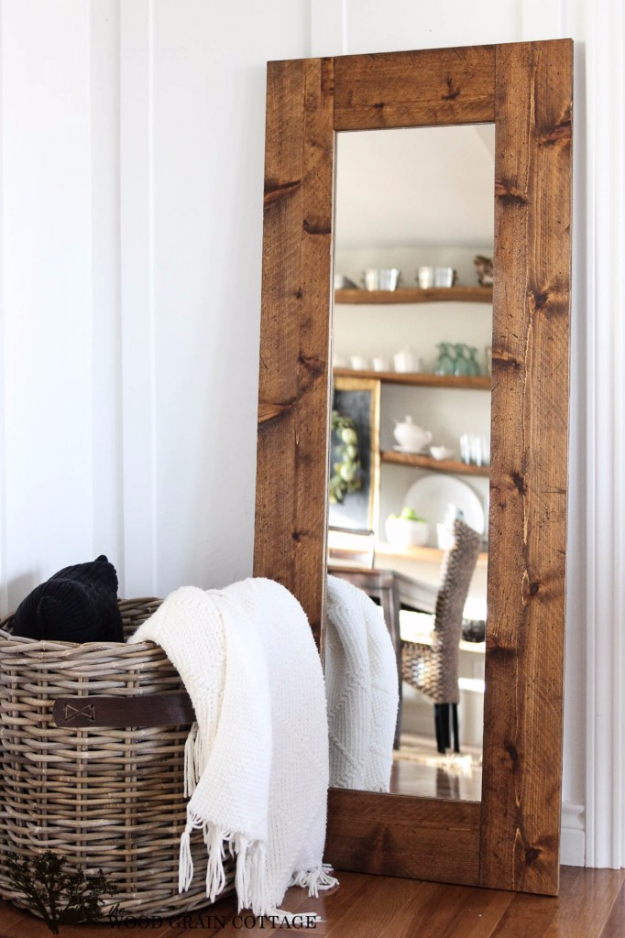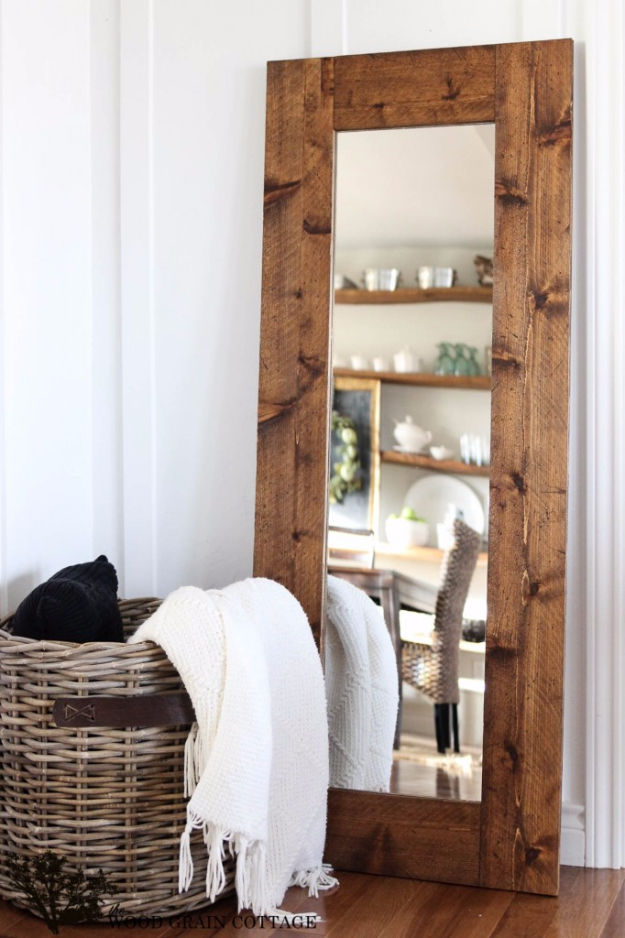 Mirrors are not always the first thing I think of buying or making when it comes to home decor, and yet they are one of the best pieces around to decorate with. Finding old vintage mirrors to use can be time consuming and trciky, so make this one instead. Super easy rustic furniture tutorial shows you exactly how to make this awesome mirror.
More DIY Home Decor Ideas and Resources
---
---
Article source: http://diyjoy.com/diy-farmhouse-decor-ideas