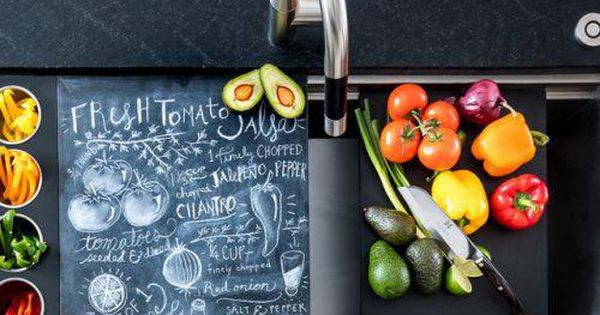 Mitchell Parker, Houzz
1. Copper Backsplash
Copper is expensive, but if you have a small surface area behind your range, the material can make a standout backsplash for a relatively low cost per square foot. This one is in a bold Copenhagen apartment.
2. Furniture-Style Legs on an Island
Here's a neat design move for a kitchen island. Bleached sycamore legs turn one end into a furniture-style seating area, creating a hybrid look.
3. Crumb Catcher
Carb lovers, rejoice! We've seen just about every dedicated storage system in a kitchen, but this one really takes the … er … loaf. A soft-close drawer in this Australian kitchen hides a special pullout breadboard with its own crumb catcher.
Internal cabinetry fittings: Blum
4. Wood Hood That Looks Like Steel
When it comes to kitchen remodeling, we often have to make sacrifices to stay within a budget. But that doesn't mean we have to completely let go of our dreams. This homeowner really wanted a metal range hood, but it just wasn't in the budget. Instead, her designer came up with a custom hood made out of wood, and hired a painter to make it look like metal.
5. Custom Recycling and Waste Pullouts
Who knew there was so much to consider when adding a waste and recycling pullout to a kitchen? This week, writer and designer Yanic Simard takes you through the numerous options for storing and organizing trash, recycling, compost and more.
6. Disappearing Shelves
In this English kitchen, black-painted floating shelves against a black-painted wall make the shelves virtually disappear, while white dishes seem to float. It's a great design approach for compact layouts because it can give the appearance of more space and set off statement elements like a large island.
7. Geometric Backsplash
Introducing visual texture and movement is a great way to liven up a minimalist kitchen without introducing physical clutter. A geometric tile backsplash nails both.
8. Marble-Wrapped Island
Here's something you don't see every day. Typically, you'd find marble slabs used as countertop material, and something like reclaimed wood used to wrap an island. But in this modern kitchen in Oakland, California, Calacatta Viola marble makes a dramatic statement.
9. Prep Sink Station
In this modern farmhouse kitchen, a large trough sink is equipped with inserts for cutting and organizing food. The chalkboard cutting board comes with food-safe chalk for writing messages or menu items.
More DIY Home Decor Ideas and Resources
---
---
Article source: https://www.forbes.com/sites/houzz/2017/08/01/9-new-kitchen-hacks-weve-all-been-craving/