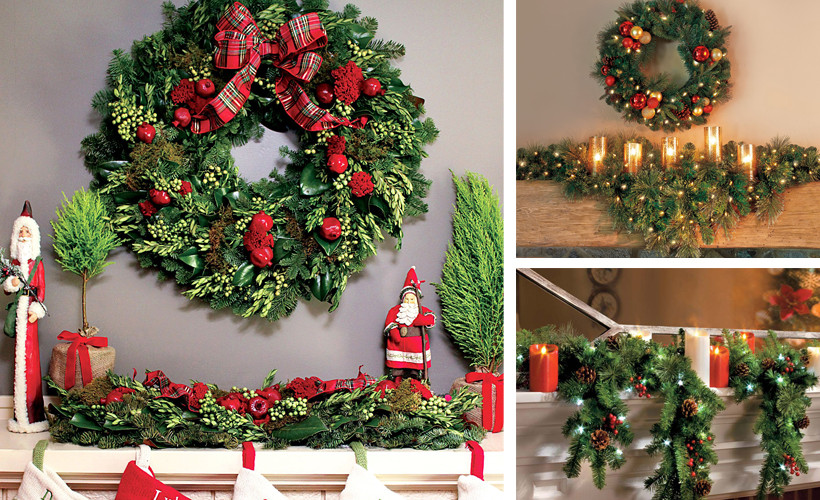 As the Christmas season approaches and you are decking your halls, don't forget the Christmas mantel decorations. Many people will hang the traditional stockings over the fireplace, but what can you do on top of the mantel? The following ideas should give you some good inspiration on how to decorate your mantel for Christmas.
---
Create a Mini Winter Wonderland
Collect enough evergreen boughs and branches to cover the entire mantel and arrange them so they will not fall off.
Gather up pine cones and place them sporadically in and around the boughs.
Frost the arrangement with spray-on snow to give your Christmas mantel decoration a wintery look.
Purchase white Styrofoam balls and arrange them in the boughs so they look like snowballs.
Make about 5, 6″ white paper snowflakes and place them in different spots on the arrangement. You can also buy some faux-snowflakes at a craft store and spray them with white or silver glitter.
Hang white vintage ice skates, rather than stockings from stocking hooks.
---
It's Party Time on Your Mantel
Collect empty boxes of different sizes – You could use empty cereal boxes, rice boxes, shoe boxes, tin foil boxes, oatmeal canisters, etc. Try to get at least 10 or more in varying sizes and shapes.
Wrap the boxes in multi-colored Christmas wrapping paper and add big bows to them. Of course if you have a color-scheme going in your Christmas decorations, swap out the multi-colored paper for paper that matches your Christmas decor.
Stack the boxes in a nice arrangement on the mantel.
Make a banner out of paper (perhaps have the kids help with this one) that says "Merry Christmas" or if you have glass above your mantel, you can attach a pre-made, festive Merry Christmas Sign.
Drape the banner from one side of the mantel to the other, attaching it with a small piece of tape.
Place colorful ball ornaments in any empty spaces on the mantel.
Sprinkle multi-colored sequins or glitter on and around the gifts and ornaments to create your very own Party Time Christmas Mantel Decoration.
---
Photo Mantel Display
Dig through all your old photographs and find at least ten memorable pictures from Christmases in the past. They could be of your grandmother, yourself, or your kids when they were younger. If you can find them, pull out the old mall Santa photos – those are always a riot!
If they are already different sizes, you can use them as they are. Or, you can take them to a copy center and have some blown up to 8×10's, some to 5×7's, and some to 4×6's.
Purchase some silver frames from a bargain store in the correct sizes for each of the pictures. If you can't find silver frames, buy cheap wood frames and spray them silver.
Arrange the photographs in the frames along the top of the mantel.
Add sprigs of fresh greenery between the pictures.
---
Nativity Christmas Mantel Decorations
Whether you have a fancy nativity set, or a toy nativity, it is a classic item for decorating the mantel for Christmas.
Purchase and arrange cotton stuffing in a thin layer on the mantel. If you want to kick it up a notch, purchase LED Lighted Snow Blankets that are battery-operated and available in multiple sizes.
If you're making your own snow blanket, string white lights through the cotton.
Set up your nativity scene decorations. If the pieces come apart, you can spread them over the entire mantel. If the nativity is all in one piece, you can set it up in the middle, or on one end with some small presents or miniature animals on the other end.
---
Decorate Your Mantel with Candles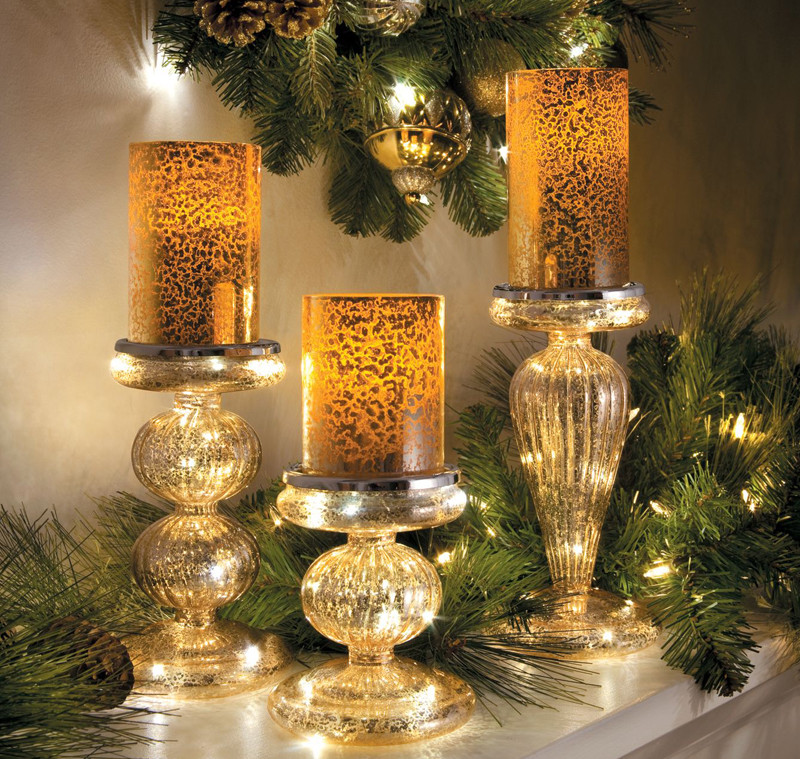 More DIY Home Decor Ideas and Resources
---
---
Purchase a plethora of different Christmas candles – make sure they are different textures, sizes, and even scents (if you can handle it).
Purchase glass containers, candle holders, vases, platters or drink coasters to hold the candles.
Arrange the all of the candle holders along the top of the mantel.
Place a candle in or on each container or platter and sprigs of holly berries around the containers. Some candle holders might be big enough to hold a sprig and a candle.
---
Article source: https://www.improvementscatalog.com/RoomForImprovements/creative-ideas-to-decorate-your-mantel-for-christmas/