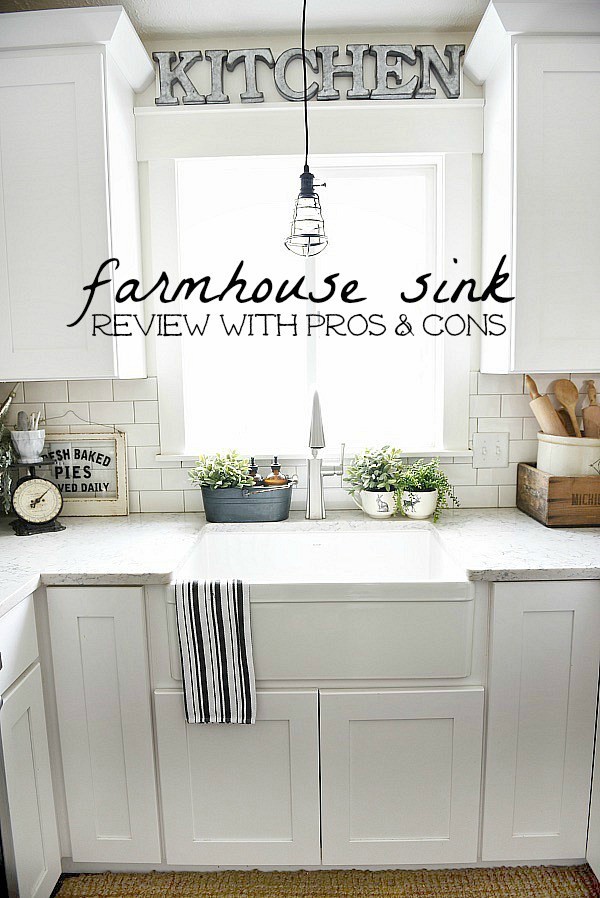 I am finally doing a post that some of you guys have been waiting for for so long. We got our farmhouse sink over a year ago & a lot of you have been asking me many questions since we got it like if we like it, would we recommend getting one, which one did we get, & so many more. Today I wanted to put together a pros and cons list about our farmhouse sink a year after we have had it. Sorry for making you wait, but I feel like I can give more of an honest insightful review after a year of having it. I also got Jose to weigh in on this list because let's be honest, he uses it probably more than me. So here is a little info about our farmhouse sink [or as some say, apron sink], some photos of what it looks like today, & some pros & cons about having one…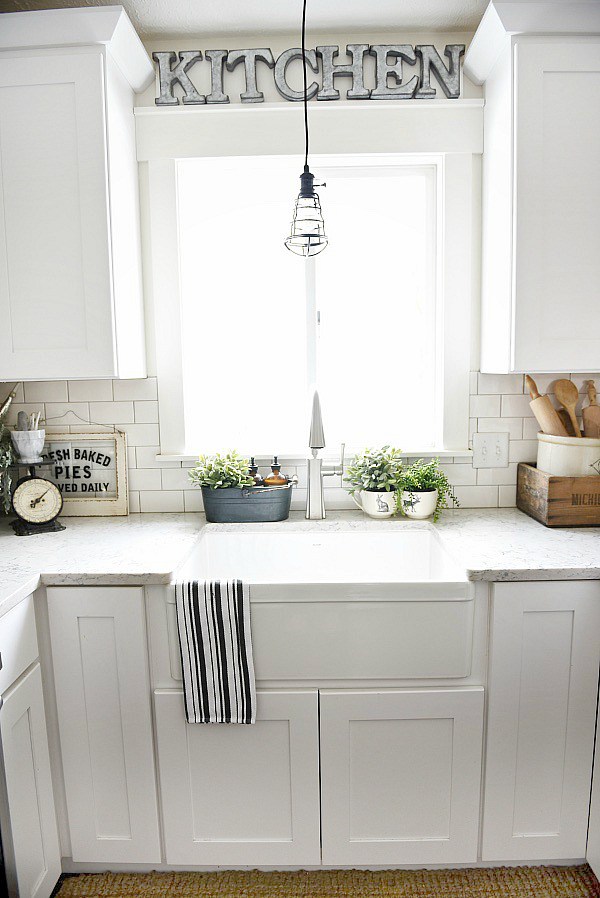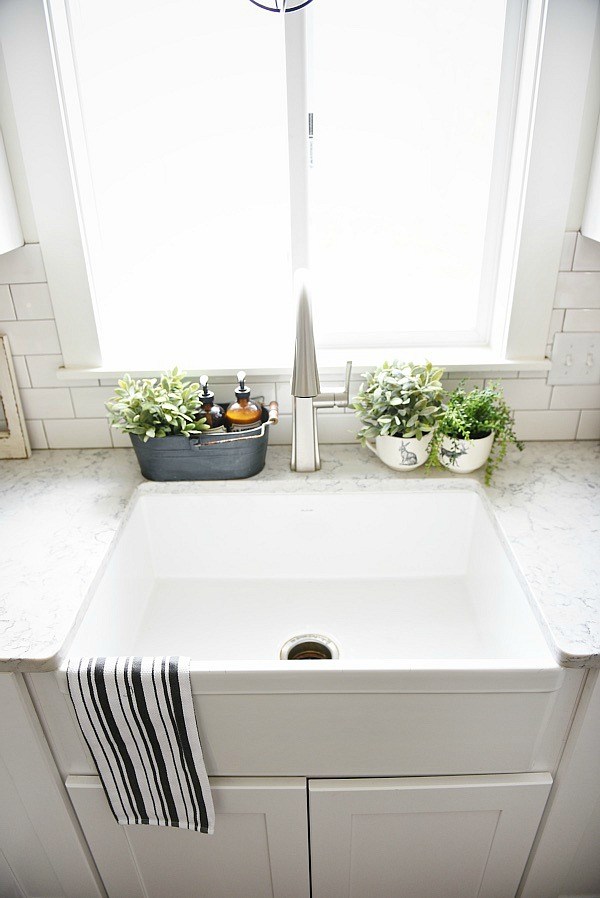 We purchased the Elkay fireclay farmhouse sink. My grandpa who own his own plumbing business for years & who still works to this day doing plumbing work [how awesome is that?!] recommended it & installed it for us. You can find the exact sink [here] & read more about it. It is the best & cheapest one we found. Ours is made with fireclay which I highly recommend because fireclay resists scratches, chips, & basically everything else which is pretty amazing. You can read more about fireclay [here] The farmhouse sink was one of our splurge items in our kitchen. Since our kitchen is so tiny it didn't cost a whole lot to re-do it so splurging on the farmhouse sink was a little bit more justifiable for us.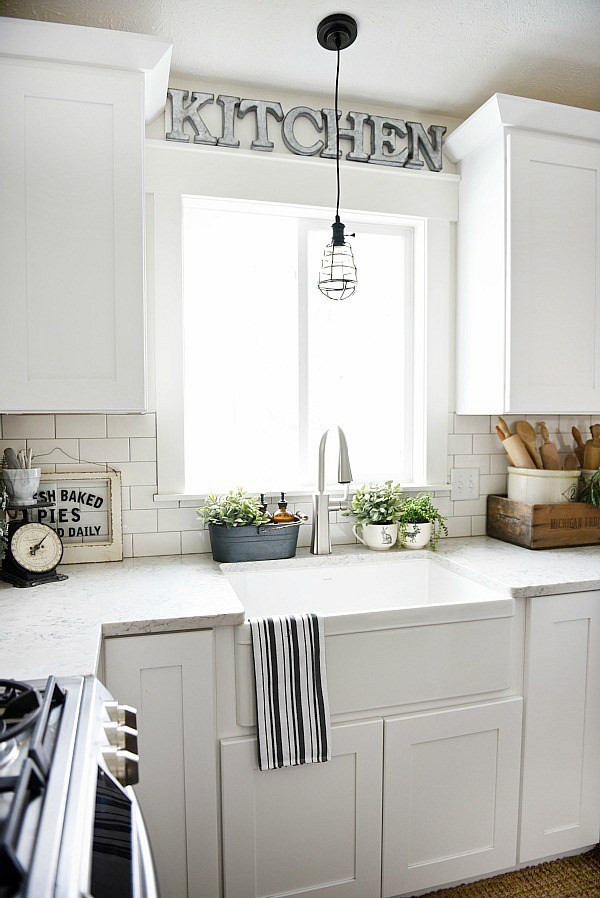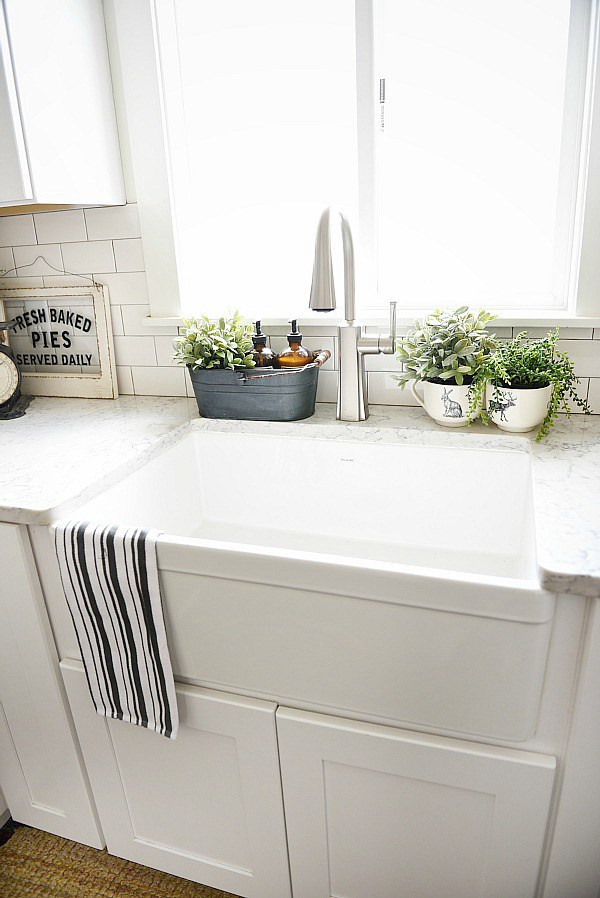 Farmhouse sink Pros:
It's pretty much my favorite part of our kitchen. I love the look, & I love how it gives our tiny little kitchen a pretty focal point. Also it instantly gave our kitchen that cozy cottage farmhouse vibe that I love as well. Pretty awesome.
I love how large the sink is that it's a single sink. I wasn't sure if I would like the single bowl sink just because I had always had a double, but I really love it & have never wished we had a double sided sink. We also use the dishwasher to wash our dishes so the sink is used for rinsing & that is about it. You never have to worry about pans not fitting, you can fit just about anything in it. Also I hope to put a babe in it one day to wash.. how cute is that going to be. #goals
I love how durable it is. I'm very hard on our sink & I don't like to spend much time on kitchen maintenance so this is the perfect sink. The sink is made from fireclay which is durable & makes me not have to worry about scratching or chipping the sink at all.
A personal pro? My grandpa and brother installed it. That's pretty special. My brother did get an injury while doing it [minor, but memorable] so it's very special to me & makes me think of them when I use it.
Farmhouse sink Cons:
Price. I mean it was a $600 addition to our kitchen. It was a non-negotiable for me so we were going to get one anyways, but the price did shock me at first. I don't regret spending that money at all & I would do it all over again because I love our sink so much. $600 was about the best deal that we found for the size we needed. Ikea offers a farmhouse sink, but I have not had much experience with that one so you will have to do your own research.
Cleaning it. Instead of it being double sided so that there are two small sides to clean separately there is now just one big bowl to clean. When food gets dumped into the sink it finds the edges of the sink so I suggest getting a pull down hose faucet & always keeping one of those sponges with the handles around for a quick & easy clean-up. I love the pull down faucet we got from Moen [here]. If I didn't have it our sink would never be clean, but it really helps get the food away from the edges of the sink & down the drain. I wouldn't survive without my hose faucet. You have to kind of guide all of the nastiness down the drain so I suggest those tools or you might have to use your hands. & that's a big nope in my book.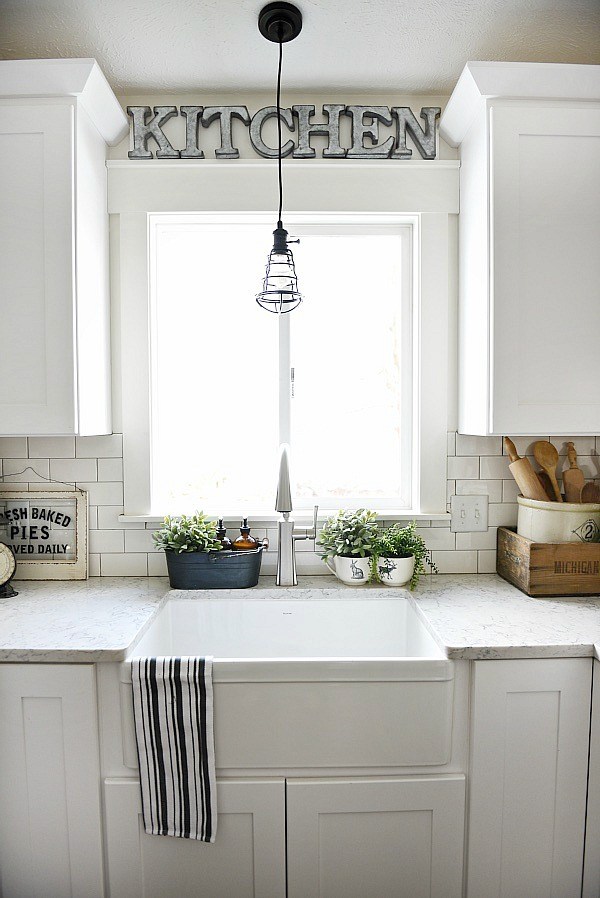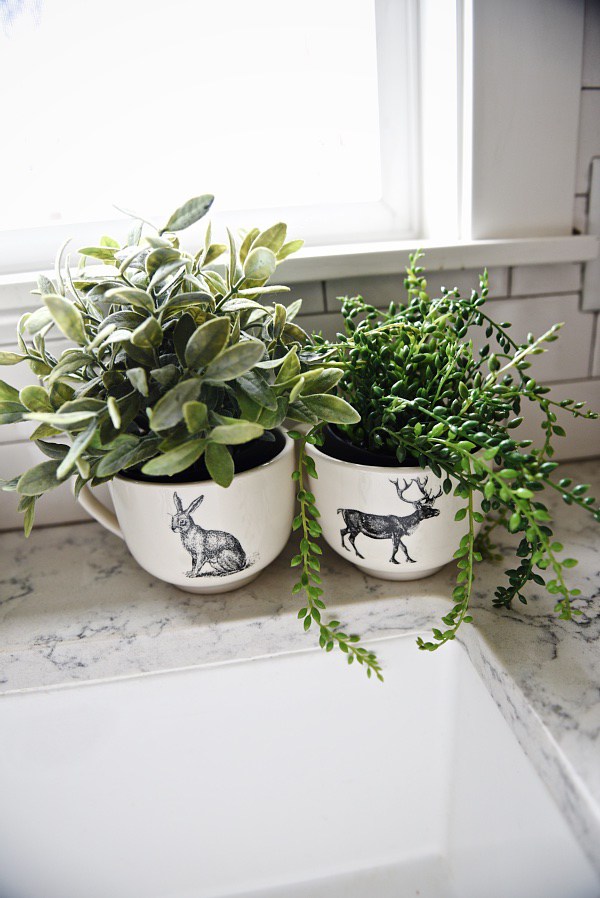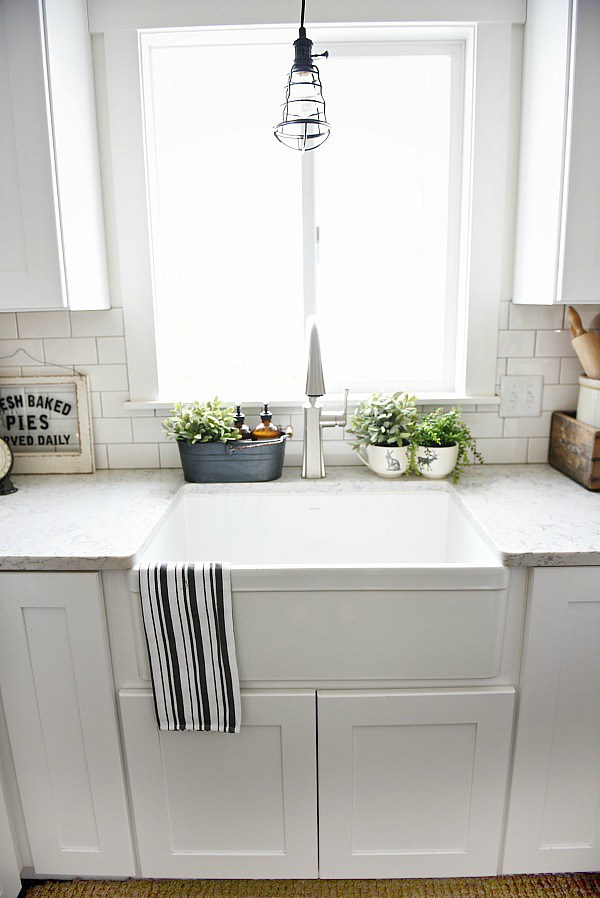 I hope this post helps those that are deciding on whether or not a farmhouse sink is right for you. I truly love ours & wouldn't change it despite the two cons that I have. They are totally worth it. Our kitchen isn't quite done yet, but I'm loving it the way it is even if it's not quite finished. Do you have a farmhouse sink? Are you considering getting one? I would love to hear your thoughts on yours or your questions that you have about them! Let me know in the comments below, find me on Facebook, & chat with me on Instagram. Thank you SO MUCH for stopping by the blog today, it means a lot! xx
See more posts from our kitchen…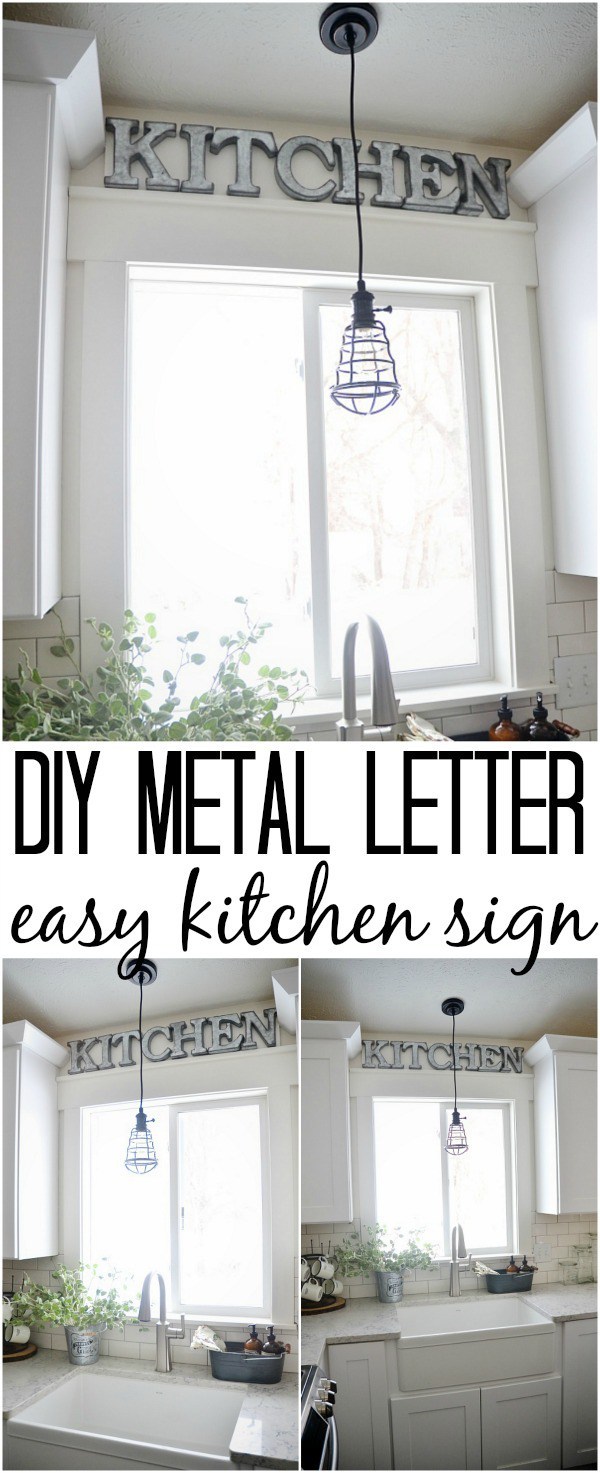 DIY metal letter kitchen sign [click here to see it]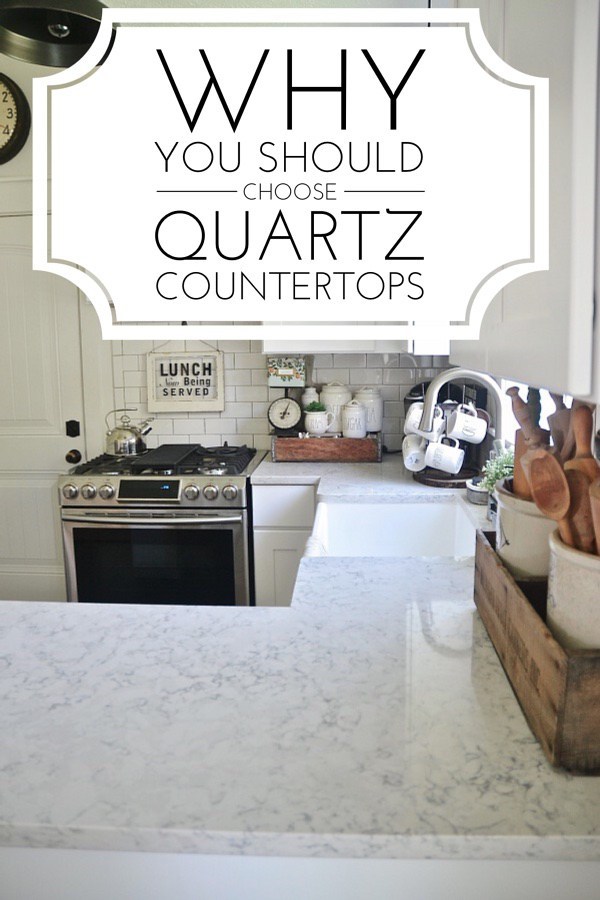 Some other sources:
light: Home Depot
Faucet: Moen
Cups: West Elm
Soap & container: World Market
Plants: Ikea
Towel: Marshalls
Pie sign: World Market
All other items: Vintage finds
*Some links in this post may be affiliate, but all opinions are my own as always.
Article source: http://www.lizmarieblog.com/2016/02/farmhouse-sink-review/