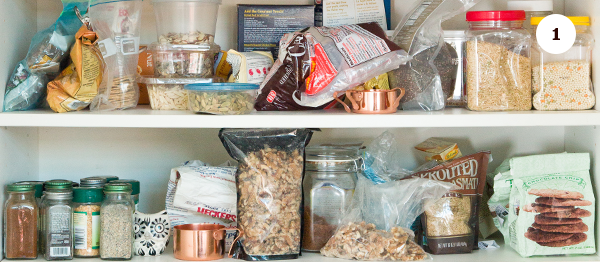 Your pantry needs will vary depending on your cooking and baking habits. For the New Year, we recommend doing a full clean out of the pantry, discarding anything old or that you don't really use. Take this opportunity to toss unhealthy snacks or treats that are too tempting.
To help with New Year's resolutions, keep your whole grains, nuts and seeds more easily within reach than your sugars, white flours and pastas. We love our carbs (like, a LOT) but having to reach for them helps remind us that we should consider substitutes. That said, we believe that no pantry is complete without a jar full of cookies. Healthy and miserable don't mix.
For us, it's all about labels. You can find beautiful printable label templates online, if that's your jam. We like the write-on kind so it's easy to write a new one if we get fusilli instead of penne one month. For perishable goods, include the expiration date in the corner of the label so you know when to toss them.
Wire mesh baskets (in our favorite: copper!) help keep our fruits and vegetables aerated and fresh, and we no longer find sad, smushed avocados at the bottom of the onion bowl.
We love how clean the pantry looks when everything is uniform, but we couldn't part with our adorable owl salt shaker, even though he doesn't quite match the rest of the spice jars. Don't be afraid to keep the things that make you happy!
Article source: http://www.mrsmeyers.com/do-it-yourself-projects/pantry-organization-for-a-healthy-new-year/?utm_source=pinterest&utm_medium=social%20&utm_content=image_pro_maxwellpantry012516&utm_campaign=brand