Aditi Sharma Maheshwari, Houzz
A shoebox-size bedroom can still be an inviting, multifunctional and utterly chic yet homey space. With the right storage hacks, clever decor staples and a smart color palette, it can serve you well while seeming larger than it is. Here's how.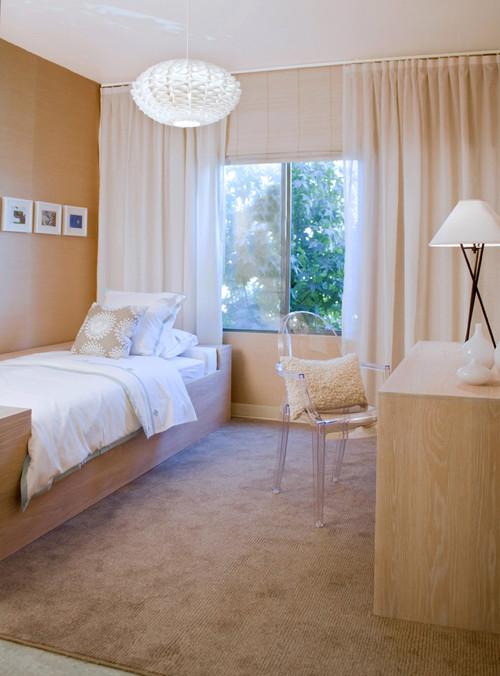 1. Reduce clutter. The foremost strategy for making a small bedroom seem bigger is to cut down on the clutter. Discard things that no longer serve any purpose, and always remember to keep your clothes folded, your shoes stored away and your accessories neatly arranged on shelves and in cupboards. The messier a room, the more cramped it looks.
Tip: If you want to maximize a room's space, do away with as much furniture as possible and keep only the essentials, such as a table and chair. In this room, the transparent acrylic chair and beige-toned table that blends with the other furnishings add to the sense of openness.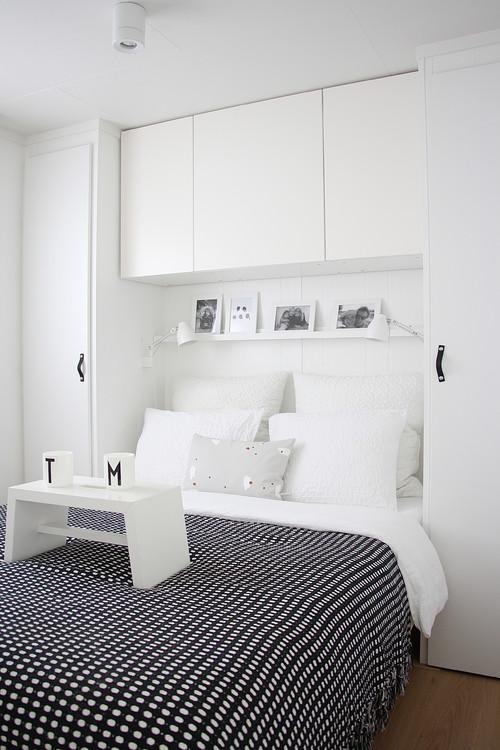 2. Maximize storage. In a small bedroom, use the walls for storage. Consider installing floor-to-ceiling and wall-to-wall cabinets (the same color as the walls) to hold photographs, accessories, books and personal items. Also, fold-down desks that can be stowed when not in use are great space savers.
Tip: If your bed has some space under it, use that for storage too. If you're purchasing a new bed, one with built-in storage is a good idea.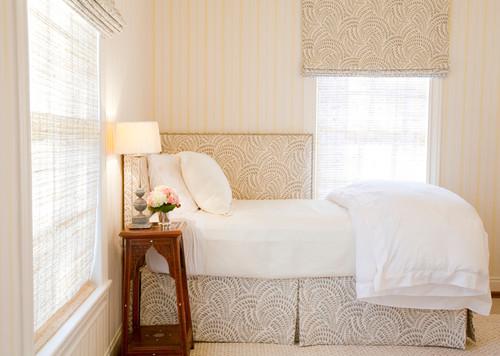 3. Consider multifunctional or hidden furniture. Choose furniture that can perform more than one function. This bed, for instance, folds up to become a sofa.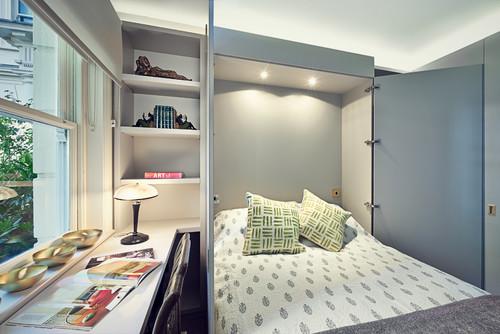 Or you could hide the bed altogether. In this room, a large cabinet conceals a Murphy bed, so that by day the room can serve as a study.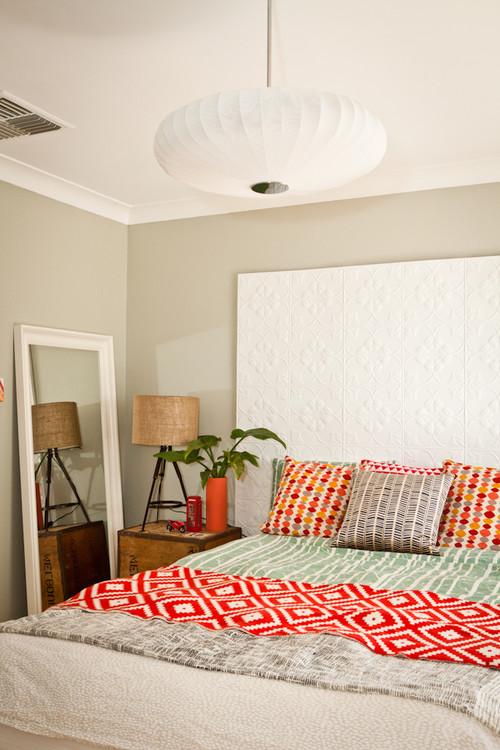 4. Extend the headboard. In this bedroom, the white headboard's embossed pattern adds texture and subtle contrast to the overall design scheme. And its dimensions make the entire bed area seem larger than it actually is.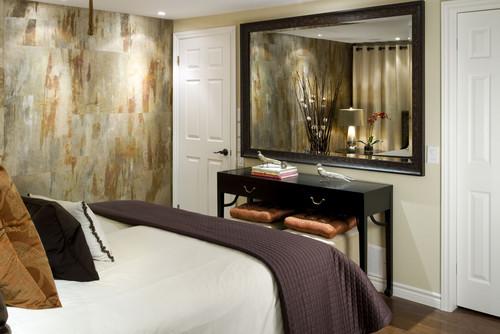 5. Use a mirror. Large wall mirrors can create an illusion of extended or dual space while also serving as pretty decor.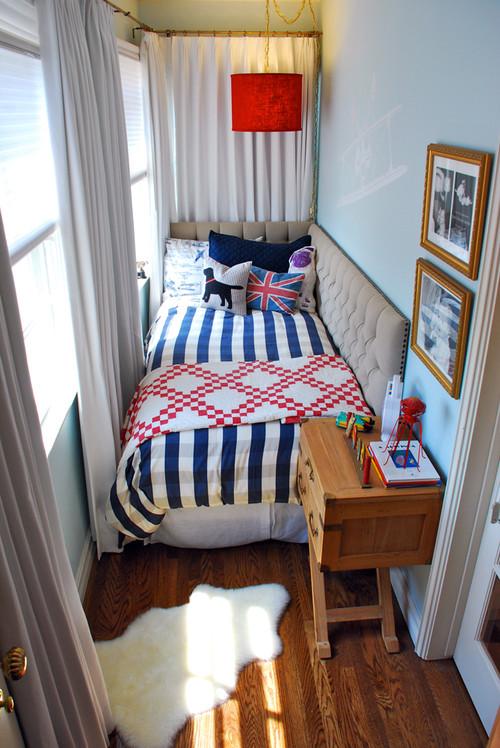 6. Let in natural light. Ample sunlight can make a room feel bright, large, airy and energetic. In this room, the bed's placement next to a window that fills the room with natural light creates an indoor-outdoor connection.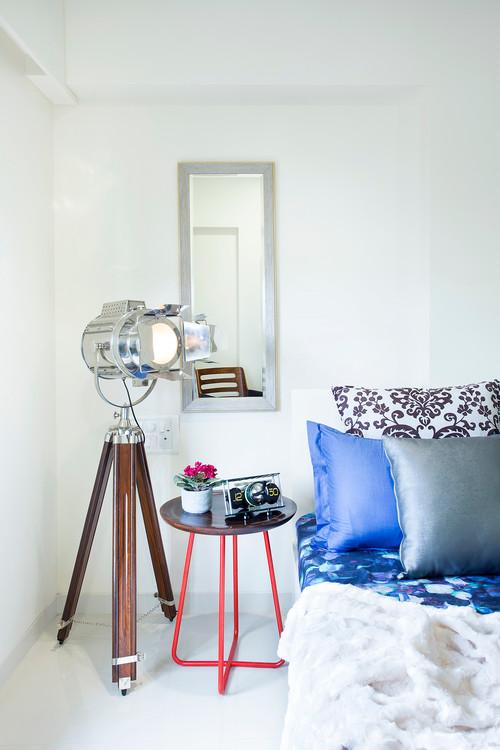 7. Go with a white color scheme. White reflects maximum light, making any space look bright and welcoming. Even the tiniest, most claustrophobia-inducing rooms will seem more spacious with white walls, ceiling and bedding.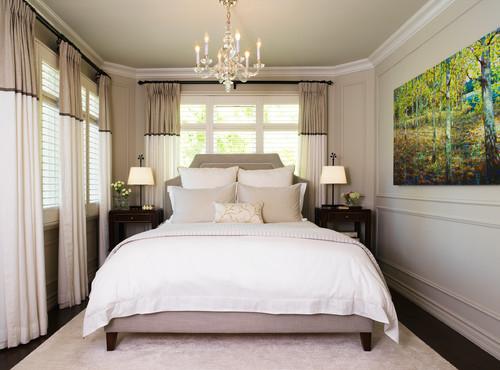 Related: Find Storage, Seating and Style in a Hardworking Bedroom Bench
8. Create visual impact. In a micro space, a generously sized decorative piece can help distract from the size of the room. Look at the large chandelier and the vibrant picture next to the bed: The eye has so much to look at that it barely registers the room's small dimensions.
Article source: https://www.forbes.com/sites/houzz/2017/10/03/8-ways-to-carve-out-space-in-a-small-bedroom/